Do you use Pinterest as part of your business marketing strategy? If so, Pinterest's new "Rich Pins" will be of interest. Pinterest recently added a new style of pin to its sharing platform that caters to the needs of marketers. For companies that weren't already utilizing Pinterest for marketing, the potential that Rich Pins present may make you reconsider.
These new pins make it possible to advertise products in more detail and to convert website traffic into sales with ease. From a marketing perspective, having detailed and uniform information to accompany your products is invaluable for promoting sales.
Additional Information
The new Rich Pins that Pinterest introduced come in three basic categories: products, movies and recipes. For pins that fall under one of these three categories, Pinterest will automatically include relevant and useful information to accompany them.
Products
For businesses creating pins of their products, Pinterest will accompany your pin with useful information for potential customers. This includes directing people to your website for the desired item, information about product availability and real-time pricing.
While Pinterest previously made it possible to link back to your website and include written descriptions of items, these features greatly improve Pinterest's value as a sales tool. Basic pins required users to put in extra effort to actually purchase items even when accompanied with a description and link. Rich Pins take away the need for research or shopping around as potential customers have all of the information that they need to make a purchase.
These enhanced product pins are also available for small business owners that sell items via eBay or Etsy. For items that you sell through these online services, a Rich Pin will display information from your product listing. For example, if your eBay store sells 2013 mustang parts, this information can be pulled in on a rich pin. This includes the price at which you listed your item and a link to its listing on the respective sales site.
Movies
The film category of Rich Pins greatly increases the amount of practical information that Pinners can provide on their movie pins. For movie pins, Pinterest will automatically provide film ratings, reviews and lists of cast members. These improvements make it easier than ever for people to learn about new movies and to see what previous viewers are saying.
Recipes
It's not surprising that Pinterest included recipes in their scheme for offering more complex and detailed Pins. One of the most popular items that are pinned and repinned on Pinterest are images of delicious foods and their instructions. Everyone from gourmet chefs to parents looking for dinner ideas utilize Pinterest to discover and share recipes. With Rich Pins, Pinterest has made this process easier than ever.
Recipe Rich Pins include a list of ingredients necessary for making an item, the appropriate cook time and serving information. These pins will make Pinterest an even more efficient source for sharing and discovering new recipes.
Applying for Rich Pins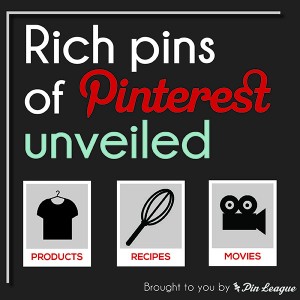 Unlike basic Pins that can be created by any user, Rich Pins require an application process. Pinterest's developer's page offers instructions for some technical website preparations that need to be made to achieve Rich Pin compatibility. This includes prepping your website with the proper meta tags so that Pinterest can generate the descriptions for your products. Choosing these tags wisely can have a large impact on your Pin's search engine rankings, so consulting an SEO company or expert may be advisable.
After following the technical modifications, Pinterest will instruct you to test your Rich Pins to ensure that they're correct. Once you've completed that process, you'll be ready to submit your Rich Pins for review by Pinterest.
Google+