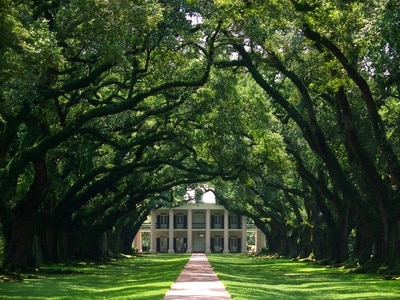 Living in the Deep South amidst their beautiful plantations has given me an appreciation for architecture and history. I took my Italian cousin yesterday on a small tour of what devastation was left behind after Katrina. She was amazed at how fast things have progressed. But if you live here it seems to take forever. From politics to laziness I am not sure which is worst.
But we smiled as we enjoyed our mint juleps along with our private tour of one of the most beautiful plantations I have seen here in the south. It's called Oak Alley Plantation. The history is not only fascinating but ironically enough our tour guide was a lovely African American woman. My cousin whispered how far this country has progressed considering the skin color of our tour guide. All I can say is thank the stars the tour guide could not speak or understand Italian. We would probably have been called racist. I just never know what is proper to say and what isn't anymore. It seems every time I turn around someone is being racist or politically incorrect.
Sometimes I wonder how much of that is true or how much of that is hype. I am not an American nor have I seen the devastation everyone seems to talk about. But I will admit there is a definite race war in this country. Almost like a kettle ready to blow any day. I wonder if it will be between the "Blacks, Hispanics, Eastern block countries" or what? As an Italian citizen I find a lot of ignorance throughout this country due to TV shows that portray Italians as a "Gino's" talking without a sense of refinement. Yet I also notice it with blacks that not only make fun of each other but also the "white" man. Yet when you point that out, then you are racist. Oh well that is probably why I don't discuss race, and would rather not.
However, I digress with my story. The story of this beautiful plantation is all bout the trees the sugar canes and the love of a southern gentleman for his much younger wife. It has now become a historical landmark and is a definite must see for anyone who wants to stroll in the gardens of the old plantation in the South. I would recommend making a day of this. But make sure you have some extra cash since everything you buy is overpriced. Who am I kidding any tourist spot is overpriced.
The rich past of these beautiful grounds are enough to make on dream of history. To think this young gentleman Jacques Telesphore wanted everything perfect for his wife. He actually planted twenty-eight live oak trees in two well-spaced rows reaching from his house to the Mississippi River. They are majestic to say the least. These trees are over 360 years old with swaying Spanish moss draped over their branches. We were not allowed to take pictures on the inside of the house but my cousin was clueless therefore we got a few pictures in.
Talking about the old country and how lucky we are to have history at our fingertips, where as this country seems to tear everything down in order to build anew is always refreshing. Keep in mind the foundation at Oak Alley relies on proceeds for preservation and maintenance of the property, therefore it is money well spent.