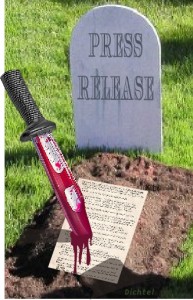 Everyday I try to give our readers free information. A lot of great ideas without a lot of money. I have gathered a list of sites where you can actually post and submit your press release for free.
Please beware that your press release has to be just that.  A press release must have these elements who, what, where, why, and when. A press release is not advertisement or shameless promotion. If you know how to write, then write well, you see most of these sites will check the content and refuse to publish your press release if it does not adhere to their rules and regulations. Nuff said.
Look I don't make the rules but in order to get more web site traffic there are some things you have to follow and rules are one of them. I hope this is helpful. If you know of other places where we can submit our press releases for free then please let me know and I can add it to this list. Thanks for dropping by come again and I shall give you a list of free article submission sites. These are Free, small fee… or give us your first child fee.
24-7 Press Release
eCommWire.com
Free-Press-Release-Center.info
FreePressIndex.com
PR.com
PR9.net
PR-Inside.com
PRurgent.com
PRzoom.com
PressAbout.com
PressBox.co.uk
Free-press-release.com
Secure.prleap.com
sanepr.com
Prlog.com
1888pressrelease.com
Filecluster.com
AfreeGo
ThomasNews
Below you will find our latest updates… I have added a few new ones that were sent to me.
http://www.betanews.com
http://www.directionsmag.com
http://news.thomasnet.com/
http://www.nanotech-now.com
http://www.bizeurope.com/
http://www.free-press-release.com/
http://www.clickpress.com/
http://www.filecluster.com/
https://secure.digitalmediaonlineinc.com/
http://www.afreego.com/
http://www.ukprwire.com/
http://www.pressreleasespider.com/
http://freepressindex.com/
http://www.nationalhomelandsecurityknowledgebase.com/
http://emeapr.com/
http://www.prwindow.com/
Drop me if you have any news one you would like to see on this list. Enjoy!