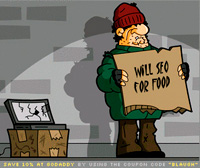 For people, who love to write, advertising copywriting is an ultimate writing opportunity for them. This is because, every word of an SEO copywritercounts with assessable outcomes as actions. Unluckily, it is simple to get pessimistic when starting out as a Copywriter let alone getting specialized in the SEO market. Here, viable objective is hardly ever present, but it is inherent with the art of writing. To make a good person-to-person link is the most vital element of a good SEO Ad Copywriter. The field of advertising copywriting is a vocation, wherein you may be creative and work with creative colleagues.
Several advertising agencies lure creative Ad Copywriters, because this industry values creativity in all forms. This is a profession, wherein you need to be creative, on frequent demands.
Advertising industry is a demanding industry, as client specifications range from reasonable to pathetic advertising demands. Time limits are fixed and factual in this field. Therefore the Copywriter delivers original content on time, and/or discovers another project waiting to be accepted.
The skill of how finely you deliver the content in a hard situation is the variation between being a professional Ad Copywriter and average promotional copywriter.
Other Highlights of an SEO Advertising Copywriting Career
As an Ad Copywriter, you will tend to learn several things. If you rejoice in learning new techniques and if you are ready to incorporate and modify details, then every assignment will be stimulating for you.
This does not mean that you will have to struggle for years to create a stable career as a copywriter with plenty of work experience. Undeniably, experience helps, but your career success as an SEO Copywriter hugely depends on how quickly you learn.
Advertising is a business, and many advertising agencies have usual 9 to 5 job timings. However, in this business, your authentic job provides the opportunity to work any time, but you will be required to be present on the most usual business days.
The salary is considerable, as the company pays you well for the work you create and your imagination. Next, the higher you reach in an Advertising agency firm, the higher will be your pay. Just like anything else within corporate America.
You may choose to become a Freelance SEO Ad Copywriter. Basically to work from home for various online advertising companies. As a freelance copywriter, it solely depends on you to decide for how much time, effort, and concentration you can provide in your home-based venture.
Next, as a freelancer, you will have to learn the technical aspects of advertising business such as web site traffic and lead generations, SEM, PPC, all sorts of fun stuff that Google and other search engines require. If you fail to get clients, that's okay. It has taken me years to get where I am. I now have the luxury of picking and choosing my projects. Unfortunately I still have clients ridding my coat tails from way back in the day. I just cannot seem to get rid of them. Call me a soft heart, but they were my first clients. If I can only find a way to charge them more money since I am still charging them 2000 prices. But hey I am sharing the love once again.