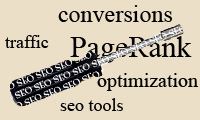 SEO tools are a very important part of insuring that your website moves to the top of search engine rankings.  Thousands of websites on the internet utilize the exact same topics and therefore, it can be difficult for users to find your site over all of the others.  One of the most important aspects of search engine optimization is choosing the right key phrases to bring your target audience to your site.
It is important for any website owner to put themselves in the position of their target audience while using SEO tools – to see themselves as the site user.  This will help you to determine which key phrases will be most successful to your website.  General keyword terms, otherwise known as short tail key phrases, can reach your target audience, but using this type of key phrase will also mean more competition for your site.
Long tail key phrases are another SEO tool that will help to make your website more successful.  This type of key phrase is much more specific, so its usage results in fewer competing websites.  This is because many websites do not look beyond the general terms that they feel most people search.  Furthermore, they are correct in thinking that most people start out with general terms.  The majority of people will narrow their search down once they realize how many irrelevant results a general search will yield.
In the end, it is up to the website owner to decide which type of key phrases they feel will be most beneficial to their site.  There are pros and cons to each type.  For instance, short tail keywords have the benefit of reaching a wider audience, but the majority of that audience is less likely to act – i.e. sign up, buy your product, sign your guest book, etc.  Long tail keywords, on the other hand, have a smaller audience, but the majority of the audience is much more likely to act.
In fact, a website owner may find it beneficial to use a little bit of both types.  This allows a better guarantee that their target audience sees their website.  Long and short tail key phrases are just two of the numerous SEO tools that are required in order to make your website stand out from your competitors.