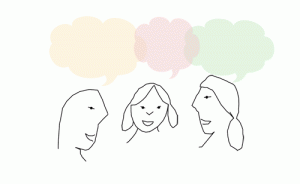 I've been asked by several companies to speak to their PR/marketing department about their respective social media presences. As much as I'd love to take them up on the offers, though, I thought I'd at least take the time to figure out the tangible problems they're having. After talking to a few clients, and asking around social media circles I was certain about some of the fears CEO's face when dealing with employees and social media. Of course, the next step after that is finding out how to address those problems.
Now, we already know the benefits of using social media in the work place, especially if you want to brand your company with "progressive thinking". Social media is part of the wonderful evolution happening online, and you either get it or get left behind. Transparency is king and content development, relationship building and user engagement can happen in 140 characters or less. The benefits of social media are pretty obvious: you have another channel to expand on market research. You can brand yourself; here's a way to add the human touch factor, the human element, the personable finish. Let's not forget the reputation you garner by writing excellent posts, responding to questions and having intelligent conversations.
Serious Thoughts by Serious CEOs on Social Media
So yeah, yeah, it all sounds good. 140 character conversations turn into 500 new customers, company advocates and so on… fantastic ROI. Yet, the CEOs have to think about other things as well. Questions come to mind like:
What about employee productivity?
What about issues with account hacking?
What about security?
What about unhappy ex-employees?
Of course, we've all heard of the havoc on intern can cause your reputation, legal liability and other customer relation nightmares…I get it, I really do. Many businesses are faced with a gigantic dilemma. CEOs and other top-level bigwigs yearn to jump on the social media bandwagon for the good of their company. Yet, the concern over possible negative repercussions is legitimate. For instance, whether a company infrastructure is based on a Mac, PC or Linux system, every online minute is a possible exposure to security threats. Whether you decide to ban social media is up to you. However, if you ban social networking due to security risks, you might as well ban the Internet as well. You can set limits and use restrictions – some companies have chosen this route – or allow unmonitored access.
Tips for Social Networking Sites and CEOs
Rather than block the Internet, information and intelligence are the best protection against security leaks and more. This is not to say your employees would give out sensitive information on purpose, but social networks push people to share everything about themselves. They may unwittingly give important information away.
#1: Give Set Times for Social Networking Before your employees start work, after they're finished with work, on breaks or during lunch, allow them access to social networking sites. With web filtering software, you can set time-based access to specific sites.
#2: Educate your Employees Don't let your employees stay in the dark; knowledge is too important. Let them know what can cause security issues. If need be, have a security systems expert come in. Make sure they know clicking on a link can cause malware to download on their machine. Some popups automatically download a virus – even if you click on the "x" to close it down. Keep your staff educated!
#3: Set Policies What can your employees do during office hours? Can they talk about their personal life on Twitter? Do you expect them to stay focused on business even during lunch on social sites? Lay out your policies for online security and usage.
Make sure your employees sign these policies and know what the disciplinary action will be if the policies aren't followed. While thousands, maybe millions, of business owners struggle to decide whether they should implement social media or not, millions of others have already done so. Why? Take it from me Mr. CEO social media isn't just a fad, as some seem to think. Social networking sites such as Facebook and Twitter are some of the fastest growing sites – ever. In fact, once you set your mind to finally joining the world of social media, you'll find out just how much business growth is possible… in 140 characters or less.