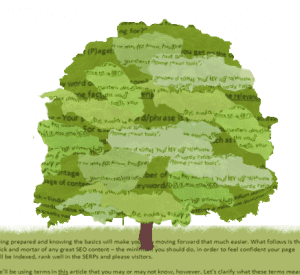 This may seem elementary to some of our readers, but we're getting more requests for "how to's" on writing organic SEO content. Et voila!
Being prepared and knowing the basics will make your job moving forward that much easier. What follows is the brick and mortar of any great SEO content – the minimum you should do, in order to feel confident your page will be indexed, rank well in the SERPs and please visitors.
We'll be using terms in this article that you may or may not know, however. Let's clarify what these terms mean:
Search Query – the word or words used by searchers to find information, products, etc. The search query answers the question, "What are you looking for?"
SERPs – (S)earch (E)ngine (R)esult (P)age(s): the list of sites you get on the search engine after placing a search query.
Key Word/Phrase – Your key word or phrase (combination of words), should be an accurate description of your page topic. This is also one factor search engines use to determine relevance to a search query.
Primary Keyword /Phrase – Your primary keyword/phrase is the word/phrase that accurately describes your entire site or section of site. For example, if your entire site is about home repair, this would probably be your primary phrase. As well, if you have subsections, such as information on tools, your primary phrase for that subjection might be "home repair tools".
Keyword Density – a percentage showing the number of times your key word/phrase shows up throughout a single page of content, based on keyword/total number of words ratio
Keyword Research – Finding viable (high search/ medium-low competition, medium search / low competition) keywords. These should be relevant to your site. Setting a minimum level of search volume should help you greatly narrow down your prospects.
Search Volume – the average number of searches for the key word or phrase per month
Keyword Stuffing – the excessive use of keywords in titles, descriptions and/or content.
Click–through – When visitors click on a search result and land on a site page, article, blog, etc.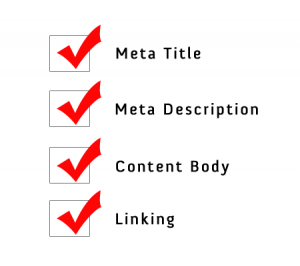 Elements of an Organically Optimized Page
An organically, or "naturally" optimized page has four main parts: the meta title, meta description, body and link structure.
Meta/ Page Title
The main purpose of any title is to create a large rate of click through from the SERPs. The secondary purpose is to rank high in the SERPs for the page. Learn more about meta titles, descriptions and the importance of both with Three Rules of Engagement – Your Content and Your Audience.
To meet the constraints of all search engines (the rules differ per engine), keep the length shorter than 72 characters. This includes spaces.
Have at least four words per title. "Home", for example, is a losing title, while "Learn SEO Content Writing Basics" may have more of a winning chance.
Your primary keyword should show up at the beginning of the title. A high number of titles with your primary keyword will increase the chances of search engines finding your site relevant to any search including this keyword.
Your key phrase should also show up in the title. A targeted key phrase will increase the relevancy of the page itself when searchers use the phrase. This will also increase the chance of a click-through.
Meta / Page Description
The main purpose of a description is to inform the potential visitor of what to expect when they visit a page and increase the click-through rate. The secondary purpose is as an additional ranking factor for the chosen key phrase.
To meet the constraints of all search engines, keep the description length shorter than 165 characters. Although the search engines will see the entire description, searchers will only see the first 165 characters (including spaces).
Your primary keyword should show up at the beginning of the description. As with primary keywords and titles, the closer to the beginning of the description your keyword is, the more relevance search engines will give the site for that term/phrase and related terms.
Your key phrase should also be in the description. This gives more relevance to search engines for the key phrase, and shows visitors how relevant the page is to their search query.
Page / Article / Blog Body
The main purposes of the actual content (or body) of a page are to increase visitor loyalty, engage them and develop trust (read about The Psychology of Content). The secondary purpose is based on what you want to achieve with a page (sell a product, deliver information, get email addresses, etc.) The third purpose is to make the page and your site rank for the primary keyword, as well supporting key phrases.
Choose three key phrases or less to target, per page.
Content length should be no less than 300 words for web pages, 400 for blog posts and 500 for articles.
Keyword density should be below 5%. If you find yourself having to force the keyword or phrase, consider the possibility that a) either you're off topic or b) you're trying to use the wrong word/phrase for the page.
Where possible, bullet the important information. With online content, bullets show better performance than several paragraphs.
Linking Within Content
Links aren't bad, but when the links are in content, relevance is extremely important. (Read more about relevance: We'll Stop Screaming "Relevance" When You Start Listening )
When linking to other pages on your site within the content, spread the links out. Don't include more than 1 link per 150 words and make sure the links don't all go to the same page.
If you link to another website, don't link to the home page. Always link to the most relevant page, which is generally an interior one.
Never link using words like "click here" or "here". Always use the title of the page you're linking to, which should already include relevant keywords.
We call the points we covered above "rules", as in the "rule of thumb". These are tried, tested methods for better click-through rates and stronger content. Now, again, they're just the basics for writing organic SEO content. If you'd like to really dig into the subject of writing optimized, readable content, we recommend Copywriting, Content Development & Strategies.