Posted by:

Gabriella Sannino
Post Date:
October 6, 2014
---
Gabriella Sannino
When your company is ready to take your web presence to the next level, the answer is use an International SEO Guide. Your local market already knows and loves you, but what about potential customers in Europe, South America, Asia, Africa or the Middle East? Marketing to another culture is about more than just translating your website and doing a currency conversion, you need to really understand your new customer base.This is where have a strong international SEO guide comes in — it's more than just a few bells and whistles, properly executed international SEO engages people from other cultures in the exact same way you've already drawn in people from your home country or locale. Because you understand their sensibilities and taboos, you avoid offending or accidentally causing a snafu with your products or marketing efforts.
Global Marketing Isn't Easy
Gaining a foothold in an International market may seem like it should be easy, but that's simply not the case. In fact, there's quite a lot that goes into international SEO to ensure that your new customers needs are met and your site ranks just as well in the new market as it does in the old one. Here are just a few things to consider to make your site a global success with international SEO:
Evaluating Foreign Markets. Just because you'd like to move into France or Canada doesn't automatically make it a good idea. Market research for your foreign market should include evaluating your ability to provide the customer service and logistics your new customers require as well as examining your plan for your earned foreign currency. Of course, other traditional parameters will apply as well, like whether there is other direct competition and if the market is already saturated with a product like yours.
Keyword Research. American English isn't the most popular language for international SEO — in fact, most visitors prefer sites that are written competently in their own native tongue. In the same vein, the keywords you ultimately use for your SEO campaigns must be in the language and diction of the people who you hope will visit your site. Without the guidance of someone who speaks the language fluently, it's hard to know if the keywords you choose are going to be natural choices that will play into your organic SEO strategy.
Checking Out the Competition. Working with other markets is a tricky proposition — even though we're living in the Internet Age, each cultural group has a different convention for what gets hits and what kind of offers are considered must-haves. You've got to look at the competition to truly know what standard you're going to have to live up to in order to capture your market. The most effective SEO in the world won't help if you're breaking cultural taboos or not meeting expectations.
The Technical Stuff. Your website does a lot more than you probably know — in the background, it's telling the search engines that are crawling it all sorts of things about itself, from the language that it uses to the topics it addresses. Just like with other aspects of international SEO, this is less straight-forward for sites targeting markets outside of the United States. For example, if you need multiple language versions of the site for a country that's multilingual, like Canada, you'll have to structure the site in such a way that the search engines understand how to juggle each language version.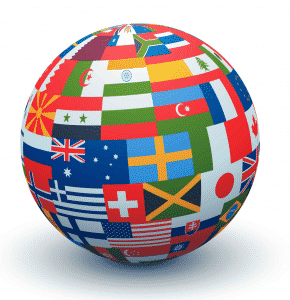 Convincing the Search Engines That You're Local. Geo-location is a very simple concept with some very far-reaching implications. It's all about convincing your search engine of choice that you're local so it'll show your site to the international community of your choosing. Geolocation is a big piece of your international SEO puzzle and requires things like local hosting, local inbound links and the correct language meta tags to drive the local search engine's decision-making process.
Choosing the Right Domain Names. It may be natural for you to trust websites that end with .com, but for the rest of the world, this just isn't the case. There's some benefit to being associated with a .com, but having an alternate domain with a local naming scheme may help bolster the human trust factor you need to go along with your SEO campaign. After all, even if your page ranks first in the local search engine, when no one's clicking it's still a worthless victory.
Companies of all types and sizes can benefit from developing an international presence. You may be surprised to discover that your products or services are desperately needed by people living in far-away places you never imagined you'd be able to service. With an international SEO audit, you'll know right away what it's going to take to make an impact with your marketing efforts in your target country.
There's nothing that can substitute for experience when it comes to international SEO audits, so it's always best to work with a company that lots of experience in the field. You may already have a huge, ready and eager market just waiting for your products on the other side of the globe — contact us today to find out!