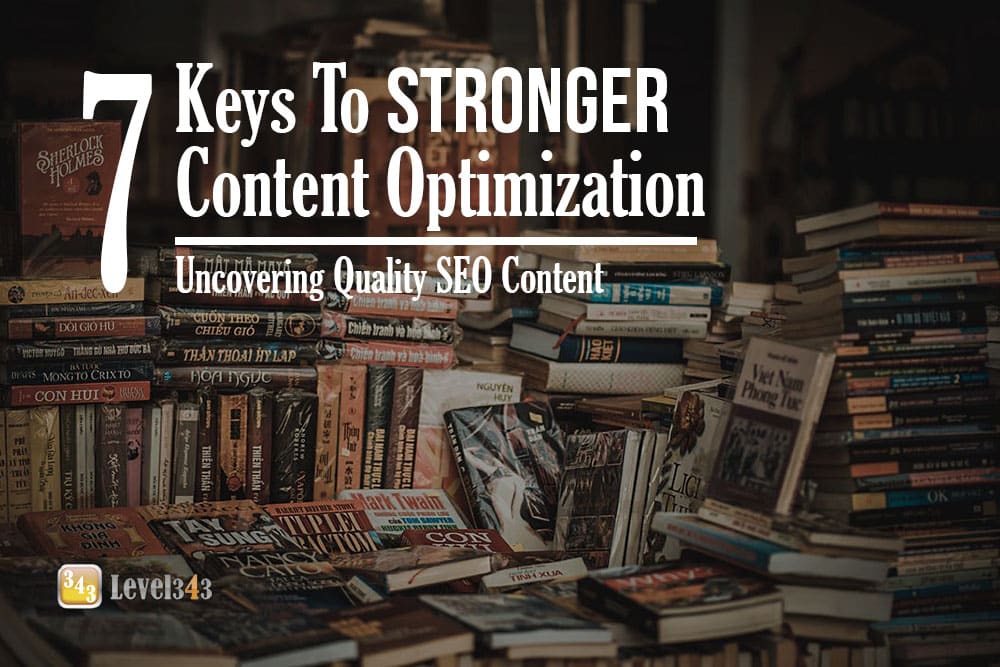 Quality, optimized content matters. It's the one key you have that creates loyal relationships between your services/products and your brand. Content creates brand recognition and affinity. Content is the thing that shapes consumer interactions online and on blogs, and from social media to video consumption.
The content you create has one purpose: to be consumed. Content impacts leads, drives digital marketing campaigns, and is a major element in every branding strategy. If your goal is to grow your online presence, content will have a heavy hand in the process.
Optimized content carries the additional value of improving your online standing in search, but that's not all. Optimization is not just "marketing to the search engines." In fact, the search engines are the smallest targets for optimized content. Making sure your content meets the needs of your visitors without sacrificing your company's reputation is the biggest goal of any onpage optimization.
With it carrying such a heavy weight on your online success, don't you think you should make sure your content is doing its job?
Of course you should. And here's how.
7 Keys to Elevating the SEO Value of Your Content
Anyone who has spent time growing a blog or writing online content knows that it's impossible to simply string words together and hope that readership will increase. Content must bring value, solve a problem, and be something that people are willing to share.
Content today must satisfy both human and technical requirements. First, you will have done your homework to determine your key performance indicators (recommended reading at this point: The Go-Getter's Guide to Website Optimization: Our Massive SEO Checklist). Otherwise, it'll be impossible to measure success. The following are some of the best areas to address for analyzing your content to make sure it's optimized for search and consumption:
Choose the Right Keywords – Don't try to rank for keywords with high levels of competition. These keywords are already found in established websites. However, you should always choose keywords that people query in their search. Look for high volume, low competition, keywords and phrases.
Create Headlines That Will Turn Heads – This will be your title tag. Its value is that it tells Google's algorithm what to expect from the page. It's also the first thing searchers will see if your website comes up in their search result.
Write Effective Body Copy – This should be the goal whether it's copy for a blog or a webpage. Keywords are critical, but write in a way that resonates with your audience. Always keep in mind that Google judges your content by its relevance, usefulness, and a willingness of people to share or link to it.
Put Your Best Efforts into Building Backlinks – Your content stands the test of being optimized if people are willing to link to it from valued and trusted domains. Navigational links matter as well. Good navigation helps search engines to crawl your site, and makes it easier for visitors to find what they're searching for.
Plan Content Length for Audience Preferences – There are lots of debates concerning content length. However, it makes sense to write for your industry and audience. Study the best competitor blogs to analyze how they approach content length. This is a quick way to determine what lengths work.
Pay Attention to Content Readability – Google's algorithm also dings for spelling and grammar mistakes. A single spelling mistake can decrease online sales by up to 50 percent.
Remember the Power of Visual Appeal – Content with images is the most effective. Images can help make your content more engaging while helping readers understand complex concepts. Original photos provide the greatest impact. Include videos and explainer videos where relevant.
Keep Producing Content That Moves the Needle
Ultimately, your content reaches optimization if it results in increased traffic, higher ranking and visibility in search results, more leads generated, increased social engagement, greater customer brand awareness, and increased sales. Keep producing relevant content to build trust. People naturally trust others who can share knowledge, wisdom, and content that answers a question, solves a problem, or satisfies a need. Your online success depends on the language searches use, how search engines rank your content, and how well search engines trust your site.
Are you having problems evaluating your content for quality and optimization? Level343 provides in depth content audits to help you pinpoint your content's strengths and weaknesses. Call us today.