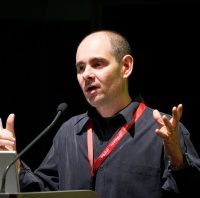 Sante J. Achille lives in Italy and works out of a small medieval town called L'Aquila, 1 hour east of Rome, recently hit by a devastating earthquake in April 2009.
After acquiring his engineering degree in 1986, he worked for major aerospace companies as a design engineer. In 1991, he joined the European Space Agency as a project management team member. In 1993, he was introduced to the World Wide Web and took an interest in the technology and the far-reaching implications it would have on society. In 1994 he participated in the second World Wide Web Conference held in Chicago to better understand the Web, and immediately afterwards, he resigned his post with the European Space Agency to start his own company.
Today he is a Professional Search Marketing Consultant to Industry and Regional Government with 17 years of hands-on working experience, providing consulting services in partnership with major Italian Web Agencies Web Certain (UK), and Nordic eMarketing (Iceland).