Have you ever tried to cook something that sounded really good, but tasted like something even your dog wouldn't eat? Despite my Italian background, I will admit that there are a few times I've screwed up the sauce. Worse is when you start to cook something you know is delicious and then realize you're missing half the ingredients – or at least a few of the more important ones.
This is why every good cook checks their cupboards and pantries first. It's not just to get the ingredients together – oh, no. It's so you don't end up with something like whatever this is supposed to be, because you didn't have all the right ingredients so you substituted and voilà. This poor excuse for a snack (I think they were supposed to be muffins).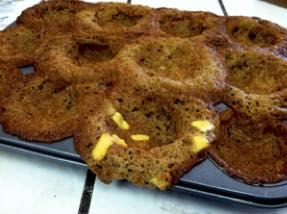 People, jump tracks with me, if you will. This, the picture to the right, is your website content without a content schedule. It's a sorry mess, because you didn't make sure you knew what you had first, before you threw another recipe into the proverbial fire.
What's In Your Content?
While having the right ingredients doesn't guarantee success, it certainly brings it a lot closer. Once you're serious about developing content and are ready to put the time, effort and/or money into it, it's best to find out what you have first.
Why?
You can end up with so much information on a topic that it becomes redundant.
You can end up with not enough information on a topic, and people look elsewhere.
You can miss important parts of a topic all together.
You can end up covering things that really have no importance or informational value what-so-ever.
If you're going to spend the time to improve your content offerings, don't you want to make sure you're improving in the right place? Of course you do, and this is where a content inventory comes into play.
Okay, So What Is A Content Inventory?
A content inventory is exactly what it sounds like. It's an inventory of the content currently available on your website. For that matter – and for the really ambitious – you can add in any content you have elsewhere, as well.
Content can be defined as anything that goes out on the web. So your content could include:
Blog posts
Web pages (normally informational or sales pages, not to be confused – at all – with blog posts)
Videos
Images specific to the company
Infographics
Graphs and charts
Podcasts
Press releases
Documents
Whitepapers
Product Brochures
Did I forgot anything? Probably – feel free to add your own to the list. The point is that content is ANYTHING that goes out from your company. It all tells part of your story, it all helps to further create a specific impression, and it can all go royally wrong if you don't pay attention to what you're streaming into the content mill.

Sold! How Do I…?
First, understand that this is a systematic approach to content development. –But, it's our systematic approach. You may find that something works better for your website once you've seen the principals, so read on with an open mind.
Excel sheets are your friend. Before digging in, open an Excel file (or equivalent, whatever). It makes it a lot easier to keep track of your inventory this way. List the name of the page and the main topic.
Pen and paper are your friend. As you go through the inventory, make sure to jot down any ideas that come to mind. Content inventories are often a great way of coming up with more ideas for the mill!
Inventory order:
Main site pages
Blog categories
Blog posts (you should be able to get an idea of the topic based on the title)
Site collateral (whitepapers, documents, brochures – any downloadable content)
Recorded collateral (videos, podcasts)
Visual collateral (branded images, graphs/charts, infographics)
By the time you're finished with the above, you should have a strong idea of what topics you've covered. If you took my advice of having a notepad handy, you should also have a list of ideas to continue with.

Questions to Answer
So, you went to all the trouble of filling out this Excel sheet, and you've read this post up to this point. –And I bet you're wondering, "What the heck did I do all that for?" Well, you now have a list of everything you've put out. It's time to find the holes – or missing ingredients, if you will – in your content grouping.
With inventory results in hand, answer the following questions:
How many times have I covered each available topic?
Which topics have I covered too much?
Which topics haven't I covered enough?
What could I have covered that I haven't?
What new topic can I cover that would overlap the less covered and the too-much covered?
Has anything changed in my industry that make some of this content outdated?

The Final Outcome: Turning the Results into a Comprehensive Content Calendar
This is where it gets really fun and creative. Are you ready?
Can any of your blog posts be repurposed into a whitepaper or ebook? If so, make that repurposing part of your content calendar (and make sure you either redirect the old page to the new whitepaper/ebook, or that you advertise the whitepaper/ebook on the old page).
Are any of them outdated? Consider writing an updated version and redirecting the old page to the new one. Again, add this into your content calendar.
Are any main pages better off being merged, or should any be split into another? Sometimes you find that you have too much content on a page, but it's really important content. In this case, it may be better to create another page and split the content.
What topics have you missed, and what's the best way to cover them? Maybe the particular topic is better off being shared in a podcast. Maybe you think a whitepaper would do better than a post. Maybe there's enough information that you can start with a Facebook post, go to a podcast, add a blog post and then merge it all into a CD package.
No matter what you end up doing to fill in the holes and smooth out your content offerings, make sure you plan ahead. Get an actual calendar (it can be virtual, but you need a visual record) and schedule what you're going to cover, and when. Be realistic, but think outside the box, and think ahead!