One of the search terms that hit our site was "minimum amount of time to find keywords for SEO". Somewhere out there, someone is trying to find out the shortest amount of time this part of the campaign will take. Sadly enough, this means they're probably not taking SEO seriously, or believe optimization is a quick fix.
What's the minimum amount of time it takes to find your keywords? It depends – ain't that helpful?
Type of Product
Some products are so universal that your best bet is to geo target. "Black golf shoes size 9, Miami, Florida" is a good example. Sometimes you may even have to break it down to your zip code area; it all depends on how much competition you have. What state doesn't sell golf shoes?
With products that are widely known and widely carried, keyword research could – quite literally – take days. Yes, you know you'd like to rank high for "golf shoes", but that term alone brings back over 58 million results. You're going to spend some time trying to find mid- and long-tail terms to help you rank.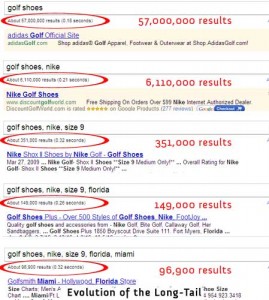 On the other hand, if you happen to sell wind turbines – Whisper 500 Wind Turbines at that – you don't have a whole bunch of keyword research to do. The main prospect you'll be facing is finding out the terms people would use to find the Whisper 500. It could take a bit of research, but probably not as much as "golf shoes".
Type of Business
Is your company B2B or B2C? It does make a difference. If you're B2B, where is your company in the product life cycle? Is there only one term that would fit your company's particular place in the life cycle? If there is, your keyword research may be almost over. Tada!
Is there more than one term that could fit your company's product or service? You have to delve into the mindset of corporate America. CEO's would search differently than the R&D division, for instance. You'll want to gain as many possible surrounding search terms, to gain a larger part of the search market.
What if your company is B2C? Once again, you have to move back to the type of product, how much competition you have and how wide the demand is.
Search Stats
You have a product and you know it's in high demand, but when you look at the search statistics, it looks like no one is using your product's term. What gives? You may have a long bit of research ahead of you. If you have a high demand product and no one is searching for it by name, you'll have to hunt down the answer to "What term are they using, then?"
So, can any SEO really give you a "minimum" time requirement for keyword research? I don't think so. I can tell you that, with rare exceptions, you aren't talking about just an hour or two. Consider that the right set of key words, terms and tails can go a long way in making or breaking the success of your online business. Do you really want to rush the most fundamental part of your SEO campaign?