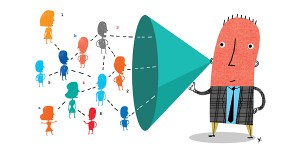 With so many ways to make your voice heard these days, I think some people are feeling like they've run out of things to say!
If you are really active on social media, you are probably posting on Twitter, Facebook and maybe doing some Google+, Pinterest and possibly Instagram too.  That's a lot of content and imagery to share.
You do have to get creative in coming up with content for all these posts! I wanted to share some ideas on types of content and posts you can share.  I welcome any input and ideas you have, just add them in the comments section below.
I hope some of this inspires you to get posting!
Share inspirational / motivational quotes.  It helps if they are relevant to your product, service or core message.  But the truth is these things are popular even if they aren't related.  It helps if you turn them into a cool little graphic, if you want them to spread.
Link to old Blog posts that are still relevant (recycling old content is always a fabulous idea)
Create "how to" tutorials for your products or services.
Create a glossary related to your product or service.
Post questions and answers that you find yourself commonly addressing.
Share special events in the world, your community or industry.
Share news, press and accolades.
Share news and tips from others in your industry (by retweeting or using the share button).  It'll help you connect with others and allows you to share quality content with little efforts.
Share instructional or informational videos.
Share tips related to getting the most out of your product or service.
Open up a little bit and let people get to know you.  No one wants to hear you rant about problems in your personal life but people usually love your favorite joke or a picture of your kitty or a story about a vacation or adventure.
Ask your followers what info they want and then give 'em what they asked for.
Debunk myths about your industry.
Share insider industry tips.
Share a little joke or classic line from your favorite movie.
Share your opinions on things in your industry.  After all, anyone can report news, you want to personalize it by adding your unique insight and opinions.
Share pics and stories of staff (if you have any) so people can get to know the full team.
Talk about music – everyone loves to chime in on songs they love and hate.  Same with TV shows and movies.
Share positive news from around the world.  We are all inundated with the news of the horrors in the world.  You compile positive stories and share them to brighten people's day a little.
Inform people about special offers and sales you have.
Feature products or services and highlight the benefits and features.
Show photos of your office or any equipment you use in your work process.
Give people insight into your work "behind the scenes" but please note you have to come up with something exciting and worthy of sharing.  As much as I enjoy the tedious spreadsheets of data I review, I don't think anyone really cares about that.  But the time I found hidden comments in website code with a message for people reading the code, that was fun and would be worthy of a post.
Boost your credibility – let people know why you are good and what you do and why they should trust you.
Run contests and ask for audience participation.
Share tips on things you do to get organized or to get through a busy day.  Share tips on how to get a little exercise in rather than sitting in front of a computer all day.
Provide reviews of products or services related to yours that you think your audience will find helpful.
Share a word of the day and ask your followers to use it in a sentence that they post.
Share a cast study of a client that has been successful with your products or services.
Share product photos.
I could go on and on but I think this is a pretty good list for now.  So no more excuses, look at this list, pick an idea and get posting!