It's not easy finding employees who fit our close company culture. We have our own, unique language. We have our way of providing search engine optimization, and, I suppose, it's somewhat different from the norm. We're spread around the world, so company picnics don't really work, but a day on Skype brings us close together. It's a beautiful thing.
Well, I knew it couldn't last. A company that isn't changing, is a company that isn't growing. Our team knew it was going to happen. Eventually, the Level343 team would change, losing some members and gaining others. That day is closer.
Growing the Level343 Team
As the lead project manager and owner of Level343, I'm happy to introduce a new member of Level343, at least in the blogosphere. Starting soon, expect to see EcomBuffet's Jennifer Horowitz as a frequent guest blogger here on the SEO Article Archive. She's already written two great posts for us, Farmers, Pandas, Penguins, Oh My! and Glow Sticks and SEO, and she co-wrote Morphing Facebook with me back in 2009. I hope our readers will be as gracious to her as you've been to us.
We'll be adding more members to our blogging team, as well as to our in-house marketing team. We'll keep you updated as it happens.
Hello & Goodbye
While we're saying hello to some new members, we're saying goodbye to a long-standing team member. September 28, after six years with Level343, our own JRPittman is heading off to bigger and better things. Oh, we'll see her around every once in awhile, and you'll probably see a blog post or two from her occasionally, but our full time code MacGyver is giving up the joys of business and SEO.
We've developed the kind of relationship every business owner hopes for. I say, "Did you get that thing done?" and she drops whatever it is I need on my desk. She says, "Hey, fufe, I got that post uploaded." I put in the pictures and bam, it's done.
We've worked together like Thelma and Louise, Laverne and Shirley, Cagney and Lacey… or maybe just like Gabriella and Jahnelle. I hope you all will join me in giving her a big send off.
Now that we have the mushy stuff taken care of, let's get on to the rest of this article. I'll turn it over to Jahnelle…
Working Parents: The Balancing Act
By Jahnelle Pittman
Most of our loyal readers know that Level343 actively supports women in business any way we can. We're woman-owned and run. Gabriella started Honoring Women Wednesday a few years back, and became a 3Plus International mentor this year. And, six years ago, she hired me – a working single mom with bills to pay.
It's been a blast. I love my job. I love what I do; even going part time is going to be hard for me. I'll be in every once in awhile, just to be nosy and cause trouble. I might dabble in a little freelance now and then. –And, of course, I couldn't leave the online community entirely. Every so often, I post on my personal blog Life – It's a Work In Progress, and will probably do more of that as time goes on.
I'm looking forward to delving more into social on Twitter, Facebook and Google Plus, during school hours. I'm going to catch up on my industry reading. I'm seriously thinking of going for my Google Analytics Certification and Google Adwords Certification. I might finally write the Search Engine Optimization 101 course for Level343 that Gabriella and I have been thinking about since day one. Once a geek, always a geek.
– But it all comes down to a balancing act – balancing work with family – and I have to ask our parental readers… how do you do it?
Pay Rent, or Pay Childcare Costs?
According to the Huffington Post reporting on a government study a few months ago, the cost of raising a child in the U.S. has risen to $235,000 for middle-income families. Of course, it's a bit less costly for lower-income families, a bit more costly for high-income families, and it's only calculated for 17 years, but that's a lot of money.
You also have CNN Money, reporting that the cost of childcare exceeds rent in most states:
"In almost half of all states, the cost of center-based care for one child exceeded annual median rent payments, the report said. And when two children are factored in, the costs exceeded rent payments in all 50 states. Child Care Aware also found that in 35 states, the cost to provide center-based care for an infant was higher than in-state tuition and fees for one year at a four-year public college."
(Emphasis mine) Wow. That's insane, isn't it? I've been extremely blessed; Gabriella allows me to work from my home, which obviously negates childcare costs. Many "mommy bloggers" have been able to supplement their household income through various online methods. However, there are a lot of working parents that go to their jobs instead of their home offices, necessitating the large cost of childcare.
Sick Leave for Kids?
What do you do when your kids are sick? Many corporations aren't as understanding as my boss is; most parents can't take the time off without getting points off or something. People have lost their jobs because of sick children.
How do you balance that? Do you stay home and love on your kid, or do you go to work and worry about them? Either way is a tough choice to make. If you stay home, you don't get paid and can lose your job. If you go to work, you can't take care of your child and the worry makes you less productive anyway. Lose… lose.
Stress Out or… Stress Out?
Over the past three years, I've developed ulcers, been diagnosed with fibromyalgia and gained an intense inability to get enough sleep. Numerous people have told me I needed to reduce my stress level. Have you heard this before?
My answer has always been, "Okay, but how?"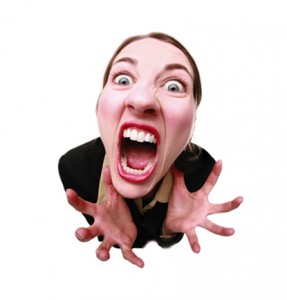 Well, the stress is getting to the point where I can no longer handle it, thus the semi-retirement into full time motherhood. After all, when forced to choose between kids and work, it's really a no-brainer. But what about you?
How do you beat stress? How do you balance work and family so it evens out? Or do you?
Let It All Hang Out
You have a job to do and/or a business to run. You have children to raise into (hopefully) happy, productive citizens of whatever country you live in. How do you do both?
I'd really like your thoughts, working parents. As I transition from full time Level343 employee to full time mom, I'd like to take your comments and add them to my personal blog in the form of a helpful post for other working parents. Take your time; write what you think. Long comments get extra cookies.
We enjoy hearing from the community at large and building on the relationships we have, so don't hold back!