We haven't tried to make it a secret that, among other things, we're organic SEO content developers. As content developers, we're always thinking of new ways to give our readers value. We hope we're doing a good job of it!
Now, if you're an SEO specialist dropping by to see what the competition is doing, you might want to take notes. This is good stuff, even if we do say so ourselves (and we do). You may already know it, but you might have forgotten, too.
Many of the articles we write starts with a question. Today's question is this:
If you're pumping out content like blogs, article, white papers, etc. all the time, do you ever stop to see what works? –And, even if you do, do you know how to tell the difference between performing and non-performing pages?
Not normal site pages, like products or buy now's, but all the extra written content you put out. Is it really bringing in visitors? How can you narrow down what topics work best? What's a blogger to do if you're blogging for bucks?
Data Background for the SEO Article Archive
Since we'll be using our own analytics for this exercise, let's begin with a little background (this is also something you'll have to do for your business blog).
In June 2010, the Level343 team decided to become our own client (HA! – yes, we can honestly say we're the SEO professionals that SEO professionals go to). In other words, we took the time to layout a content strategy for the Article Archive. One of the first things we did was to set a separate area in our analytics program the tracks only the blog.
Now, we're not going to air our dirty laundry, but let's look at the progress over the past eight months:
2,409% increase in visits
2,526% increase in unique visitors
2,660% increase in pageviews
2,964% increase in unique pageviews
21.81% increase in time on site
This is excellent stuff. So what's to be frustrated about? We're hitting above every benchmark for sites similar to ours. What's keeping us up at nights?
The knowledge that we could be doing better: there is always room for improvement.
Finding Content That Doesn't Make the Grade
Follow along, if you will, as we dig to find sucky content. We've been writing online for quite some time now, so, you can trust when we say there's bound to be at least one or two somewhere. Is this easy to do? No – we all have our favourite articles. We all have those blogs we finish with a, "Yes! The readers will love this!" Well, if you haven't looked in a while, you might be unpleasantly surprised.
This is where we're going: Google Analytics > Content > Top Content
Set your time line to include one year (or the period of time you've been tracking your content output). Once you're looking at your content list you'll need to decide what you'll use as "high-performing" numbers – below 1,000? Below 100?
Then, click on Advanced Filter:

Advanced Filter allows you to filter pages in or out depending on a set of criteria, like so: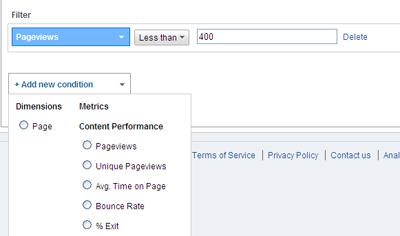 For this first round, we've set the pageviews to less than 100. This filters out all pages with pageviews of 100 or above, but we have pages showing up in the list that we don't want to worry about. By the time the filter is created, we've excluded:
Any page resulting from a search of the site
Any category page
Any page resulting from a visitor clicking "previous entries"
Any page resulting from translations
Any tag pages
Pages with over 100 pageviews
Our finished filter looks like this: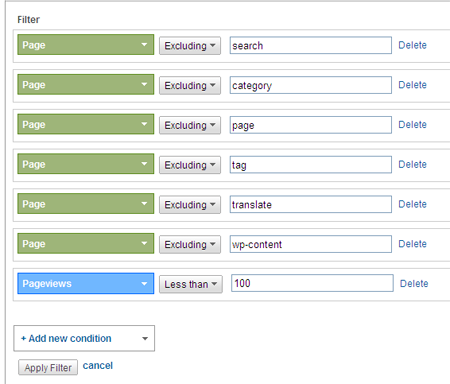 This gives us a total of 184 articles to dig through to our heart's content. 184 pages didn't make the grade of 100 views or more. Our job (and your job as you follow along), is to figure out why.
Before we go further, export your file into an excel sheet, so you don't lose the current set of information. Make sure your report is showing all the pages (or, at least, the first 500 if you have that many), by changing how many rows are shown at the bottom of the page. Then, export your file using whichever method is more convenient for you:

With this sheet saved, we move to the next step and find a page to start with.
Digging Deeper
Now, a lot of our low performing pages are from 2008 and 2009. The information may be outdated i.e. now inaccurate. To check this theory, we add the filter:

Of the 184 total pages, we have 45 that are 3 years out of date. We edit the filter for 2009, check the number, and then again for 2010 and 2011:
2008 – 45 pages
2009 – 57 pages
2010 – 69 pages
2011 – 9 pages
Because it's most likely that the blogs from 2008 are no longer showing in the top 4 pages of the search engine index, this is where we're going to start. It's time to see whether we can rewrite, update and otherwise use the content, or if it's just not worth it.
Using Bounce Rate
We still have 45 pages to choose from, so we have to narrow down a little bit more. Level343 implemented the 10 second bounce rate rule, which says, "If the visitor stayed on the page for more than 10 seconds, don't consider it a bounce." Because of this, we're going to use the Bounce Rate as the "eeny, meeny, miny, moe" (click on the image for a larger view).

Our first article to work with has been identified:
New To Internet Marketing? Basics of SEO II
Repairing Sucky Content
When this article was originally written, we were awfully proud of it. However, businesses evolve, the industry evolves and our writing skills evolve. Here is where you have to be unbiased. Look at your content and compare it to what you're putting out today. Could it be less… sucky?
With The Basics of SEO, the answer is yes. It could be:
Updated
Given length
Filled with more information
Have a stronger tone
Is it worth the repair? Oh yes – because this topic is ongoing. Therefore, we'll rewrite, edit, tear apart and basically write a new one. Keep tuned for it!
Conclusion
No matter how pleased you are with your traffic and statistics, you could always be doing better. As you grow and evolve in your writing skills (or grow to where you can afford to hire someone with SEO copywriting skills – whichever), your old content will stand out like a sore thumb.
If you're in marketing, SEO, or content development we would love to hear how you mine for your elusive golden nuggets. Remember: sharing great content and knowledge keeps your readers coming back. We'd love to hear your thoughts!