Pinterest recently announced a new feature that I think is pretty exciting.  It is called Rich Pins.  A normal pin is an image with description text below it.  With Rich Pins, Pinterest will pull in other data from your website to make the pin more robust and to make it easier for people to take action on that pin (meaning make a purchase or get more info).  Note: For now, rich pins are only supported in Pinterest's Web-based site, not in its app.
Right now the following types of pins are eligible for this new feature: Products, Recipes and Movies.
Product pins include real time pricing, availability, and where to buy.
Recipe pins include ingredients, cooking times, and serving info.
Movie pins from  Netflix , Flixster and Rotten Tomatoes will now include viewer ratings, cast and director, as well as a link to the original poster for more information.
To get started, you'll need to add Meta tags to your site, test out your Rich Pins and apply to get them on Pinterest.
Note: If you aren't technical, you may need the help of your webmaster to get this up and running.
Brands are excited by this move as they typically see their products pinned frequently and it's now easier for people to buy products they see in pins.
eBay, Walmart, Sephora, and Target are some of the big Brands that are part of this launch.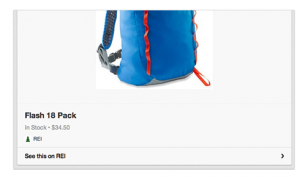 Right now this service is free – meaning you don't pay a fee or a percentage of sales to Pinterest.  There is on-going speculation that Pinterest needs to do something to monetize their traffic but previous attempts to do so created uproar with visitors.
How does it work?
You add Meta tags on your product pages that include the data you want pulled into the Rich Pins.
Pinterest offers developer information and a tool to test the pins:
http://developers.pinterest.com/rich_pins/
Note: if you have pins already on Pinterest, you just need to go add the Meta tags to the originating product page and it'll pull the data into your existing pins.
Pinterest is looking for feedback from users about what types of pins they would like to see this enhanced data on.
I am excited to see this evolve and I think it presents a lot of opportunity for people that sell products.  What are your thoughts?