Not long ago, we discussed The Personable Business: Creating your Story with Social Content. One of the points of that discussion was that once you get online, you'll end up with a social story whether you want one or not, so you may as well be the one writing that story. Businesses are getting used to the idea of sharing the company's story and personality via social networks, but how easy is it for the public to get a broad picture of your personality, one tweet or status update at a time?
We all include social share buttons and follow links on our sites, to encourage readers to view our social shares and to follow us. However, it's difficult for users to understand our business personality when they have to jump from one social network to another, viewing a long column of tweets and status updates. Some users will make that effort, but most won't easily understand your business's personality this way. But what if you could show them a profile page that pulls in your social activity from each of your social networks, organized and displayed nicely (with images), with the most important tweets, statuses, and posts above the fold?
Such an aggregated view of your social shares, organized and displayed in an nice visual arrangement, would give a much better at-a-glance picture of your business's personality, don't you think? Instead of sending users to 3 or 4 social networks, aggregate them into one beautifully displayed page – ON YOUR OWN SITE – instead.
You can accomplish this very easily, in about 5 minutes, but before we show you how, let's visualize what we are actually talking about.
Below is a screenshot of the page we created here on Level343 that enables users to get a real grasp of our social presence; allowing us to fully present our business's social personality in one nicely-formatted place.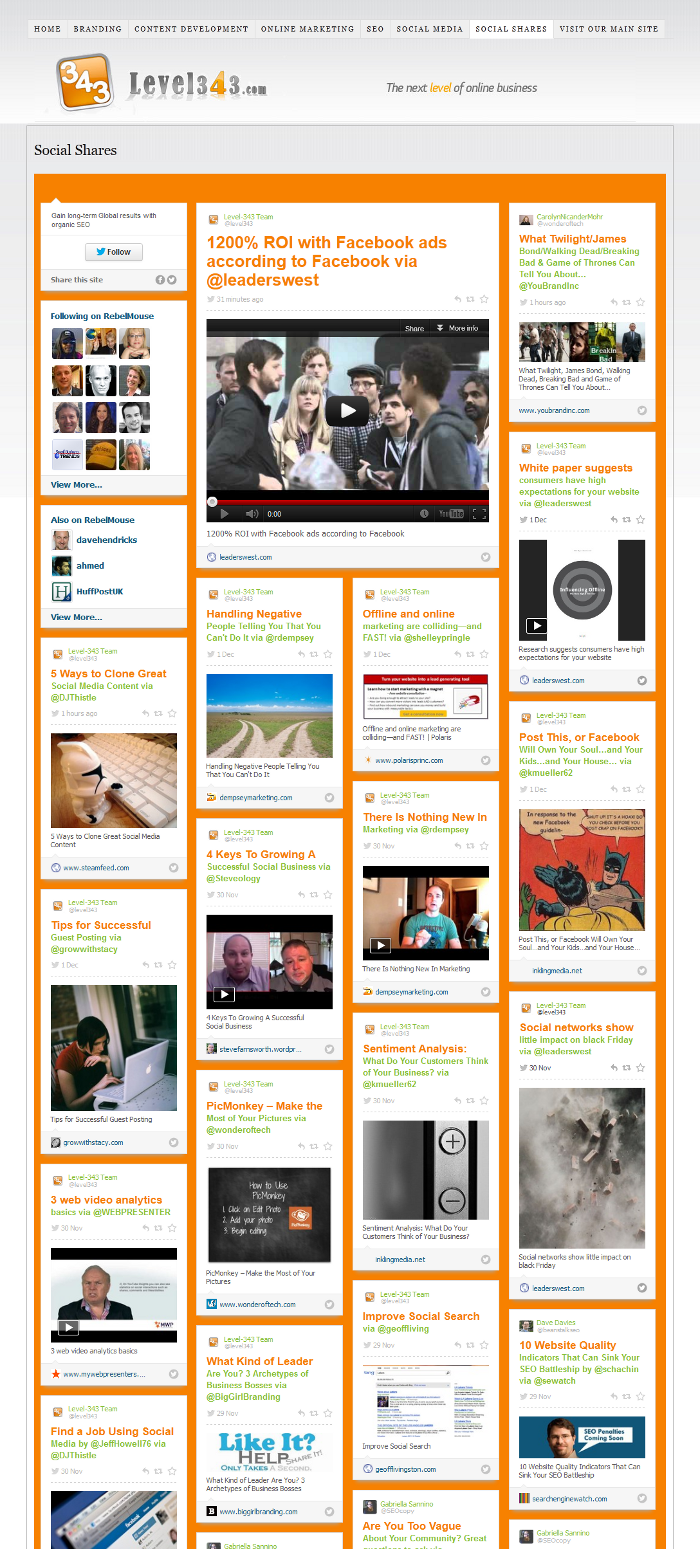 Here are two other examples.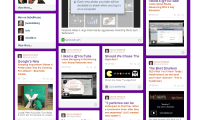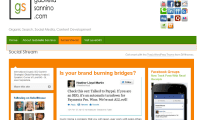 These pages were all created by using Rebelmouse to pull in our social feeds from Twitter, Facebook, Instagram, Tumblr, Pinterest, or any RSS feed(s) of your choice. You can then embed the aggregated pages onto your site with a script supplied by Rebelmouse, or if you use WordPress, Rebelmouse's WordPress plugin.
What else can you do?
You can customize the CSS to match your site's color scheme.
You can "pin" certain items on the page so they are always shown in those particular spots (above the fold is a good choice), while new items flow around them.
When Rebelmouse first launched, we thought it was a nice way to aggregate a business's social presence, but once Rebelmouse allowed embedding of your page onto your own site…well, that was the game-changing moment for us.
Why? Because we can now easily share our entire lineup of social activity in one place, on our own sites – giving our readers a chance to really visualize our business's social personality, easily and at a glance. This helps us tell our business story from a social point of view.
I urge you to try it yourself. Yes, it's free and yes, it's simple. Just sign up with Rebelmouse, authorize it to access your social accounts, and embed the script or plugin on your site or blog. In just a few minutes, your entire social presence is available in a beautiful image-centric format, right on your own site.