Social media can be an incredibly powerful tool in the hands of the right person, or it can be a minefield of etiquette missteps. The key is knowing how to distinguish one from the other. How can you know what social media practices best reflect your values as a company while still promoting your brand to the extent that you want? For example, take a look at a company called Blue Coat. Rather than promoting their own work constantly on social media as so many other companies do, this company focuses on sharing content on both Facebook and Linkedin that other sites post about them. This serves a dual purpose. First, it shows that you are willing to share content aside from your own. Second of all, it establishes your company as an authority within a given niche. If others are talking about you, then obviously you know what you're talking about, right? Here are a few reasons why you should share what others say rather than what you have to say.
1. It shows you as an authority
In the above example, the company shared content that other sites had posted about it because it demonstrated a certain level of authority within that specific niche. By sharing content from other websites about your company, you can give the same impression. Remember that authority within a niche isn't necessarily the same as mastery; it simply means you have a slightly higher level of knowledge than the average person. In the online world, that's all it takes. When other sources post about your company and praise your skillfulness, share those posts. When your company wins and award within your industry, share that post. Avoid sharing negative content, as that does no good. The only time you should ever share something negative is when refuting it, but even that must be handled with extreme care.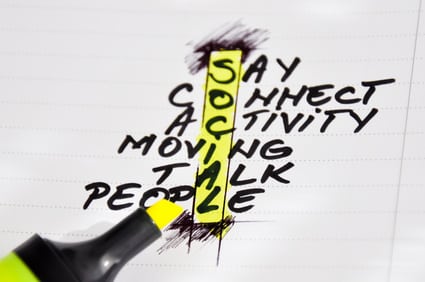 2. Sharing what others say about you provides social proof
In the world of online marketing, very little is as effective as social proofing. When other consumers buy a product and rate it highly, their friends and families are more likely to invest. The same can be said for reviews; even though the review of a product may be from someone you've never met, a real, human review can carry the same influence that a recommendation from your parents might. This same concept applies to sharing information online. Should someone find out about your company through a post shared at another source, they will investigate to find out more about your company with a positive predisposition. You will have already made a good first impression with minimal effort on your part. In addition to showing yourself as an authority within the niche, you demonstrate that you provide a valuable service that others are taking advantage of. That will subtly hint to others that they may be missing out if they don't join in.
3. It's more humble
Most every company wants to exude the values of humility and give the illusion of being down-to-earth. Consumers would much rather shop from a company when they feel the owners are just like them, rather than CEOs in a penthouse suite. However, the large the company, the more difficult it is to provide this illusion. By sharing positive things that other companies have said about you, you come across as humble rather than boasting. Everyone wants to promote their own company, but when others are also promoting you, your words carry more weight. Your market penetration can be judged by just how many other companies and consumers are talking about your business. When you become the sole topic of conversation, you'll know you've become the number one name in your industry. This takes time to achieve, but following the right social media practices can help you reach that goal in a much shorter amount of time.