It's that time again.  Brain Dump!  So many thoughts and ideas and tips and I wanted to get them all out.  I have to make room for more!
I hope you enjoy this random and somewhat eclectic mix of tips.
Facebook:
We all know images work well on Facebook, in fact posts with images generate 53% more likes. Questions also work well.  So why not combine the two?
Grab a blank image, it may be a chalk board or a woman holding a sign or some other image related to your business.  Then use graphics software or a tool like PicMonkey.com and add some text (in the form of a question) to the image.  Be sure you save it to be 403 x 403 pixels.  Make sure you save the original blank image, so you can use it over and over again.
Another great Facebook tip!  Ask and you shall receive! A report from Buddy Media indicated that the "Like" rate is 3 times higher when Fans are asked to like a post. The comment rate is 3.3 times higher when Fans are asked to comment on a post, and the share rate is 7 times higher when Fans are asked to share a post.  What are ya waiting for?  Get asking!
Last Facebook tip: Use a tool like Post Planner and set it up to pull posts from your Blog's RSS feed.  You can recycle old content and breathe new life into it (just be sure the posts are still relevant).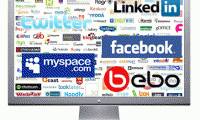 Social Media:
Not sure where to focus your social media efforts?  Take some time to build a customer profile, really dig deep and see what you know about your customers.  Once you know what your ideal customer looks like, you can figure out which social media networks they are using the most and then you know that's where you need to be!  Here is a rough break down of the demographics for the networks:
(Source: http://www.businessinsider.com/a-primer-on-social-media-demographics-2013-9#ixzz2kZeRlEHV)
This tip applies to all of your social media networks: Take a good picture. Use a close-up headshot of yourself whenever possible. Make sure the image is clear and well-lit, with your face in the center. You want to avoid having other objects beside you in the picture.
Another great social media tip: Quality over Quantity! Don't worry about having the most followers, worry about having the best followers.  You want people that will engage and help you reach your goals (by sharing, liking, retweeting, buying from you etc).  So don't get hung up on numbers as your goal.    Focus on finding the type of people you think will be good contacts for you and connect with them.

Twitter
Use a maximum of two to three hashtags per tweet.  Hashtags are a useful way to get your tweet out to people who are actually interested in its main subject, but too many hashtags in a single post can be overwhelming.  #Hashtags are a #useful #tool, but #toomany in a #single #tweet. Are #annoying and #distracting
This one should go without saying but if you've been on Twitter lately, you know that there are many people out there that still need to get this message:  if you are tweeting for business, add value as often as you can.  Meaning, give your followers information of value.  Don't just vomit your sales message all over them.  Asking people to buy is not a bad thing, as long as you also offer valuable information and content.
Miscellaneous Tips:
Check out Quora and Yahoo Answers to find out what your searchers are looking for.  Understanding what questions your users have an ensuring you answer them (and get those answer pages ranked) is a great way to help site visitors, boost your traffic and credibility.
If you find yourself with some free time but you don't know what to work on, consider some of these tasks:
Check your Blog's backend and be sure it's properly configured with the right plugins to get maximum benefit.
Check your web stats and find areas you can improve your site to increase your bottom line.
Check for 404 errors and clean up your site.
Review content and make sure there are no errors, make sure your copy is clean and tight and prepared to sell your site visitors when they enter your site.
Test your shopping cart to make sure everything works and is user friendly.
Invite guest Bloggers to add some interest, different perspectives and fresh content to your Blog.
Check on your PPC campaigns and see what you can improve.
Set up split tests on landing pages to improve results.
Find opportunities for you to be a guest Blogger.
Make sure your product feed is working and up to date.
Look into mobile search and mobile marketing.
Make sure your local listings are all accurate, up to date and optimized for maximum results and exposure.
Get active on LinkedIn.
Follow up with leads and prospects (key area that most businesses fail)
Identify opportunities that you have been too busy to take advantage of and get on it!
Get a video online and promote it like crazy.
Check out your competitors and see what you need to do to beat them out.