Is your website doing what it's supposed to be doing? Is it bringing in visitors that stick around, read and convert? If it isn't, we ask you to consider the points in this article. They're big points, even though they may seem like little, nit-picky, OCD things. They matter.
Oh, wait… before you continue reading, you have to pretend you're dumb – because, guaranteed, you'll one day get a comment about your site (if you're providing surveys, or otherwise testing, that is) and think, "Well, that's dumb. It's obvious that XYZ means…"
So – pretend you're dumb. Forget about the obvious. Stop believing that everyone thinks the same way you do, because they don't. When you get to this point, look at your site with your new, fresh eyes.
Does your home page – through text, video, links, or other content – clearly define what it is you offer?
1– If you use images, do they clearly support the text, or are they just pretty pictures?  Example: That picture you have of the man sitting in an office, in front of a computer, staring at a cell phone, may not mean "mobility" to your visitors. To them, it could mean, "lazy employee always dinking around with his cell phone when he should be working."
2– Do your navigational links clearly define where a click will take your visitors?  Example: Does the link "Clients" mean –
Click here if you want to become a client
Sign in here if you are a client
Click here for a list of our clients
3– Do you have a clear call to action? Examples: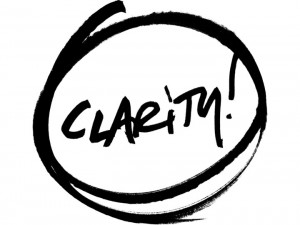 View our products
Call today
Act now
Sign up for more information
Contact us today to…
*Hint – having "Contact Us" in the navigation doesn't count.
Would your interior pages work as one-page websites?

Many people simply assume that everyone enters a site from the home page. They imagine a clear-cut path of to conversion: Home, Services, Service One, Contact Us, and then Thank You. This is, after all, the most logical, "obvious" path to a completed sale. Because the path is seen as being so cut and dry, many make the mistake of starting the "conversation" on the home page. They simply treat the other pages as a continuation of that conversation.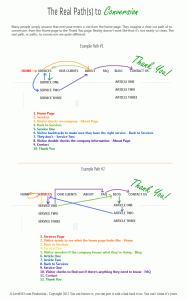 Reality doesn't work like that, however. It's not nearly so clean; it's somewhat messy, in fact. A site set up in the way just described ends up providing a disjointed conversation. The real path, or paths, to conversion are quite different (please see: The Real Path(s) of Conversion (INFOGRAPHIC)).
While the home page for most sites is the most common landing page, it isn't the only point of entry. Therefore, each page has to have:
Its own call to action
Its own, clearly defined points
Its own conversation
If your interior pages would not stand on their own as individual websites, you need to do some reorganizing.
Do your 404 pages end the conversation?
Ah, the 404 page; that frustrating page that says, "You know that thing you were looking for? Yeah – it's not here." Many visitors won't take the time or don't have the time to go digging in your site to find what they were looking for. Most of the time, they'll just return back to whatever search brought them there.
By creating a custom 404 page, you lessen the visitor's frustration. Custom 404's can start a conversation, or continue one. For example, "We're sorry – the page you're looking for isn't available. However, our top pages are listed below, or you can use the handy search feature."
Check what your 404 page says. Just type in your URL, add a forward slash and a couple of characters ( http://mycompany.com/xya ). This will take you to your 404. Look it over with the ideas of convenience, consideration and keeping visitors there. Take a peek at our 404 Page
Conclusion
Many things can go wrong with a site. Some of the most insignificant changes – changing the link colors, for example – can raise your conversion percentages. If you stop focusing on what you think is obvious, focusing instead on the not-so-obvious, it can help you prepare for your visitors.
Have you thought something was obvious, only to be told that it didn't make sense? What other tips might you have to help our readers strengthen their sites?