The line between reaching the search engines and reaching visitors is incredibly thin. Trying to reach search engines with SEO can alienate both, while trying to reach just the visitors can leave your site unseen in the SERPs. What's a webmaster to do? How does it all come together for a strong return on investment?
In this article, we're going to explore several areas that go into strong website ROI. Strap on your calculators, pens, pencils and notepads, ladies and gents – here we go.
Internet User and Site Statistics: 2000 – 2010
Used to be, you could put up a website and at least get a small, though steady stream of visitors. Yes, there was competition, but not near as much as there is today. How many businesses are online? How many are your direct competition? How many are actively walking that thin line?
Internet User Growth
I'm not sure anyone really has those statistics; especially since any site drawing in a little money is considered a business. However, while we don't know the number of businesses, we do know the average number of people. Consider these statistics, taken from InternetWorldStats: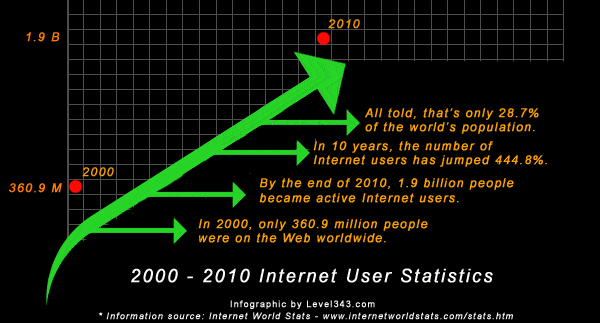 Imagine what will happen in the next ten years. Many are online buyers, some are just web surfers, others are researchers, but they're all out there looking for something.
Online Site Growth
What we also know, somewhat, is the number of sites on the Web, thanks to the Netcraft Web Server Survey:
In 2000, there were less than 25.6 million sites.
By the end of 2010, there were almost 256 million.
In 2010 alone – from January to December -, Netcraft reported almost 49 million new sites added to the Web.
The Netcraft statistics are only based on those servers who accurately reported their site numbers, so the numbers may actually be higher. Imagine what the site count will be next year?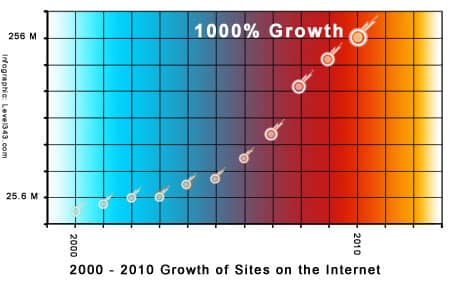 Walking the Line Between Search Engines and Visitors
Where do these Internet statistics tie together? With such a strong growth in sites on the Web, it becomes obvious why business owners use search engine optimization. So much competition is vying for important search space; who wouldn't use whatever they can to get ahead of that competition?
What isn't clear – especially with the huge number of people using the Internet -, is why so many people forget the visitor when implementing SEO…
Don't Forget the Visitor
Search engines are not your best friend. They're a tool, to be used like any other tool. When you forget about your visitors and target the SEs instead – well, it's like trying to talk your hammer into buying your roofing repair services.
Online business is like competing with each room in a physical competitors building. You're not just competing with the whole site; your fight breaks down to the individual pages of the competitor's site.
So, let's say you've implemented SEO on your site and are ranking in the top five. Your potential visitor will enter a search query and find your site listed with 9 others – sort of. They'll see a title, a description snippit, a link and a site preview image.
Depending on the term(s) used, however, they may also see:
A map of nearby locations
A list of local links
Reviews
Images
Videos
Book Results
Other potential search terms
More stuff than you can shake a stick at
They see all this stuff because the search engines don't care about your site. They don't even care about your competitor's site. What the search engines care about is growing and making money. To do this, they bring what their algorithms conclude are the most relevant results for a search query.
Oddly enough, this is what your potential visitor cares about, as well – the most relevant results for their search query. What you have to do is convince them that your site is the most relevant. Is "keyword, keyword, keyword, keyword" in the title tag going to do that? How about "Keyword is keyword, but keyword, keyword, key term, phrase isn't" in the description? I'm sure you already know the answer.
So how does it all come together? How do you pull in all the necessary parts of the online formula for ROI?
Target the visitor first – always. The search engines come second.
Use the keywords in the title, but in a way that they make sense to the visitor. A whole bunch of words separated by commas isn't just messy and often confusing; it's unprofessional. You're running an online business – show you're serious about it.
Use a piece of your content with your keyword/phrase as your description – this helps with SEO, relevance and readability Example taken from this article: "With such a strong growth in sites on the Web, it becomes obvious why business owners use search engine optimization. What isn't clear is why so many people forget the visitor when implementing SEO."
Go ahead – use keywords/terms in the title on your page. After all, if you're optimizing correctly, your primary term for the page should show up in the title anyway. Just don't stuff them! There are people reading this page, for cryin' out loud. If I see "Keyword, keyword, keyword" for a page title, I'm going to click away. IMO, if you blow me off to target the SEs, you don't care about answering my needs – so I don't care about giving you my money.
Yes, use your terms in your content. However, if your terms don't fall naturally in the content then, honey, you're not using the right terms for the topic. If you find yourself going through and putting your key terms in after you've written the whole piece – well, you're not optimizing, in my opinion. You're still keyword stuffing.
If you can't figure out how to write the content and implement SEO without ruining how it reads, hire a professional. If the professional turns in something you wouldn't want to sit and read on another site because it's stuffed with crap and keywords, don't use it! Fire the "professional" and get a referral from a serious optimization/copywriting company.
Don't allow things based solely on whether it would help your SEO campaign. Ask first if it would help the visitor. Here's an example: if you want to do a link exchange with a relevant company, that's all fine and dandy. However, instead of throwing it up on a page called "links" (and I'm rolling my eyes here), try using it in content in a way that's relevant and useful for your visitors.
Don't get stuck on the whole "they aren't linking to me, so I'm not linking to them" idea. If a link is relevant, use it. If you ask the other site to link back and they say no or ignore you, don't remove the link. If it was relevant enough to use before they said no, it's relevant enough now. Base your outbound linking on what's useful for your visitor. Anything else is petty, and there's no room for it in professionalism.
If you're ranking on the front page of the SERPs and not getting traffic, you're not appealing to potential visitors. The search snippit is your potential visitor's first introduction to your site. It has to give a great first, second and third impression.
Use link bait titles sparingly. Just because a title is shocking, engaging, interesting enough to bring visitors, doesn't mean the content is enough to keep them there. Mislead people enough times and they'll never trust your headlines again.
When trying to reach a high level of ROI, you have to take all the elements of the online equation and put them in order of importance. Visitors should always come first. Strong content and relevant topics are a good way to target them. Search engines come second, using a dose of SEO, but never forgetting the visitor.
It's difficult to balance everything you need for strong search engine placement, happy visitors and high ROI. However, if you keep your main focus on the visitors and relevance, the rest will follow.