The Curse of Brand Anonymity
It's no secret that brands are always on the lookout for new, creative ways to keep their audiences engaged. Engaging with your audience has more impact than brand awareness. It refers to the emotional commitment that customers have toward a brand. Brand engagement signifies brand trust and loyalty.
To succeed, a brand needs to invest in a content marketing strategy that outshines all its competitors. Marketers can achieve this by launching a marketing campaign that focuses on more than just information. That's where content marketing comes into play.
Successful marketers are way ahead of TV commercials, leaflets, and roadside billboards. Positioning a brand can be tricky, but marketers can make it easier by taking the creative route. For example, why not run a memory game that challenges your target audience to find matching images on your landing page? Then reward the fastest player. With that, you will not only have increased your brand exposure but given your prospect an entertainment dosage.
"We have so many great products/services. We have this great team. How come no one seems to know we exist?" It's a common question. You pour your hard work out into the Interwebs and you just know everyone will flock to you… but nothing happens. Why? It's the curse of brand anonymity, or lack of brand awareness. People don't know you exist, so they aren't looking for you. You need to spread the word.
First, however, you have to make sure you have a brand to share.
What's in a Brand?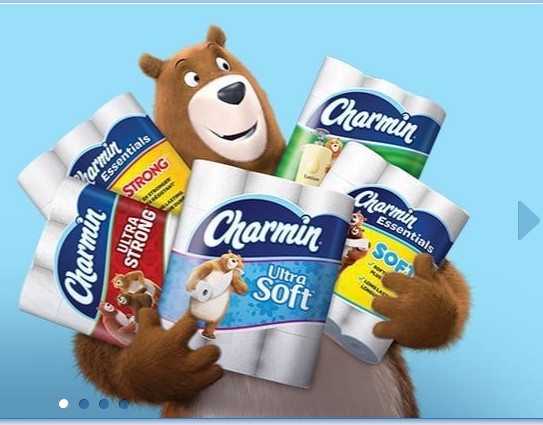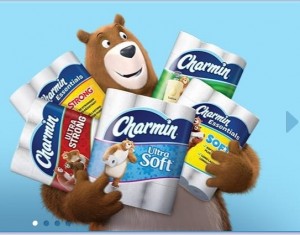 Recently, we wrote about the difference between branding, marketing and selling. One of the statements made is that "brand" is more than just your logo and tagline.
Charmin is a perfect example. Most people won't picture the Charmin logo. They won't automatically think of toilet paper or flushable wipes. Instead, they'll picture those cute little bears (image is property of the Charmin brand), or the "squeezably soft" baby. The rest comes after the babies and bears.
Now, let me ask you. Do you really want to cuddle your toilet paper? No. No you don't. But if you did, you know Charmin is the toilet paper to cuddle because it's so soft. Soft enough that you might want to use it on your sensitive derriere.
Welcome to the school of brand.
So. Have you developed your brand? Let's look at the four cornerstones of a strong brand.
1. Your message is consistent.
If you've shared your brand story, you can't change it. Oh, sure. It can grow, develop, evolve… but it can't change. You can't start out as a car mechanic shop, switch to selling clothes, and expect people to play along like they never knew you had grease up to your elbows.
Your message (who you are, what you stand for) has to permeate everything you do. Do you stay consistent throughout your site? Will visitors be able to tell exactly what you're about within a few seconds?
2. Your business is personable.
Does your business have a personality? Is it friendly, brash, crass, "out there"? The Verisign brand creates feelings of trust, for example, which is why so many online businesses use them.
You want people to think of your business as a person. Not just any person, though: a memorable person. "I've heard of them. I know them. I like them. Hey, have you checked them out?"
We may talk about how marketing is growing away from the "big business" attitude to this newer, friendly communication outlook, but the fact of the matter is, marketing is reverting. We're going back to the days where you talked about Sam, that builder who did you right or wrong, over a proverbial neighborhood fenceline AKA social media.
Give your business a personality!
3. Your business values are transparent.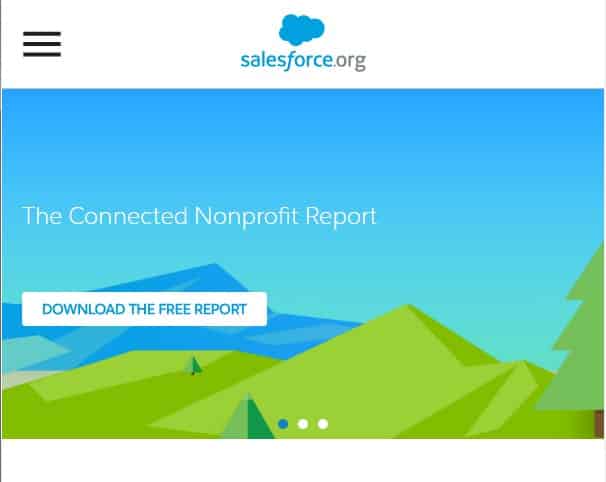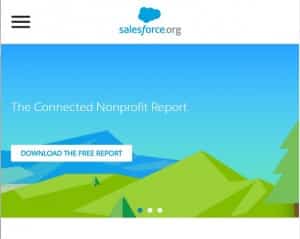 If you hug trees, don't be afraid to share where you hugged them last. In other words, if you try to make sure your operations are environmentally friendly, make sure it's known. If you try to keep your carbon footprint down, share how you do it. If you support a charity, share which one (or ones).
Sharing philanthropic activities with consumers can go a long way towards having them align themselves with your products. It's a fine line, however, between sharing and bragging. Give the information its place on your site, but keep the blinking lights down low.
Salesforce does this well. They have this awesome "integrated philanthropic approach," which uses the resources they have to improve communities around the world. They give their employees six days off per year to go do good somewhere. It's fantastic work… but if you go to their website, all there is, is a link in the dropdown navigation, mixed in with the rest, that says Salesforce.org. You'd never know what it was just by looking at it.
For Salesforce, they can check this one off the list.
4. Your repetitive exposure pieces are simple.
You're going to be blasting people at all sorts of times and places with your logo, tagline/slogan, jingles, and other marketing magic. You want to make sure they're not too complicated, but you also want to make sure they're easily remembered.
Head On is the perfect example. When I think of repetitive exposure, I automatically think of that annoying commercial. They didn't have to think too hard about that one, and it's about as simple as it comes.
How Did Your Brand Add Up?
Your brand is the soul of your company. It will become what moves your customers to follow you. You'll eventually gain brand advocates and brand cheerleaders. People will say, "Hey, you know that brand…" and others will say, "Oh, yeah! I've heard of them!" or better yet, "I love them!"
To get there, however, you have to start with the basic checklist above:
Consistent message

Business personality

Transparent ethics

Simple and memorable
If you don't have these four cornerstones, you'll never make it to "Oh yeah, I love that brand!"
Is your company lacking brand awareness? Contact us for help with your strategy.