Investment companies, retail establishments, and even museums all want customer feedback to know what's working and what isn't. To get that information, they offer survey questions. Then they have to figure out how to motivate the customers to take the time, which can range from 5 to 25 minutes, to answer those questions.
Usually an outright bribe will work, but only if your marketing department knows what it's doing.
Big brand survey bribes are everywhere…
I've seen a variety of bribes offered for surveys. Vanguard offered a $25 Amazon gift card for completing its rather extended survey. The Museum of Natural History has offered free tickets for a future visit for its brief survey. Gap and its affiliates generally offer a 20% off code for filling out online surveys with instructions on a sales receipt. CVS often asks for feedback with the lure of the possibility of winning $1,000, and Home Depot offers the chance to win rather than an outright prize.
OfficeMax Triple Fail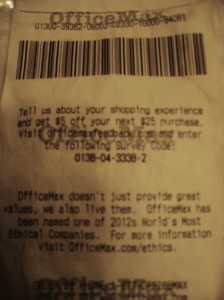 Most recently, I succumbed to the offer I saw printed on the Office Max receipt issued on August 16th. It said:
"Tell us about your next shopping experience and get $5 off your next $25 purchase."
(I've included a picture of the receipt so you can see that I am not removing any * or fine print associated with that offer, and so you can also see what does follow it. Click on the image for a bigger version.)
I answered all the questions and even typed in a number of sentences explaining exactly what was less than satisfactory during my shopping experience. Upon completion of the survey, I was told that the coupon would be emailed to me after 24 hours. Fine, I waited. I waited another day, and then another. I never saw what I was expecting to see, so I called Office Max and got the helpful rep to email it out again.
That's when I realized I had actually received the email, but I didn't recognize it as the "prize" because it didn't say something like "Here's your $5 off coupon." Instead it said: "➡ Open Me for a $30 Coupon." Sounds very generic and almost spam-like, doesn't it? That subject made it sound like a totally different promotion. In fact, it did include the $5 off coupon, as well, though you'd never know it from the subject line. That was fail #1 in this marketing round.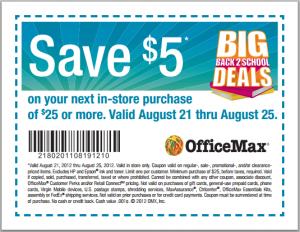 Fail #2 was the coupon itself, which I've included here. Remember how the offer was worded? It simply said "$5 off your next $25 purchase." That indicates that the only restriction is a minimum purchase. The coupon itself, though, comes loaded with restrictions, from the short window in which the coupon is valid through the numerous items toward which it cannot be applied.
While Office Max is within its rights to restrict the use of the coupon, it is not within its rights to misrepresent it as unrestricted when luring the customers to spend their time on the survey. It's only then that they reveal the fine print, after the customers have done their part of the bargain in good faith.
While the monetary value may still be the same, the delayed revelation of restrictions does still make this appear to be a bait-and-switch. Misleading promotions have no place in a business that prides itself on its integrity. And this bring us to fail #3: the juxtaposition of the survey offer and Office Max's boast about living "great values."
In, OfficeMax Named Among World's Most Ethical Companies, Ravi Saligram, the company's President and CEO declares,
"At OfficeMax, one of our most absolute values is integrity. It is the backbone of our relationships and the basis on which we make business decisions."
Well, the triple fail on this promotion indicates that backbone seriously needs to straighten out.
Note: before writing this, I called Office Max to let them know that I found the offer misleading. The phone rep dutifully took down what I told her, but she was not empowered to do anything other than assure me that she would pass it on to the marketing department. I wonder if they will appreciate the fact that I tried to impress on her: the best way to lose customer loyalty is to make someone feel duped.
Guest post by Ariella Brown
Ariella Brown writes on marketing, analytics, technology, the internet, and social media, among other things. She holds a PhD in English. Links to post appear at WriteWayProductions. She welcomes connections on LinkedIn and conversations at Google+.