Content is no longer just a means of getting more information—it's also a mighty tool for generating traffic and sales. Google loves content and ranks websites that make great content higher, and that's why businesses start running blogs.
But without analytics, you don't know which content drives more sales or target actions—thus, don't know what exactly you need to focus on. Luckily, there are quite a few tools that'll help you keep track, measure, and calculate the effectiveness of the content you produce.
Below, I'm listing five popular analytics tools that can help you keep an eye on how well your content works.
Google Analytics
Google Analytics gives access to a ton of data that shows how users find and interact with your website. You can see the number of visitors on a specific page, how long they remained there, their location, how certain keywords work, and many more.
Google Analytics offers six types of reporting:
Real-Time—offers real-time data about who is on your site and what they are doing
Audience—active users, lifetime value (long-term value of users acquired), audiences, user explorer, demographics, etc.
Acquisition—shows how audience finds your site (all traffic, Google Ads, search console, social networks)
Behavior—actions users take on your site (using site search, the content they check, how fast the page loads)
Conversions—information about completed actions (registration, subscription, purchase)
There also is a paid version called Analytics 360 (for enterprise-level businesses). It offers the following features:
Advanced funnel reporting and attribution modeling
Roll-up reporting
More views, dimensions, and metrics per property
Unlimited data
Analytics 360 isn't cheap—the cost begins at $150,000 per year. But small and medium-sized businesses will likely get all the features they need from the free Google Analytics version.
Bitly
You've probably used Bitly for shortening links. Still, this tool is capable of not only sharing links but analyzing their efficiency, too.
Bitly tracks the number of clicks a separate link generates—you can set the data range from an hour to a year. Or view a timeline when exactly users click on it most.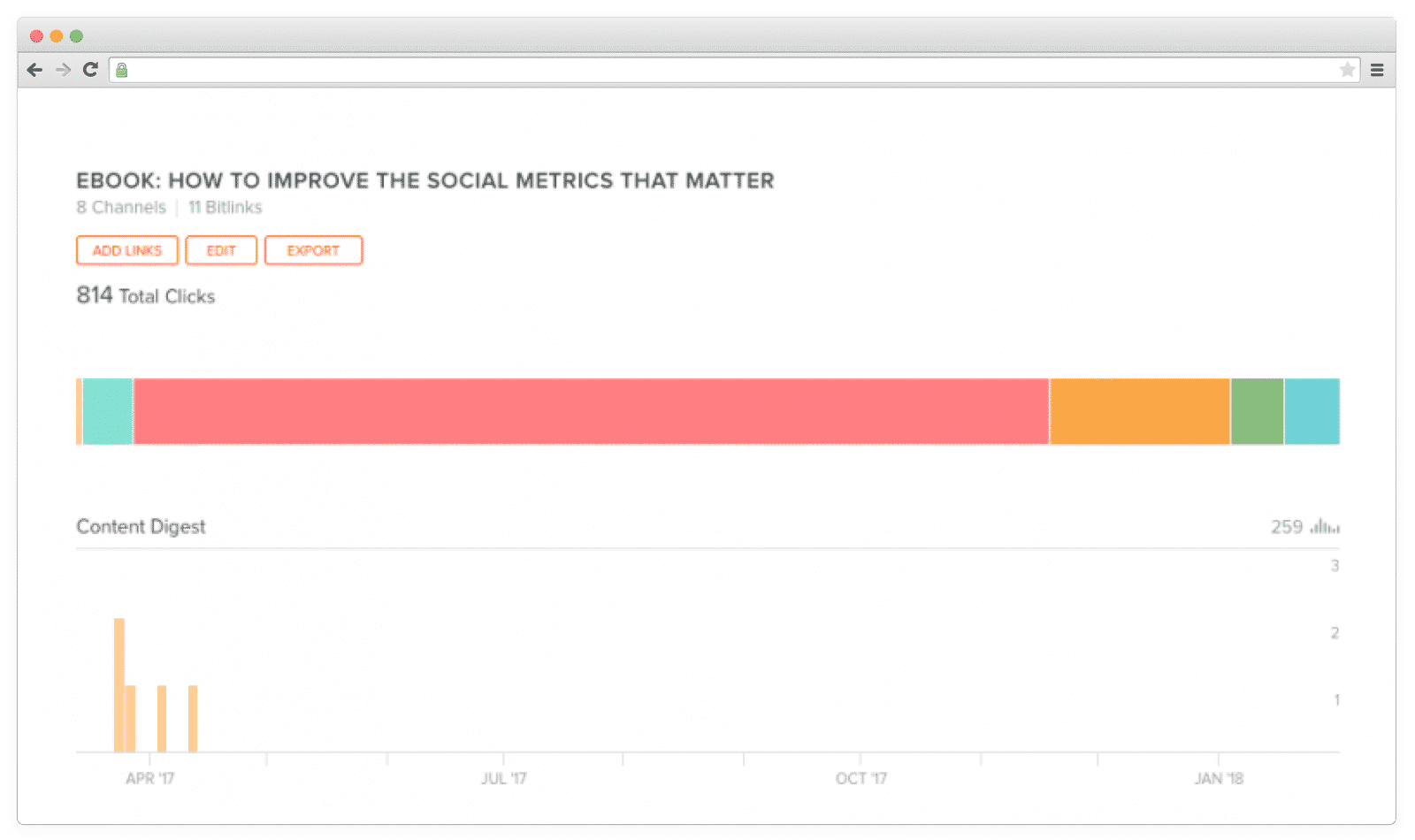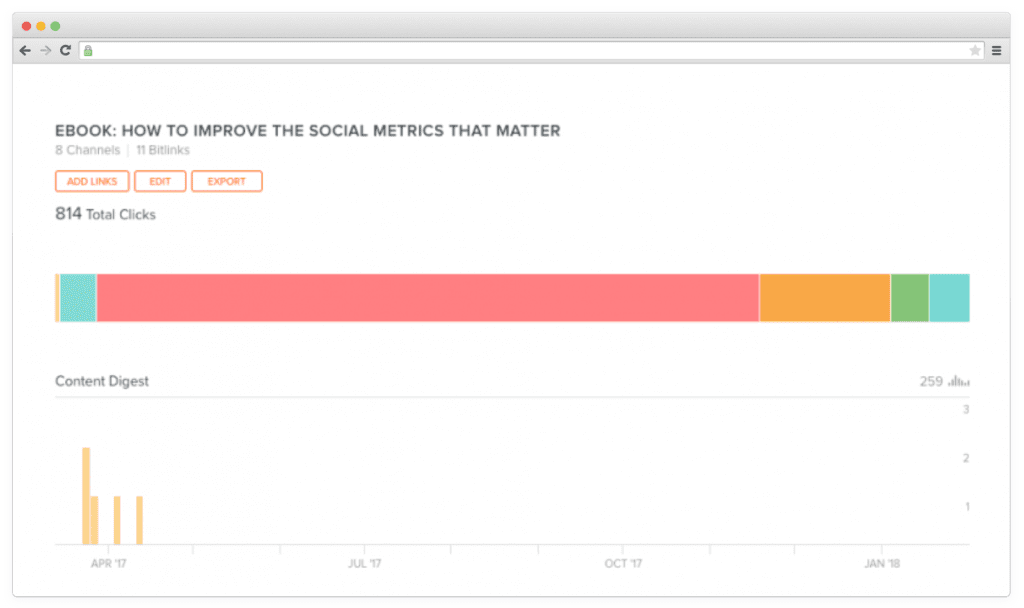 Besides, you can see where your links are shared and how many clicks they generate via those shared sources.
Bitly is a free application. There's an enterprise version for small to large businesses pricing starts from $29/month. 
There's a similar service called Capsulink, which is also a link-shortener with real-time analytics & reporting features.
It helps to track the time, languages, devices, and locations of your visitors, see QR code scan stats, and so on.
SimilarWeb
The best tool for spying on your competitors—SimilarWeb—helps to get insights concerning their traffic, rankings of a website or mobile app, and their referral sources. 
It's a quick way to get acquainted with the industry leaders, see how big they are, and check the latest web development trends they follow.  

Key information SimilarWeb shows:
Competitors' traffic
Total visits
Engagement metrics
Traffic sources
Referrals, etc.
If you upgrade to SimilarWeb Pro, you get access to a host of features, including device distribution, audience info, and traffic share from various social media networks.
Prices start from $199 per month for Search & Affiliate Marketing suite.
Hotjar
Hotjar tracks sessions on your website—it provides heat maps that show how and where users spend time on the site.
What's more, they create real-time videos showing how people are moving and clicking through the websites, helping you find out what content is catching users' attention.
For example, if some buttons are taking visitors away from the buying process, Hotjar will help you see it. Then you either remove these buttons should be removed from the interface or place them somewhere else.
The price starts at $29 per month for 10,000 pageviews a day. There's also a free version covering 2,000 page views per day.
SEMrush
SEMrush is another tool that can help with checking on your competitors. You just need to enter their domain name or URL, and you get access to a ton of data, like:
organic search
organic keywords
ads keywords
paid search
backlinks
advertising
There's also a breakdown of your competitors by common keywords, traffic, and estimated price of keywords in AdWords. With this software, you can identify your competitors' strengths and weaknesses, evaluate a new market or niche, and even build an effective media buying strategy.
SEMrush plans start from $99.95 per month.
Of course, it's important to create unique and engaging content, but if you don't regularly analyze it your efforts may never pay off.
Try out some of these tools to see which software works best for your website. You may start with free tools like Google Analytics—or check what content your competitors make with SimilarWeb.
Author's bio:
Vitaly Kuprenko is a technical writer at Cleveroad. It's a web and mobile app development company in Ukraine. He enjoys telling about tech innovations and digital ways to boost businesses.