LinkedIn is following the footsteps of social media giants and launched a new feature of LinkedIn Stories that helps professionals share interesting content and nurture relationships with followers.
Have you heard about LinkedIn Stories?
If not, you are not alone. It is a new feature of LinkedIn that was announced in September 2020. After the huge success of Snapchat, Instagram, and Facebook Stories, LinkedIn also came up with the exciting feature of Stories.
Initially, the feature was first introduced in the United States and Canada; now it is available for worldwide users. Much like Instagram Stories, the goal of creating the feature of LinkedIn Stories is to help professionals promote their business and share their everyday professional moments.
Let's explore what LinkedIn stories are and how they can help businesses to promote their products or services.
LinkedIn Stories – An Awesome Tool for Professionals
LinkedIn Stories are an amazing way to start a conversation related to your professional life. The feature allows users and business profiles to share images, and videos. With the help of LinkedIn Stories, you can boost your content and build meaningful relationships with your followers. If used right, LinkedIn Stories can act as an awesome tool for building an engaged and loyal audience.
How Do LinkedIn Stories Work?
Keep in mind that the stories feature is only available through the LinkedIn app. You can't use this feature on the desktop application. The LinkedIn Stories feature allows you to upload a video or an image. The maximum length of a story is 20 seconds that displays for 24 hours.
The image slideshow or video disappears after 24 hours just as on Instagram, Facebook and Snapchat. You can tag individual profiles with @ but not business pages. You can add stickers and text to the story. Furthermore, users can introduce other LinkedIn accounts, and ask questions.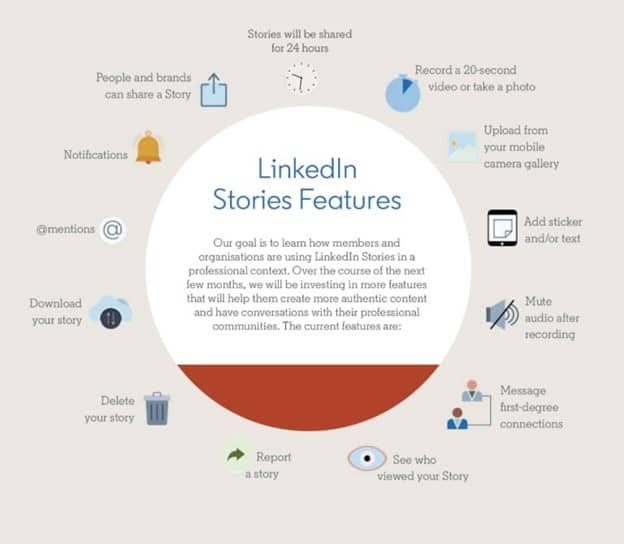 You can find a complete guide on how to post a Story on LinkedIn here.
The Goal of LinkedIn Stories
These days, Stories have become an exciting social media trend. Users prefer to share their daily moments and experiences via Stories rather than creating a post for the newsfeed. A study conducted by Later suggests that there is an increased number of users posting more stories and fewer feeds.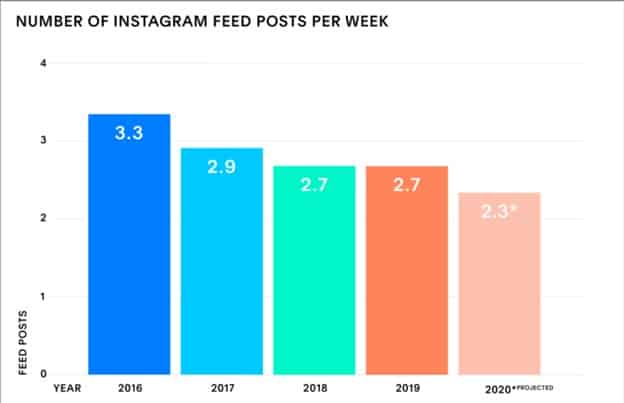 The rising trend of sharing content via Stories has made it necessary for the social media giant to launch this feature for their audience. However, the context of the LinkedIn Stories feature is quite different from other social media networks. Instead of sharing what you ate today, makeup, eating and lifestyle tips, brands and marketers can share content that is solely related to their business.
The ultimate goal of LinkedIn Stories is to start a conversation related to your professional life and create your image as a professional. You can share an appreciation certificate you just received from the HR department on your exceptional performance, ask a question to LinkedIn members, share interesting insights, breaking news, behind-the-scenes peeks, sharing glimpses of your work life or anything exciting that you want to share with your followers.
How to Promote Your Business with LinkedIn Stories?
If you want to strategically use the stories feature of the professional networking platform, here are some proven strategies to use LinkedIn stories for business related purposes.
Share Live Events Updates
LinkedIn Stories are a great way to share real-time business event updates. From product announcements to presentations, training and development sessions, award ceremonies and monthly office events, LinkedIn Stories can help you share glimpses of events in the form of short videos and images. You can use this feature to create a more positive image of your brand.
Engage with Your Audience
LinkedIn Stories include many amazing features, although it doesn't include funky stickers available on Instagram and Facebook. You can have different options to interact with your audience. For example, "Questions of the Day", "Ask and Answer" are a few features that you can use to interact with your audience and build strong relationships with your followers.
Most questions are business related, it is the best way to share your corporate culture and work life with your audience. Encourage people to interact with your business by asking questions related to your products, services, perks, HR team, upcoming events or anything related to your company. Use stories to show off how people work here, engage with each other and add value.
Share Success Stories
There is no denying the fact that people trust user reviews more than any other form of branded content. This is why it is a sensible idea to share testimonials and customer reviews in your LinkedIn Stories to make people believe that you are the right choice for their problems. Posting bite-size snippets and reviews of your satisfied customers in the form of a story will definitely encourage them to consider your brand for future purchases.
Announce a Limited Time Offer or New Feature
LinkedIn stories can also be used to share your upcoming exciting offers, new features, upcoming product or event, and communicating job openings. By sharing a special promo code, you can definitely convince people to regularly share your stories and become your loyal follower. It is a sensible idea to use LinkedIn Stories to share all your important company news.
Share Useful Tips
People want to connect with reputable brands, connections and industry experts whom they can trust. It is a great opportunity to create a more professional and positive image of your brand or yourself. You can convey your brand's mission, and values, trending news, share your business blog and informative articles to help people solve their problems. You can invite influencers or industry experts and do a one-to-one session to share useful tips or simply make a video with a marketing expert of your team to share their knowledge.
Are You Ready to Grow Your Business?
All in all, LinkedIn Stories are an amazing opportunity for businesses to promote their services or products, tell a brand story, and demonstrate your authority. From sharing quality content to interacting with potential customers, announcing amazing discounts, new products and corporate event updates, LinkedIn Stories can be used for a variety of purposes. You can earn loyal followers and high-quality leads by using an effective content marketing strategy for your LinkedIn stories. So, try this amazing feature and reach your company goals with the help of this professional network.