OK, I'm not any more fond of statistics than you are, but sometimes they can reveal some startling information, such as the fact that in many of the world's prime markets mobile phone penetration has exceeded 100%. More than one phone per person, and I can see that happening right in my own family. Let's cut to the chase; Worldwide, the penetration rate is 98%; in the US, the penetration rate is 103% and 81% of those are smart phones, in China, the rate is 85.9%; Russia – 160%; Japan – 100%; Germany – 138%; Indonesia – 107%, and the list goes on. By the way, the rate of penetration is not slowing.
What this means
What this means to you as a marketer is that there are now more people with the capability to go online via a mobile phone than via a computer. Can you see all the $$ that might mean?
What it means to you as a consumer is that you can expect to see more ads on your mobile phone. I can hear the groans now, but wait; it may not be all bad, as we'll see below.
Naturally, we are seeing the big players jumping on this. "Google, the world's largest search engine and the owner of the world's largest online advertising platform, has just been granted a major U.S. patent for "determining and/or using location information in an ad system." In other words, Google now owns a key patent for location-based mobile advertising.
Nor are the Japanese electronic giants ignoring the call.  Hyundai's patent application #US20130132198-A1 is similar in that it calls for "An advertisement system using an embedded map, the system comprising: A space of interest (SOI) server for generating location based data using an SOI object; and
an advertisement server for providing advertisement content information to an advertisement region of the embedded map using the location based data." Hyundai is claiming that using time of day or text of advertisement to target ads to specific "spaces of interest" on a map is already a proven art. This patent has not been granted and in fact, is open for comments until mid-November, but the trend is becoming clear.
Is there an up-side?
Actually there may be some advantages of mobile search ads: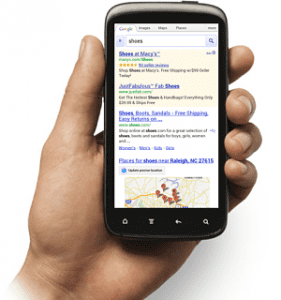 For consumers – if Google proceeds with its usual alacrity we might expect that Google might (within a few years) be able to track individual users in near real time and by using a combination of weather factors, your recent travels, time of day, location and other Google magic, might decide that your recent travel information indicates that you are on a trip and have already gone 300 miles. That information combined with the time of day might lead them to start serving ads to your mobile, targeting nearby restaurants and accommodations, perhaps filling stations, if you haven't stopped recently.
For marketers, granular real time targeting down to the individual? Being close to the ability to read the consumer's needs, in near real time?  Bigger Market? Stop it! – You're drooling all over the paper.
Certainly this will take gobs of processing power and may in fact be too much for individual Telcos, but I am sure Google will be happy to assist. It might even be that this would require too much processing power for Google, but given their history and their worldwide data centers I am betting that at worst, it will only slow them down a bit.
For those of us in the internet marketing business, it's going to require a few changes, but that's nothing new. Web designers will have to provide responsive designs and internet marketers will have to learn proficiency with mobile keywords and how to gain advantage in this new market.
That's what I love about this business – never a dull moment.