Small businesses and startups might not have the revenue stream to pay for development of a cutting-edge app. But, using AppInstitute, any business can develop their own app to promote the business, sell products or engage with customers, all with no coding skills or knowledge of iOS or Android required.
Businesses Don't Need to Stress Over App Development
Among the top searches when it comes to app development are the results "building an app with no money" and "build an app with no coding skills." This is a common problem for many businesses, they believe that developing an app is expensive or that they require magical tech skills to build. Or, they might not have the time to build an app the traditional way.
The truth is that anyone can build an app that will fulfill the needs of most businesses. From restaurants to dry cleaners, charities or services providers, any business can benefit from an app as it makes the company more visible on people's mobile devices, rather than being a plain bookmark buried among many others.
The majority of companies don't need an app that will play augmented reality Pac Man across office premises, or tie into a neural network for some massive big-data tasks. Instead, while a business might lack either the income or skills to create something wonderful or practical, there are easy-to-use tools provided by AppInstitute that will do the work for you.
It can also add features that your customers will actually need, such as loyalty building tools including virtual stamp cards, bonus points or discount coupons. Apps can also provide push notifications to keep your customers informed of the latest deals and offers, or trigger messages if they're near a store or event to boost engagement. In combination, these design tools and features allow anyone to build an app using a simple step-by-step templated approach.
Build an App the Easy Way
AppInstitute's approach is template-based. The customer can pick the one nearest to their type of business or that features the most pressing features that meet their needs. The design process can also pull in company logos, colors and other elements automatically. With a little editing of content, the app can be ready for submission in just a few hours.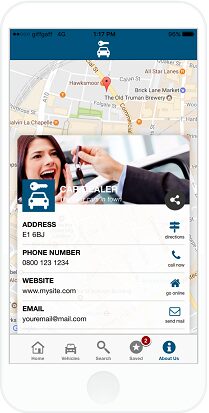 Example content can come from your existing company material or be created specifically for the app, making best use of the tight space on a modern mobile screen. Apps can also tap into other data sources, reading sales databases and other key data to make your app current. Tie these all together and your business will have an app ready to engage customers in a new way and make your company part of the app-age.
Additional features that can be added to the app include calendaring and bookings, use of rich media to get your company video shown off, online payments for in-app purchases or direct sales, and loyalty features to keep customers opening your apps or getting prospects to sign up.
Social media integration means your customers can share your business news or latest product information on Facebook, Twitter and so on to help grow sales and get more customers into your funnel.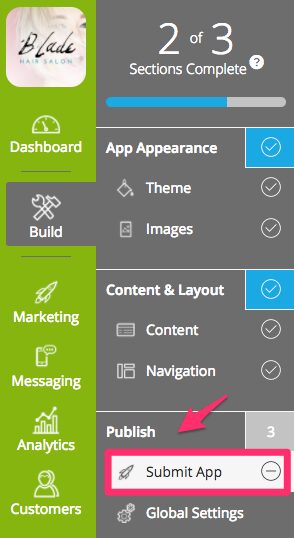 The Power of Progressive Web Apps
AppInstitute creates your app ready for the Apple App Store or Google Play. These are most likely to gain recognition and traction among your customers, and are easier to promote through links and social media.
To get your app on the App Store, AppInstitute can help you go through the publishing process as a fully-loaded app through Apple's or Google's submission system. When the app is up and running, AppInstitute's analytics will show usage numbers. They can also highlight where the app might need to be made clearer or stronger to highlight and surface features that users might be missing.
Alternatively, if you need an app instantly, they can be launched in a form known as a Progressive Web App (PWA), that will run on iOS or Android without need to wait for app store approval. Any user can install the app as an icon that launches the website, but PWAs provide features that have more in common with traditional apps than web pages, making them fast, efficient offering the best of both worlds, with some compromises.
Monitoring and improving the app will help build customer and brand loyalty, while letting your business leverage cutting edge digital services to learn more about customers. This allows the business understand how people use the app and can help improve the services it offers or refines future products to meet their needs.
Apps are also a great way of getting people to sign up for newsletters and other contact points. As the app grows, you can continue to send out Push Notifications to alert users to updates and other changes, as well as the latest business information.
Notifications can work in several ways, with scheduled messages for key events from your business, segmented ones to reach a particular part of your customer base or audience and geo-targeted messages for when your customers are around store or other locations where they can be tempted to buy.
All of this is professionally designed, but without waiting weeks for a development team to deliver, or spending endless hours in concept meetings.
Grow Your Business With the App
Much of this still comes as a surprise to many businesses who expect apps to cost the earth and be deeply complicated. Anyone used to the "what you see if what you get" design tools in an office package can work with AppInstitute to get the app their business needs.
While it may come as a pleasant surprise that building an app is not as complex as you thought. Your business should still create a plan to highlight the areas of activity that the app needs to promote. Focus on these, along with features that can make your app distinctive or more useful to customers.
With a well-designed app, your business can boost awareness, grow sales and increase bookings. And, every time that someone uses your app, it becomes a greater part of their digital life, so even if your products or services are a rare or impulse purchase, people will come to use and appreciate your company's offering all the more.
Some app builders are lucky and see an immediate boost in all categories of interaction. But, for most it will require some effort in brand-building, using discount vouchers and promotions to boost loyalty. Factor that into your business plan, but with the time saved in having an AppInstitute-created app, you will already be well on the path to success.
About the Author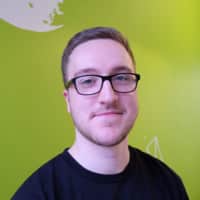 Izaak Crook, is the Content Marketing Manager at AppInstitute, a SaaS App Builder platform that allows anyone to create their own iOS and Android app without writing a single line of code. You can follow him on Twitter.