We don't get a chance to do many SEO tool reviews, simply because they take a lot of time. Every once in a while, a time block opens up and we hit the list of tools we want to try out. Today's tool just happens to be CognitiveSEO's "Cutting-Edge SEO Tools
It's one of those "too good to be true" things. They offer a lot: best link data ever, better insight into backlink profiles, and so on. It was interesting, then, to come across this MajesticSEO blog post: "CognitiveSEO is the first Enterprise level SEO Tool to fully integrate with the Majestic OpenApps API. The result is a system that lets you enhance your Majestic data with a full SEO analysis and link management CRM suite." Really? Hmmm…. Let's get to the chase!
A Little Bit of Trust Goes a Long Way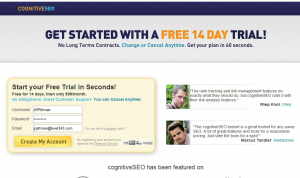 Although this has nothing to do with the tool itself, we'd like to take a minute to note the sign up process. The page talks about a FREE 14 DAY trial. Woot! No long-term contracts, cancel anytime, etc, etc. It all sounds good – you can test it out and, if you like it lay down some money. Right? Yes. But. They don't trust you to like the service. At least, that's the way it comes across when they say, "Start your free trial now, but make sure we have your payment info, too. No worries; we won't bill you… yet."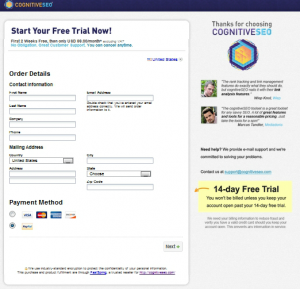 Hmmmm. A free trial is all well and good – and maybe this is just how things are done these days -, but we prefer not to add payment information on a trial. If you have a good product, we'll order it after we've tested it. Having said that, the CognitiveSEO creators made the actual signup process painless. They offer Paypal as an option, which gives a little more ease to the signup than just "hand over your credit information". They also (and this is a fantastic example of continuing the conversation before, during and after the sale) kept the reminder up that you're signing up for a trial and provided a strong thank you at the end. With the exception of the "give payment info" stumbling block, they've provided a great walk through in the buying process. Now, how about the actual user interface and the program itself?
Intuitive, User-friendly Dashboard

The CognitiveSEO dashboard is easy to understand, especially for those familiar with SEO tools. If you're new to SEO and its companion tools you'll find the dashboard a little more difficult, but only because the "Help" function is somewhat limited to a few "how to" videos. It's very user friendly with clearly defined navigational links throughout. Most of the navigation necessary to move between campaigns and within projects is readily available at all times in the purple bar at the top. There's really no guesswork here – no hunt, pick, trial or error involved.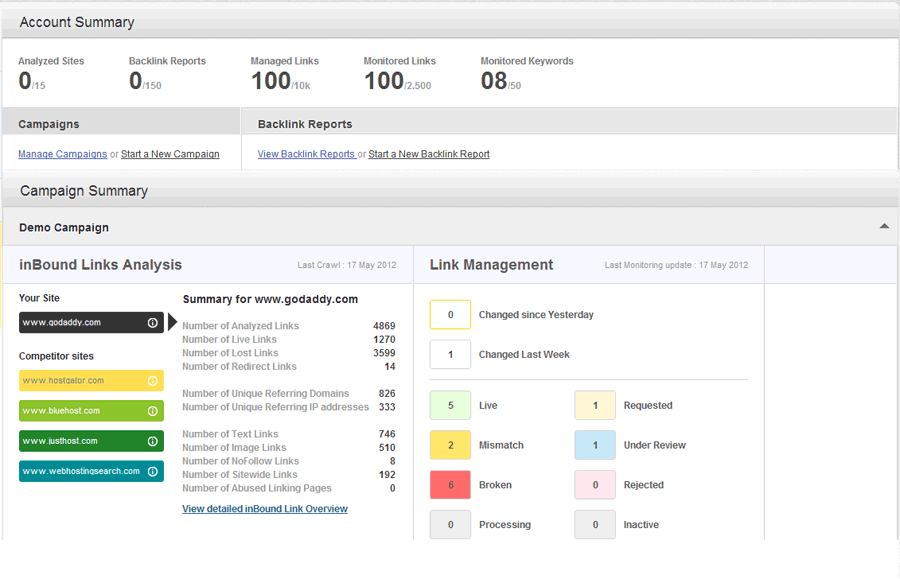 Under "Campaign Summary" is a list of all your campaigns. Click the drop down arrow and you can immediately see an overview of the information from that project. With the inBound Link Analysis, you can see the summary for your site, as well as your competitor sites, simply by clicking back and forth on each one. When you want to know more information about something in the overview, almost everything provides a link to take you to the section. In short, the dashboard is easy to use, intuitive, and provides a large amount of pertinent information for the space allowed.
Great Program, Quick Setup
We're just going to come out and say it; CognitiveSEO is a great program. It's not a "link building" program, as most people would consider a link building program to be. This is a link management and analysis program, which is totally different. If you want to compare your links to a competitor's, for example, you can do it. If you want to keep track of your link building campaigns in terms of where they were requested, which ones are under review, broken or being processed, CognitiveSEO will help you do it. If you're a heavy duty link builder, want to become a link builder, or are intent on building links/monitoring links to your site, we highly recommend checking CognitiveSEO out. For 14 days, you can test, monitor and track to your heart's content (within the allowances, of course). We can guarantee some of you will be signing up for good. To review the entire program systematically would take a lot longer than we allow ourselves for reviews, so we'll be speeding through some of it. You'll just have to test it out yourself to get the full experience.
Creating a Campaign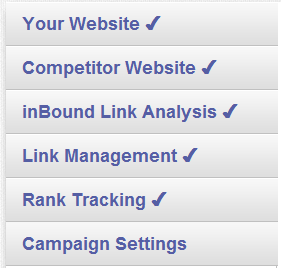 It's easy to manage a campaign, start a new campaign, or start a new report. At the dashboard, click "Start a New Campaign". Enter your website, which then provides you with the credit cost. Choose your competitor websites, preview analysis estimation and, again, see how many credits it will take. Next, go to the inBound Link Analysis. Now, what we like about the inBound Link Analysis (as well as the earlier steps) is that it gives advanced options. You can choose to analyze a certain number of links (up to 20), exclude only WWW internal links, exclude all internal links and, if you want to check a site every week, you can set it to do that. It appears to be very flexible this way. On the Link Management setup page, CognitiveSEO provides you with the option to automatically detect and track the top 50 incoming links to your website on a daily basis. The Rank Tracking page allows you to choose your target market with several choices: English, Spanish, Netherlands, Denmark, Israel, Japan and Mexico are just a few. It also monitors across Google, Bing and Yahoo.  Finally, you can either track rankings for a single sub domain or for the entire site. Enter the name of your campaign and select "Finish" to start it. It's quick, easy and – just in case you're getting impatient and want to know how far you have left to go in the campaign setup process – they provide you with a checklist of where you are. Now when you go back to the dashboard and click manage campaigns, you'll see the campaign that you just set up. From the dashboard, you can add a new one, choose which one you want to use, or edit the campaign you just created.
It's Ridiculous – A Ridiculous Amount of Information, That Is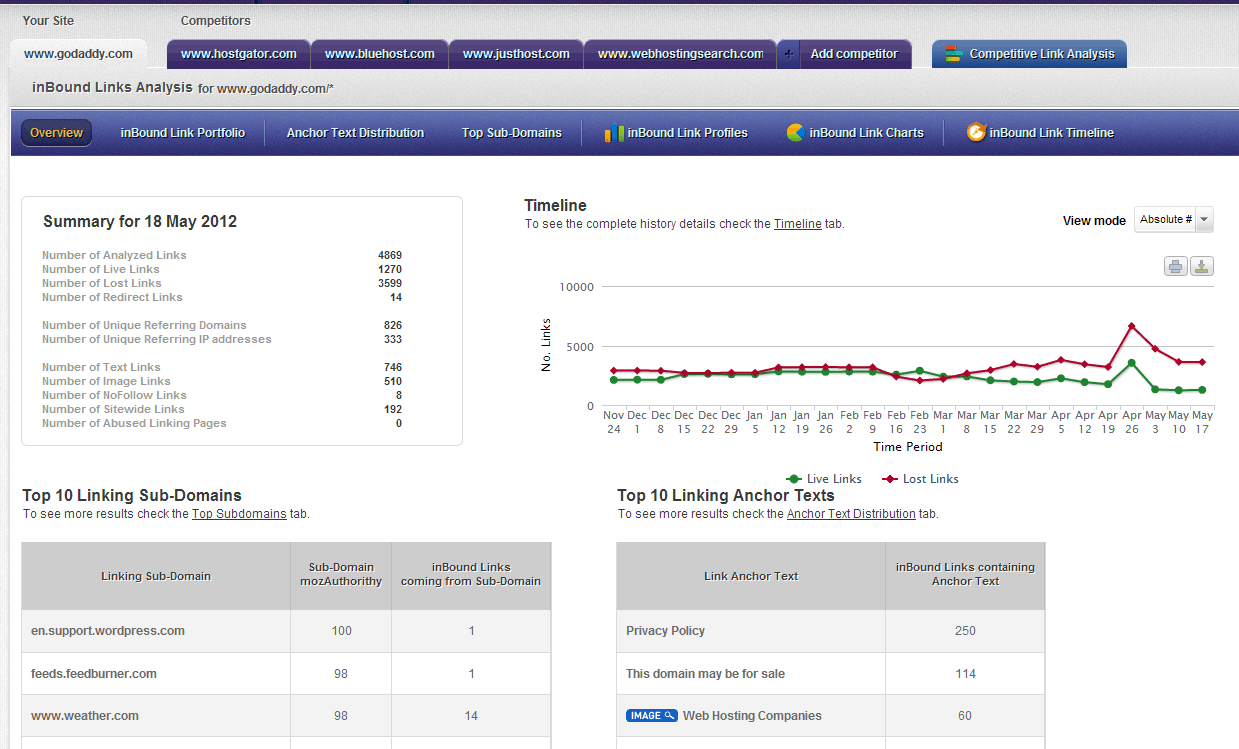 It takes awhile for CognitiveSEO to scan your backlinks and get back to you, but once it does, you may be overwhelmed by the amount of information it provides. For data mongers like Jahnelle, who loves digging through numbers, it's a dream come true. However, for those who just want the overview… well, it's a dream come true.
Inbound Link Analysis
To conserve space we're taking bare minimum screen shots here, so you'll just have to trust us on part of the information provided. The inBound Link Analysis overview gives you just that:
Overall link numbers
Timeline graph
Top 10 linking sub domains
Top 10 linking anchor texts
Top 10 inbound links
Link positioning profile (we'll cover that later on, but it's very interesting)
Inbound Link Portfolio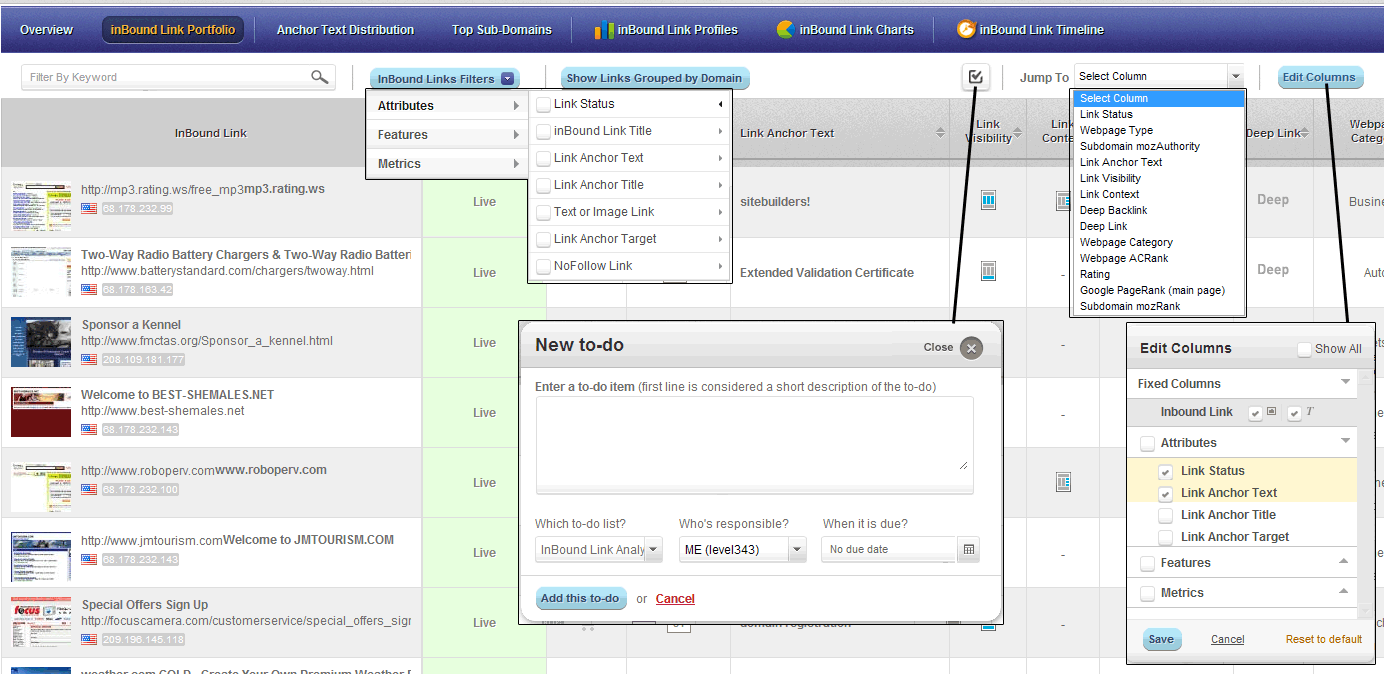 There's more to the inbound link portfolio then what it seems at first. For example, you can filter by key word, show links grouped by domain or add a "to do". You can also jump to a different column and edit the columns, and use inbound links filters to rank what you're seeing (the image has been modified to show the abilities; each choice shows separately, not at the same time). You can also edit the visible columns, which, although not unique, is a handy feature to have. It allows you to add more information or take away the information you don't need. You get exactly what you need when you need it. One of the things we'd like to mention about the user interface is that your choices don't automatically disappear. When you choose your inbound link filters, attributes and link status, for example, and then move the mouse off, it doesn't automatically close. It gives you a few seconds to get your mouse back on the link in case you moved it by accident. And one of the things that I'd like to mention about the user interfaces, is that your choices don't automatically disappear.  When you choose your inbound link filters attributes link status for example, and then move the mouse off, it doesn't automatically close.  It gives you a few seconds to get your mouse back on the link, should you quit on accident.  you can also added the columns which is really cool to add more information and take information away get exactly what you need at that time.
Anchor text distribution
The anchor text distribution section shows you whether your link is an image, whether the image as alt text, and what that text is. It shows link anchor text, linking sub domains that have the anchor text, and overall l inks that have the text. So, if you're really obsessive about the text you use to link to your pages, this is an excellent overview and an excellent tool for those.
Top sub domains
Need to know the domain, its PageRank, mozAuthority, and how many links come from it? You can find that information in this section. It's normal information, provided by several tools; nothing really to get excited about. All the same, it's useful to have when you're looking at a link tool.
Inbound link profiles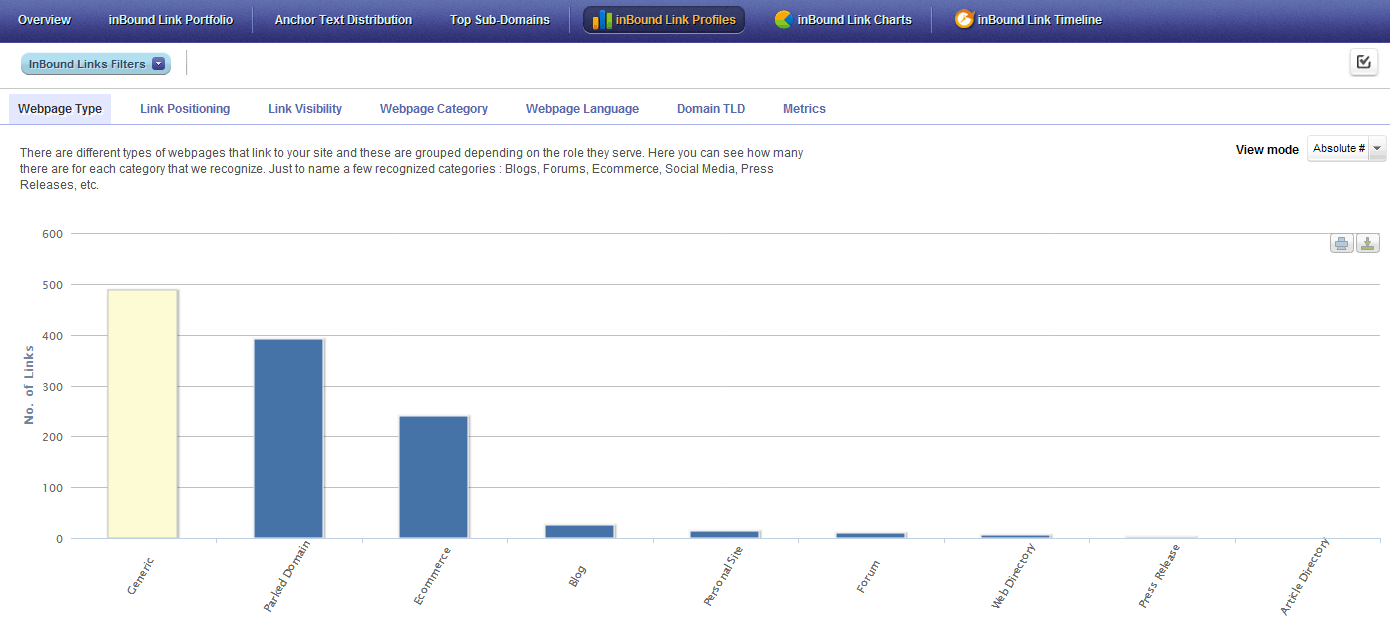 This is really interesting.  It's also where CognitiveSEO really shines, and provides too much information to take continual screen shots. However, once you're in this section, you can't help but think of Google's Penguin. Here, the web links are grouped according to the type of site they're on: blog, personal site, parked domain, generic, forum, etc.  By clicking on any type, you be taken to deeper information.  You see the list of the inbound per type, link anchor text, and the rating of the back link according to CognitiveSEO. Link positioning shows you where your link actually is.  For example, is it in a short paragraph of text, the Alt of an image, in a group of links, or a blog post?  If it's in a short paragraph of text, what is the anchor text?  If it's in a blog post or forum thread, what is the blog post about? With link visibility, it again shows you where your link is.  Is it in the header?  Is it in the body?  Is it a dynamic and hidden or JavaScript generated link? Webpage category shows whether it's a tech site, a business site, travel, home, pets, etc.  Not only does this help keep you on track of your link profile, but it also helps you keep track of your relevance. Are the links to your site relevant?  This is an important question to answer, and CognitiveSEO helps you answer it. The inbound links analysis also covers the language of the site, the top level domains that link to the site (.com, .us, .org, ETC.), domains' page ranks, and so on.  In fact, there's a ton of information from CognitiveSEO's inbound link profiles. It's well worth a look.
Inbound link chart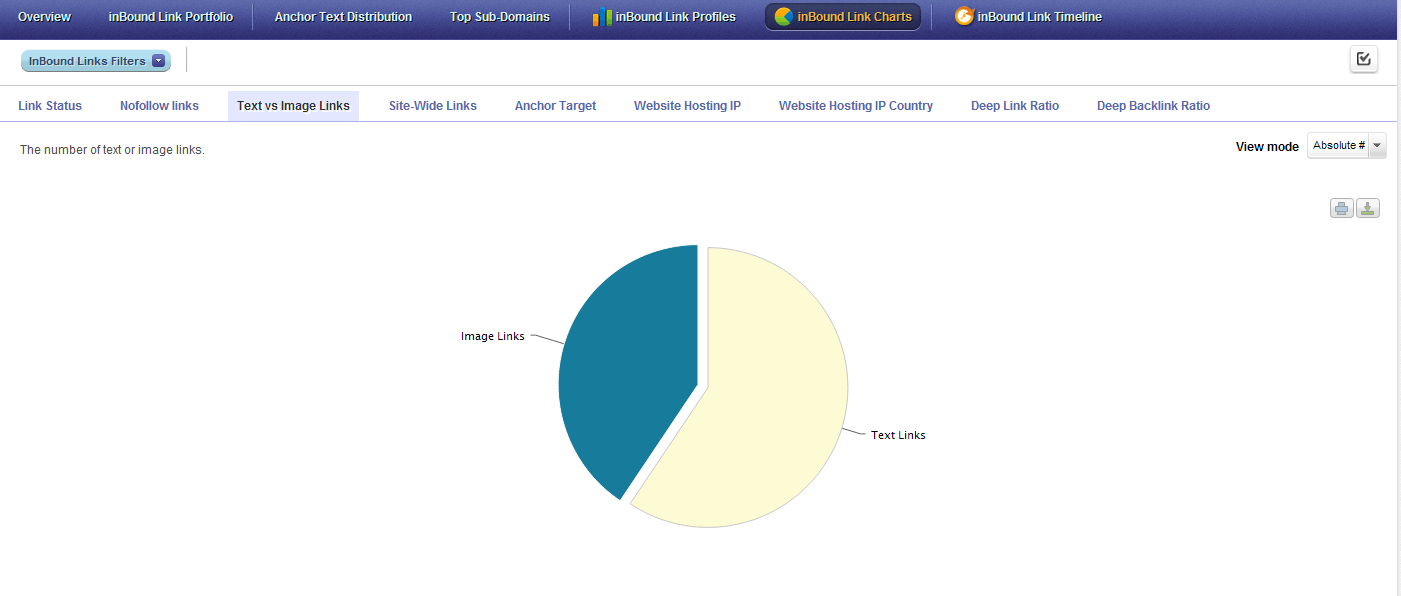 If you're like many people, you'll really enjoy the inbound link charts.  For example, as a manager, Gabriella likes being able to see the "big picture" in bite-sized bits that can be understood quickly. Graphs and charts provide that bird's-eye view quickly. Would you like to see how many image links vs. text links you have to your site?  View the handy dandy graph.  What about anchor targets?  Is the target of frame?  Is the target the same page (_top, _self), or does it open a new window (_blank)? Are they site wide links?  How many are deep links compared the home page links?  Are they do follow or no follow?  All this information and more can be seen with the inbound link charts.
And There's Still More…
If you think the review of the link analysis is impressive, we're pretty sure you're right.  -But the makers of CognitiveSEO didn't stop there.  Remember that you can compare all of this information to your competitors.
Link Management
On top of that, CognitiveSEO has a link management section that allows you to add inbound links.  A handy feature is that you can also add and import bulk links; therefore, no more line by line by line additions.  The link management section is comprehensive enough that you can easily keep track of all the information needed:
link status
Last checked
Anchor text link
MozRank
partner named and e-mail
link visibility –body, dynamic, header, etc
webpage category
Date entered
In fact, you can input pretty much any data that you see in at the end bound link analysis section.
Rank Tracking
What SEO tool doesn't have key word tracking? It doesn't seem to matter what the goal of the tool actually is; rank tracking is a mandatory inclusion apparently. The real question isn't, "Does it have a key word tracker?"  The real question is, "How accurate is it?" The answer is "pretty accurate".  In manual testing through search query input, CognitiveSEO showed itself to be off by one or two placements only.  That's pretty darn close.
CognitiveSEO is Good – Really, Really Good
We're big on data; CognitiveSEO provides it. Is it actionable data? Most definitely. In fact, the problem with CognitiveSEO's program may be too much information rather than not enough. –And we can't forget to mention that much, if not all, of this information is able to be printed and downloaded from the program. Is it the best link data ever, as the makers say? Well, we can't back that up, considering we haven't tested every link tool out there. –But, if there's better, CognitiveSEO will give them a run for their money. LinkSlueth (free) and SEOSpider (paid) are two that come to mind… To the makers of CognitiveSEO we say, "Great job". To those looking for a link tool to add to their SEO toolbox we say, "This is well worth checking out."