Happy New Year! To kick things off right, I want to talk about the foundation of your site. Site Structure: Don't Neglect It…Please!! The importance of proper site structure and organisation The structure and organisation of your site is so important and it doesn't get as much attention as things like copywriting and link building (don't get me wrong, those are crucial, I just think we need to look at the structure too, we don't want it feeling left out!)
If you haven't recently evaluated the structure of your site, now is a good time to do that.  If you are about to embark on a redesign, definitely plan the structure and organisation of content before you begin.
I am not going to go into much detail on things like clean code and java script etc.  For now I want to talk about navigation and linking.  Most people just throw it all together and let it take shape as things go along. I think that is a mistake and it's well worth some thought and planning time.
Never forget the goal of the search engines: they want the site that is most relevant to the search query to come up on top.  So your goal is to prove to the engines that your site is relevant to the theme that matches the query (if you focus on developing strong themes and not just one keyword phrase, you'll get broader reach).
One of the best ways to show the search engines the "theme" or "topic" of your site is by being clear to Google. You can begin by grouping your content pages together by topic/category and build the content out in sub-directories.  Your navigation should follow in the same footsteps.  So you would link to the core category pages in your main nav and then have a sub-navigation that is for all relevant/connected pages (you may have to supplement with some internal linking – more on that in a minute).
Let's talk for a minute about establishing your themes.  To determine what your themes are, ask yourself the following questions:
What themes are currently ranking well for my site? It's always good to start with what is working and see how you can expand it.
What subject themes are relevant to my site?  Think in broader terms here.
How would a user search for my content (main search queries)?  This helps ensure you are in the same mindset as your visitors so the site makes sense to them.
Next you want to think about how to organize the links.  You want to avoid making the engines and site visitors to go too deep to find content.  In simpler terms, the depth of your site is calculated by how many clicks are needed to reach any individual page from your homepage.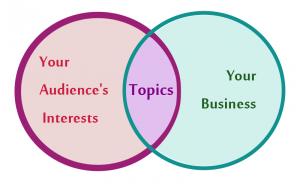 Less clicks is good for site visitors – it's easier and quicker for them to get to what they want. It's also good for the engines.
A challenge for larger sites is controlling the depth.  You don't want a large, cumbersome navigation with hundreds of links right on the homepage.
Using sub-navigation (drop-down or flyout nav) helps organize content and helps you get more links in there.
But you can also take advantage of an internal linking structure.  There are a lot of different ways you can structure it: you could have 3 main category pages and when you click on each of those, you go to a "landing page" for the category that has further navigation for that "section" of the site.  Or you can link within body content to other relevant pages.
If you are going to do internal linking, be sure to use keyword phrases as the anchor text (clickable part of the link) to get an extra SEO boost.  (Now don't go stuffing your text with keyword rich links, as with all SEO strategies use it naturally.)
TIP:  Whenever you add new content to your site, think about what category it belongs in and set it up there but then also think for a minute about what other relevant pages you could link to from that page to help guide readers through your site.  Again, it's creating an interconnection of relevant pages.
I find it helpful to create a little chart in the planning phase, that way it can be used (by you or your web developer) in building out the site.  If you keep it updated as you add pages, you will ensure that your site is always well organized.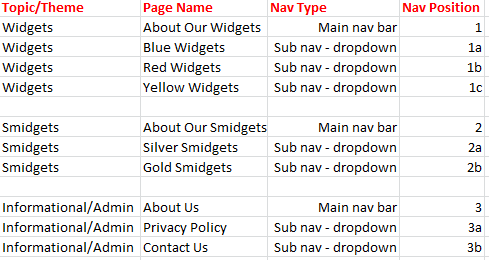 Here is a sample chart:
Once you have the content structure organized, you want to think about the technical implementation.
For starters, make sure you avoid using code that the engines can't follow.  Avoid creating your navigation in Flash or all in java script. If you have to use images, make sure you use ALT tags.  Whenever possible, I like a nice clean, text based navigation.  You can use CSS to "pretty it up".
There is some debate about whether you should use absolute or relative links.  I've seen compelling arguments on both sides, so my best advice here is just be consistent.
This may not be the most exciting topic, but it's important and definitely worth your time and attention.