Have you thought about using social media for brand-building? Engaging customers and potential clients online helps with name recognition and can earn you loyal fans.
Why is social media engagement important for your business? Out of the 3.5 billion people online, around 79% use some type of social media. Consider these networks as a direct connection to your target audience. There are some simple things you can do to up your digital interactions.
1. Automate Your Posts
Use tools such as Hootsuite or Buffer to automate your social media marketing schedule. People tend to respond best when they know they can rely on you to put up fresh material regularly. Post a link to new research, share info about a new product launch or add some entertaining memes related to your industry. Schedule these posts in advance to save time and make sure you're always on schedule.
2. Engage Your Followers
Spend time talking to the people who comment on and share your posts. Social media is a word-of-mouth form of marketing. You won't reach as many people if you don't have a core group sharing your content. You may even want to develop a street team and ask them to share info on new items in exchange for trying them out first.
One of the most important communication practices is to listen and develop relationships with your audience. When someone shares your post, thank them. If someone comments, you should respond as quickly as possible. You may want to enlist the help of a social media manager to watch for mentions of your brand on people's walls.
3. Team up With Influencers
There are people in every industry who have some rapt fans. The influencers on different social media platforms are known for seeking the best products and sharing in-depth reviews. If they recommend an item to those who follow them, many will try it just because the blogger suggested it.
Figure out which people reach the target audience you'd like to engage. Ask them to work for you as an influencer. Don't overlook micro-influencers with smaller audiences but more interaction with their friends. 
4. Choose the Right Platform
Each social media network has different types of users. For example, younger people are drawn to Tik Tok, while all ages use Facebook. Pinterest attracts more women than men, and LinkedIn is great for business-to-business (B2B) promotions.
Spend some time on each of the popular social media platforms and figure out which one works best for your needs. You aren't limited to one, but it's best to engage users on one site and expand to another.
5. Host a Contest
One fun way to get people engaging with your brand is by hosting a contest. For example, you might invite your customers to post a photo using your product in a unique way. Ask them to use a hashtag or @ you, so you can find the entries. Not only does such a contest create excitement in your fan base, but you are also reaching their family and friends when they post about the item.
6. Measure ROI
Figure out what your return on investment (ROI) is for each social media campaign. Understand your goal may not always be a certain number of click-throughs or sales. At times, you'll simply use social media to reach new leads or get your name out there. Know your ROI goal, even if it is just a certain number of post likes, and see which efforts work best for your brand.
7. Serve Your Current Customers
Use social media to stay in touch with your current customers. You can't grow your business if you don't retain the clients you already have.
If someone posts a complaint, respond immediately and offer a solution. Not only will the buyer be happy you solved their issue, but others will also see you managed the problem quickly and professionally. How you handle a complaint can gain you new business.
Social Media Is Vital
In today's world, even small local businesses benefit from a strong social media presence. Figure out how involved you can be based on your time and budget. Seek people who are most likely to purchase your product and invest your marketing dollars where they have a proven record.
About the Author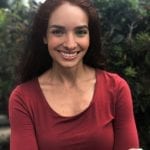 Shannon Flynn is a technology and business improvement writer. She is the Managing Editor at ReHack.com and has written for sites like TechDayHQ, Re-Work, Innovation & Tech Today and more. Follow ReHack on Twitter to read more pieces by Shannon.