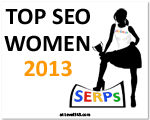 Hello dear readers, another 2013 month has slipped by us, and it's getting better all the time. I'm excited to share today's Top SEO Women 2013 nominee. She comes from the land Down Under Where women glow and men plunder…(couldn't resist) even though I've always sung "Where women roar and make thunder". Sure it's the wrong lyrics, but I assure you, many of us have made up our own words…which brings me to the point of all this.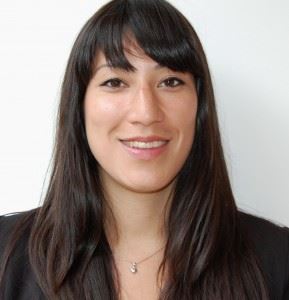 What a perfect segway to introducing another exceptional woman. You see I truly believe women do roar and make thunder… I'm sorry to say I haven't met this week's nominee but I've read and seen her about through the SEO networks. Which is one of the exciting things about doing this series. I get to know these women better and realize there's a lot to be said for inspirational women in this industry. Rolling up our sleeves and diving into the abyss of online marketing, now without further ado, I introduce you to Annabel Hodges.
1. What's your personal elevator pitch? What should we know about who you are and what you do?
My personal elevator pitch? Erm… Trust me, I'm an SEO? 😉
By day, I head up the SEO & Content Team at Columbus Search, based in Sydney and Melbourne, but working across Australia. I'm passionate about seeing the bigger picture and doing what works, not what the textbook says. I love data and feel a lot more at home with logic and rules, but I'd like to think my biggest skill is empathy with a client/colleague. If you can put yourself in someone's shoes, you learn about their business and their work a lot faster. You also help them to become more pro-active to help themselves. I guarantee this leads to better strategies and better results. Outside of work, I regularly write for State of Search and am a proud SEO Chick. I also contribute to women's career focused sites like Women's Agenda, as well as working with youth charities like Vibewire, helping to run digital workshops for young entrepreneurs. I play around with a few personal projects, and if I really remember, I might blog on my own Annabel Hodges site (mostly about silly daily life, not SEO, I'm afraid). A 6 day week is often on my wishlist!
2. Which area of SEO or online marketing in general do you focus on primarily, and which is the most exciting or most boring to you? Or is there an area that you'd love to dive into more?
The most exciting thing about SEO is that you don't need to be pigeonholed. Some days, it's all about long-tail, landing pages and good old fashioned data and research. Other days it's about bartering for freebies, getting on the PR wagon and and sniffing out publicity opportunities. I can be creative and data driven at the same time. I try to focus on results, rather than specific areas.
I'm definitely not an expert in a particular area of SEO (though I'd like to think I know my stuff!) but I know what KPIs mean. For me, that's more important than a single skill. I don't care about arguments over black or white hat or teeny tiny changes in Google's many thousands of updates. That's not what I find interesting. For me it's all about long lasting business strategies that work and get you that organic (and social and referral) traffic.
If I had one wish it would be to be the ultimate excel ninja, my skills improve everyday but there's always so much more than can be done with that tool. It's madness.
3. We'd love to know more about the personal you (without being too nosy). What area of the world do you live in, or want to live in; what are some of your quirks; what fuels your fire?
I love a work/life balance. Having friends and family who have absolutely no interest in SEO or anything to do with digital marketing is far more important to me than attending every conference or SEO get-together. I also genuinely think it makes me better at my job. Having said that, I also love that I have met many SEOs over the years who turned into real 'out of work' friends.
Travel, food and languages probably fuel my fire the most. My mother is Malaysian Chinese and I was raised in a very Asian household – food fixes everything, cooking is a daily part of life and the family revolves around it! I also grew up in France, lived in Spain and am now based in Australia. I love cultures and understanding what makes people tick. A great example of that is words in one language that have no direct translation in another – it says so much about that culture.
Other than that, well there's pandas. I just have a thing for pandas. Black & white or red. Can't really explain why! I cycle everywhere and am always up for an adventure – I'll eat anything, go anywhere and have a go at any sport. I'm terrible at most of them but it's always worth a shot! My surfing is still diabolical. Oh and trivia, I love pub quizzes and random facts that serve no purpose. e.g. Did you know it's impossible to lick your elbow? Or that if you walk and talk with someone at the same time, your steps will eventually synchronize (but nobody knows why).
4. Funny SEO story? (clients, co-workers, others, you)
I'm not sure if it's a 'funny' SEO story per say but my favourite personal SEO story is when I was doing some freelance work for a boutique men's underwear brand, designed by quite a well-known stylist. I was looking for linkbait opportunities so they invited me to come to the photoshoot for the latest range of underwear and get involved with the behind-the-scenes action. I had to get up at 6am on a Saturday to get to the shoot but was greeted by lines of semi naked gorgeous male models and a row of tables overflowing with coffee, fruit and pastries for breakfast. Normally living in a world of tech, geek and data – I can safely say it was the most enjoyable Saturday morning's link building work I've ever had!
5. Advice for other women who want to get into SEO
Just do it! Getting into SEO doesn't start with a job, it starts with your own site and a dabble here and there. If you can prove results, the rest will follow. SEO agencies will invest in someone who has shown initiative. Gender may not always be fair, and women are often assumed to be too 'fluffy' to handle the more technical side of things. Prove results and nobody can argue. You can do it from your bedroom!