Yes, It's Friday and time for another Top SEO woman nominee. I have to admit I'm thrilled so many women have decided to join our efforts in giving them a platform to share more about themselves. I've never met Jennifer Evans Cairo but as many on the online SEO world her name is familiar. What's exciting about sharing these great women with you  is how they differ in their approach towards any marketing campaign. After all SEO is not the only tool used for a successful campaign strategy. And now without further ado, let's meet Jennifer.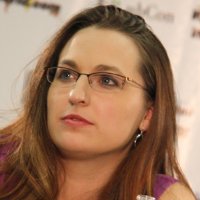 1. What's your personal elevator pitch? What should we know about who you are and what you do?
My elevator pitch: I help companies build and maintain sustainable social media strategies.
Put into slightly longer, "let's have lunch terms" that means we enjoy working to small to mid size companies who see social media not as something they "have to do" but as something that has the power to help them reach their goals.
When my phone rings and the first thing someone says is "we need to update our Facebook page" I'm happy to talk to them, but I know we'll probably need to shift their focus. On the other hand, when my phone rings and someone says "we're launching a new X and we'd like to put together an outreach plan for influencers in the Y community" I know I've got a great potential client fit on the line.
2. Which area of SEO or online marketing in general do you focus on primarily?
We are primarily a social media and web analytics firm that also branches out into other areas on an as-needed basis. I find that almost anytime we get involved in web analytics, we're also going to end up doing a little usability and conversion optimization consulting. At the same time, anytime we start to deal with social media we're also probably going to be focusing on reputation management, brand messaging and even outright business consulting.
It's part of why we love working with smaller companies. I've tried my hand at the Fortune 500 crowd and the sheer number of levels you have to go through in order to get anything approved makes it darn near impossible to address the issues that often lead to problems in social media. Working with smaller companies where the CEO or business owner is our primary contact gives us the freedom to REALLY dig deep and work through the changes that are needed to take a company to the next level.
Within the microcosm of Social Media, my favorite areas right now are blogging and Pinterest.
I feel like blogging is only just now starting to make its comeback in terms of people truely valuing the marketing potential of blogs. They really do tie social media efforts together in a way that no other channel can, not to mention the boost they give in terms of links and search engine traffic.
As for Pinterest, it's simply been exciting to see a new type of social media channel come into its own. There are only so many "it's the next Facebook" and "it's the next Twitter" channels you can look at before your eyes roll back in your head. It's the new channels that do something unique (Instagram, Pinterest, etc) that catch my eye and make me willing to give it a fair shake.
I'd been waiting a few years to write my first book, mostly because I didn't want to say what everyone else had already said. The arrival of Pinterest on the scene gave me the perfect chance to dive deep into the marketing potential of something new and interesting. As such, Pinterest Marketing: An Hour a Day was born.
3. Which is the most exciting or most boring to you?
Changing people's lives by changing the way they do business. That's what I revel in. My husband and I run SugarSpun Marketing together and being part of this industry has given us a type of freedom and flexibility that few people get to experience in their work life. If we can help other business owners experience that by increasing profit levels or introducing a more effective marketing channel, I count it as a major win.
It's the other key reason I adore working with smaller companies. My grandfather was a small business owner and I remember walking to his insurance office after school and stopping in to give him a hug and to get a packet of chicklets from the glass jar on his desk. My grandmother worked in his office as well and though they worked hard, I always remember them having time for us.
I've spent almost the entire 15 years I've been in this industry working from my home. I've trained Fortune 100 execs on webinars from my couch in my pajamas while my toddlers played on the floor in front of me. I've been able to be here to put my children on the bus and get them off. And during my years as a single mom, I never had to put them in day care.
This industry, this way of doing business, it offers people an escape from the day to day grind of a desk job at a massive corporation. I adore being able to connect with the people who live that dream. I adore being able to help them make their business even stronger so they can hire other people and expand their businesses in a completely different way than old school companies did.
Being part of this new wild frontier of entrepreneurs and game changers…I LOVE that!
4. Is there an area that you'd love to dive into more?
That's an excellent question…and I'm not sure if I have an answer to it. Mostly because when things pop up that I want to dive into more, I usually dive into them more. 🙂
I suppose one area that has intrigued me over the past few years is this idea of remarketing and how social media campaigns and activities can be used as part of that process. While we do manage Facebook campaigns and such for clients, we're primarily an organic marketing company. I would love to expand that some where down the road to offer more paid search and paid display services to our clients so we could more fully explore some of the newer targeting options beginning to pop up.
5. We'd love to know more about the personal you (without being too nosy). What area of the world do you live in, or want to live in?
Oh, go ahead and be nosy. We live in a social media world, right? 🙂
My husband and I, plus our three kids, live on a 22 acre farm that has been in his family for a century. It's been a dormant farm for nearly a decade, but we're slowly working on plans to bring it back into working order as a hobby farm. We've been putting in a small orchard and introduced a flock of chickens this year for egg production. Next year we're aiming to add apiaries (bees) and to do some renovations on the barns so we can prepare to add some livestock in the years following. It's our own little slice of heaven, complete with fields, pastures, woods, a stream…even a small waterfall and swimming hole.
I'm a passionate baker…I have two kitchens and they both get used on a regular basis. I make the best cinnamon rolls in the world, (no really, ask around in the industry…I do) and in the past year, I've started experimenting with ice cream. Unfortunately you have to balance these things out, so I also do Yoga three times a week and am attempting to join the world of adventure racers this summer. I'm not Tough Mudder material yet, but I'm aiming to pull off a Hero Rush 5 mile obstacle course in July.
6. What are some of your quirks; what fuels your fire?
I love a good challenge. Telling me I can't do something is one of the fastest ways to get me to do it. Life is an adventure to me, so whether it's learning new skills and exploring new channels in social media, or figuring out how to build a homestead and care for chickens, bees, pigs and cows…I embrace the chance to try new things.
I think part of the reason I love social media so much is because it's a landscape in continual flux. Even though we've reached a point where we have some solid players we know will be around for the long term (i.e. Facebook, blogging, YouTube…) there are always changes happening WITHIN those channels. This world is anything BUT stagnant, which means there's always something new to spark that challenge and that passion to keep moving forward.