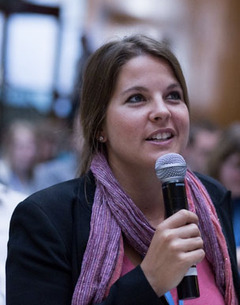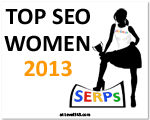 Twitter | Facebook | Google+ | Website Yeah It's Friday, (again) and if you've been following our Top SEO Women series we have another wonderful addition this week. I'll admit it's a pleasure to share this accomplished young lady with you. She's definitely a shaker, organizer, and most of all passionate about search. That's the thing most people don't understand. When you love what you do and apparently Jo does, it drives you. It's actually driven her to spear head Search London. From a small gathering of people to last I read over 10 thousand people
1. What's your personal elevator pitch? What should we know about who you are and what you do?
SEO stands for the simple easy option, which is my approach to SEO. I have worked client and agency side and also freelance. Therefore I understand the different challenges that exist within these environments. Last year I also spent a lot of time attending Search events in the UK and US meeting many other search professionals. I set up my site, SEO Jo Blogs to provide useful advice and tips for those in SEO. It has now become a place where I blog about different events including the one that I run, Search London. It is a networking opportunity to meet fellow search professionals and catch up with the latest news in the industry, presented by key speakers in search.
2. Which area of SEO or online marketing in general do you focus on primarily, and which is the most exciting or most boring to you? Or is there an area that you'd love to dive into more?
I focus on helping small businesses increase their online visibility. I do this through providing on page recommendations, including page titles, meta descriptions and optimizing their on page content which involves helping provide content for their blogs. I really like building relationships with bloggers, working with them and writing guest posts for their sites which leads to more referral traffic for my clients. The most boring element of SEO is being asked the same question "What is the value of SEO?". This question is rather ironic, as the same people who ask this question, think nothing of spending thousands of dollars on a display campaign which lasts just a few weeks.
3. We'd love to know more about the personal you (without being too nosy). What area of the world do you live in, or want to live in; what are some of your quirks; what fuels your fire?
I worked in London since graduating from University. At the end of 2011, I began working freelance from Australia while also spending time in Europe and the US. Early this year I secured a permanent job in Sydney. It is early days, but so far I am enjoying living in a country with sun, sea and surf. I will be taking kite surfing lessons soon and will also be taking part in the famous city 2 surf 15km run and running other charity events. I also like writing on my travel blog with all the places I have visited.