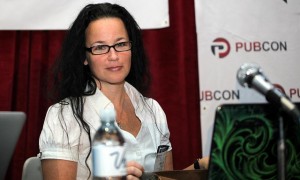 Another week has gone by and we've barley scratched the surface on introducing you to these amazing SEO women. We've taken a little flack for being sexist, promoting an archaic, unsophisticated event. But guess what? We don't care. We feel we're doing something that's good for our community, and that's what counts.
Introducing you to these women is a privilege and of course we get a kick out of finding out those little morsels of truth that we wouldn't ever know about, otherwise. I have yet to meet Melissa, but I've seen her star shine and rise. She's witty, super smart and extremely driven to better our SEO community. Without further ado, let's meet her.
1. What's your personal elevator pitch? What should we know about who you are and what you do?
Currently I am an Associate at SEOmoz (primarily editing on YouMoz), I write and work for CopyPress as well and run the blog at Authority Labs. On top of that I have clients, but they are a select few 🙂 They are rational, good paying clients that "get it".
In regards to my client work, I help my clients create websites and online strategies that offers them numerous returns. I am also a consultant/trainer that helps businesses learn what they need to know to meet their online marketing goals and work with them monthly to ensure all continues to run well. I specialize in SEO, Content Marketing and blogging strategies.
Side Note: I do call myself "an idea girl". I think someone should hire me one day just to come up with ideas for them. My neurons are firing all day. I often take notes 🙂
2. Which area of SEO or online marketing in general do you focus on primarily, and which is the most exciting or most boring to you? Or is there an area that you'd love to dive into more?
Wow, this is hard to answer. SEO is so much more than one thing today; it is now more "marketing strategies that the search engines can interpret well". To be good at this you have to understand how all the pieces of the puzzle must come together for an effective campaign. You also have to understand which puzzle pieces need to be bigger than others with each client. Research and experience are what help put the puzzle together.
Everyone needs different strategies based on needs and goals. So, I don't know if I focus on one area more than on others; I think you have to understand them all. However, I don't personally do PPC because I haven't had time to study it, but have people that can do it for clients.
I love auditing sites and really examining what needs to be changed, deleted or fixed. I love helping clients develop the right goals and planning an online marketing strategy around those goals. I love dissecting traffic data and I love everything about content marketing, which has to be a part of any SEO today. I also really enjoy helping clients with the web development process as well.
I really enjoy consulting and training businesses. It makes me happy.
3. We'd love to know more about the personal you (without being too nosy). What area of the world do you live in, or want to live in; what are some of your quirks; what fuels your fire?
I live in Sarasota, Florida. I prefer to stay here for the rest of my life. It isn't a large city, but it is beautiful. As far as quirks, I am kind of weird 🙂  I love being alone with my computer and cranking through work, but I also enjoy being with people. I volunteer in the Big Cat Habitat here and I am fine with educating the visitors all day. I love people, but I really enjoy working alone in my PJs with my cat 🙂
What fuels my fire…a few things. I want to save tigers and lions. Knowing them personally I know how amazing they are. One of my missions in life is to help educate people on big cats and convince them to care enough to fight for them.
In regards to career, I wanted to be good at what I do and also build a respected name in this industry. I feel like I have accomplished that, but need to maintain it. It is really important to me that people in this industry know me as someone that is not a stuck-up person, someone that cares about other people and someone that will treat them with all the respect they deserve. I have been judged pretty harshly in my life and I don't ever want people to think I am judgmental or look down on people. I want to help people; I am a helper. However, insult my friends or my family and the nice me goes away 🙂
I would really like for people outside our industry to understand how much knowledge, experience and brain power goes into being really good at SEO and Internet marketing.