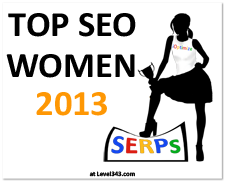 Meet Shari Thurow, founder and SEO Director of Omni Marketing Interactive and one of the Top SEO Women™  of 2013.
We asked a few questions, and Shari's responses are below.
Twitter | Website
What's your personal elevator pitch? What should we know about who you are and what you do?
I am a bridge person. I bridge the gap between humans and computers.
So in the search industry, the technical jargon: I specialise in human/computer interfaces (HCI).
In order for a website to be easily found, it must meet the needs of both human and non-human users. I must understand the psychology, behaviours, and needs of users/searchers. I must accommodate human users, first and foremost, on any website I work on.
I must also understand the technical side of human/computer interfaces – the non-human users. Examples of non-human users include search engines, software, and devices (desktop/laptop computers, tablets, mobile phones).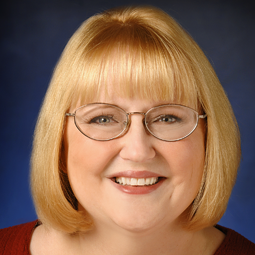 I build the bridges between humans and computers so that website content is easy to use and easy to find.
I wish people would stop labeling themselves as "stupid" when they fail to accomplish a task on a website or an application (app). The problem is not usually the user. The problem is usually the website.
Which area of SEO or online marketing in general do you focus on primarily, and which is the most exciting or most boring to you? Or is there an area that you'd love to dive into more?
I connect the fields of search engine optimization (SEO), website usability, information architecture (IA), and web design/development.
SEO is a subset of information architecture. Most SEOs are clueless about information architecture. They constantly confuse information architecture and technical architecture. On a website, information architecture is organizing, labeling, and connecting content so that it is easy to use and easy to find.
The information architecture process should occur long before the technical process of website development.
Information architects conduct usability tests as part of their data gathering process. On that note, I've been a usability professional for over 10 years. There is no point in having #1 search engine positions if people have a difficult time using your site and completing their desired tasks. I don't sacrifice usability for search engine rankings.
I really am a website designer/developer. I pioneered search-engine friendly website design. I wrote the first book on that topic. And I have been an instructor/trainer on this topic since the mid 90s.
Can one person be educated and skilled in these 4 areas? Yes, I am that person. I am quite passionate about making usable, findable content. As information architecture guru Peter Morville stated, "You can't use what you can't find." Amen to that.
I do a limited amount of search engine advertising. It's a different search monster. Others are very passionate and skilled at search engine advertising. So I prefer to let others do what they are passionate about.
We're all on the same team. We can work together to create and maintain usable, findable content. I think the greatest SEO skill is humility – admit what you don't know and work with others who are masters at their respective skill sets.
We'd love to know more about the personal you (without being too nosy). What area of the world do you live in, or want to live in; what are some of your quirks; what fuels your fire?
I currently live in the Midwestern United States. My favorite country is Iceland. My favorite city is London. My master's degree is in Asian Studies/Japanese. So I love Japanese culture (and food).
My heritage is Viking-German-British. I look like a German, British Viking. I definitely have a Viking sense of humor.
My quirks? I really like to read. I still prefer dead-tree books to digital ones. Most likely places to find me? A library. A museum. A bookstore. Antiques shops. Art galleries.
My favorite band is Metallica and my favorite classical music composers are Vivaldi, Tchaikovsky, and Beethoven. I love instrumental Chinese and Japanese music, too. Cellist Yo-Yo Ma is also one of my favorites.
I have a scientific as well as a creative side. I think I'm naturally suited for the field of human/computer interfaces. I have days when I want to be logical and solve puzzles. And I have days when I want to be creative…and that usually comes out in writing. I've kept a journal since age 13. Though, I'll probably end up being like my great-grandmother and start painting in my 70s.
In a nutshell? I love to learn. That is what fuels my fire.