Posted by:

Level343 Team
Post Date:
October 17, 2011
---
Level343 Team
Local SEO often brings a big "X marks the spot" picture to mind. People see that X and say, "Yep, that's my local area." After all, your location is where you are, right? If you're reading and nodding, you aren't alone. You can bet others are doing the same thing.
-And, if this is true, you have to wonder, "What will local SEO do for me?" Well, to be blunt… it can do a lot.
Local Search, Local Terms
Optimizing for a location (i.e. local SEO) isn't about where you are physically. It's about where your ideal audience is. It's about finding out how they search, what they search for and, ultimately, how to get them to your site.
Before we get too deep into this article, I want to take a brief moment and demonstrate why local SEO is such an important thing for many sites. In preparing for this article, I visited Google Insights now called Google Trends… and compared two keywords: sofa (in red) and couch (in blue). Notice that the top 10 regions aren't the same:


One of the keys for local optimization efforts is targeting the phrases used by your market. If you sell furniture to West Virginia (couch country), but live inNew York (sofa country), you just might miss a lot of potential traffic. In fact, you could miss as much as 50% of the traffic.
If that's not enough incentive to look at local SEO as a viable business focus, consider that 20% of all Google searches are local. Google searches total 14.3 billion, which means that 3 billion people use Google's local search on average. As well, a 2010 study by BIAKelsey found that 97% of consumers use online media for local shopping.
Location-based SEO can help you gain that traffic. If all of that sounds good to you, read on!
 How Big Is Your Traffic Corridor?
A traffic corridor is where you want your site traffic to come from. To answer this question, you have to know how far you can reasonably spread your business at this moment. Don't get greedy, here. You can always grow, but you can't take back failed service because of your inability to provide to an area.
For example, if you're an in-house computer technician, your service area may only be 30 miles or so. Any more than this, and you risk spending more time driving (and more gas) than you would working and making money. On the other hand, if you live in New York, it may be one of the boroughs.
Those who offer products have other options to look at. For example, if you have a physical store and all your visitors can do is order online then go pick their order up, you have a limited area. If you ship products, your area goes only as far as you're willing to ship. These limitations could be within your city, state, nation or continent (USPS offers a shipping price calculator, as does UPS and FedEx).
If you offer in-home or at-your-business services…
If you don't know how far you can travel during a day (and still get customers taken care of), Free Map Tools has a few handy mapping tools for that. Gathering this information is the beginning of finding out how well you're actually targeting your traffic corridor:
How far can I travel? – The online application provides you with a radius, showing you the distance by road and as the crow flies.
What zip codes are in my traffic corridor? – If you have zip code parameters enabled on your website, through a user form or shopping solution, it could be handy to learn about the zip codes in your corridor. The radius search map brings up a list of zip codes available in your travel area.
What cities are in my traffic corridor? – The radius search map highlights the area, overlaying the cities within the area. Like Google Maps, if you think a few cities aren't listed, you can zoom in to get a closer view.
Optimizing for Your Location
It's easy to think you're doing well when your traffic numbers start rising, but traffic doesn't do any good if it's:
Not coming from the right location
Not using topical key phrases (i.e. when people visit a home repair site for making money)
Not looking for what you have to offer
The chances of one of these types of visitors converting into customers are slim. If you dig into analytics and the data doesn't match up with your traffic corridor and/or search terms, your local SEO needs tweaking.
While creating a location-focused campaign, ask yourself:
Does my website define the targeted areas?

If you have several locations: have I provided a list of those locations with address and hours information?
Do I have separate pages for each location, or at least each city?
If you only have one location: is my physical address listed on the site?

Have I created Google, Bing and Yahoo accounts for my business profiles?

Is the address written exactly the same across all three accounts?
Have I provided as much information as possible on these accounts?

Are the search phrases different depending on location?

Have I thoroughly researched location terminology (i.e. couch vs. sofa)?

Have I capitalized on my local citation resources (i.e. Yelp, BBB, Chamber of Commerce, HotFrog, etc.)?

Is the address written exactly the same across these accounts?
If you answered "no" to these questions, you need to create a campaign to turn the answers to "yes"!
Read more about local SEO and steps you can take on a recent post, "Local SEO is Like Real Estate: Location, Location, Location".
Never Enough Time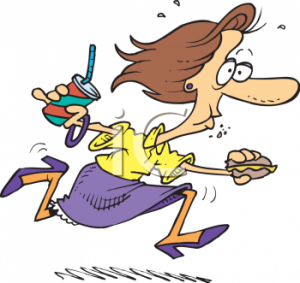 If you have a lot of pages, products and target areas, you aren't going to be able to localize the whole site at once. It's better to focus on a few and take your time making sure everything's right, than to rush through and risk messing up.
Create a few location-based landing pages and test them. While you're waiting for results, incorporate tools such as 4Square to add value when people come to your shop. As well, look into QR codes to grow your business. QR codes and mobile use are growing at a fantastic rate; they're definitely two things to consider for your business.
-And finally, if you're reading this and thinking, "But I just did such and such for my site… and now I'm supposed to do this, too," we empathize, sympathize and understand. The day you started your online business presence is the day you stepped into one of the most fast-paced, fastest changing industries ever.
You don't have to take all the advice given here and on other blogs – in fact, we encourage you to consider what advice actually fits your business. However, with few exceptions, local SEO is one of those things you can't afford to ignore.