Over a hundred billion emails are sent and received daily. Emails also happen to be the most common form of communication businesses use to reach out to customers, including other businesses that may be in need of their products or services. The potential impact of a well-planned email marketing campaign becomes clear when you consider the journey the buyer takes from the time they're first contacted until a conversion is made.
Putting Yourself in the Buyer's Shoes
The typical B2B consumer is anywhere from 65 to 90 percent through the purchase cycle before they even contact a particular business. Assume recipients have already done some homework and avoid basic details they likely already know. Realize you'll be facing several obstacles since:
Only 5 percent of B2B purchasers fill out a form

Less than a quarter will even open an email

Just 1 percent of leads are captured
Initial Awareness
The first step in the B2B buyer's journey is awareness of either the need for a particular product or service or the fact that you offer what they may need. This is where interest can be generated with your online content.
Time to Really Sell
If you've made it to the consideration stage, it's time to point out what makes you better than the competition. It's okay to be more aggressive when pointing out the advantages of your products and services, especially when it comes to cost-effectiveness.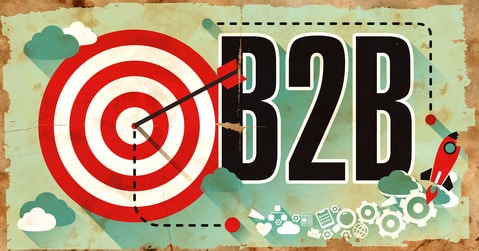 A Decision is Made…Almost
The B2B buyer's journey is notoriously long. By the time you get here, a little nudge is needed to make a conversion. It can be in the form of an email with a contact form included or an invitation to request a quote or estimate. B2B relationships are based on logic rather than emotion. Unlike business-to-consumer purchases where there's usually only one person to convince, B2B transactions often involve multiple decision-makers. This chain often includes:
Gatekeepers:

This could be an office manager or anybody who initially scans emails a business receives. Their role is to check out what you're offering and determine whether or not you get to the next stage in the buying cycle.

Researchers:

These are the people tasked with taking a closer look at your products and services — and your business, which means a look at your brand rep and other factors that will likely sway a decision one way or another.

Direct users:

Whether it's one person or a specific group of employees, whoever may be using your products or services is likely to have a say in whether or not you offer something that will help them do their job.

Financial decision-makers:

These people ask, "Does it really make good financial sense to choose your products or services?" They often have power to release funds immediately for a purchase or recommend against it.
Using the Right Tools
Improve your odds of connecting with B2B purchasers with the right tools, starting with an email service provider (ESP) that will allow you to efficiently send out emails at the right time. You'll definitely want to use scheduling software so emails can be sent out at the right intervals and times. Workflow software can be used to map out procedures and identify possible obstacles, usually the gatekeepers, within the sales process. The following tools also come in handy:
Email list-building software

Statistics software to track results

Copywriting tools to avoid potential errors

Email design template to maintain consistency
More than a quarter of all recipients decide whether or not to open an email based on the subject line alone. Consequently, an effective B2B email marketing campaign is one that also takes how the message is presented into account. Understanding how to structure a B2B campaign throughout the buyer's journey is equally important, especially when trying to make your way through the process of signing up for a service or making a product selection.