Funnels. They're great for pouring large amounts of liquid into small openings without making a mess.
Sales funnels work the same way as their culinary counterparts. You lure as many people as you can into one end and hope some of them pour out of the other as loyal, long-time customers without too much loss.
That's no way to treat the people you value.
There's a new way of approaching lead conversion. Life-cycle marketing is based upon identifying where each member of your audience is in their journey and meeting them there. It's more of a process than a funnel.
Why the "Sales Funnel" is So Last Century
The concept of a sales funnel has been around since the 1920's. Generally speaking, it was intended to begin with a broad concept or pool of targets and narrow them down in a repeated cycle of interest/offer/acceptance or counteroffer. In modern sales terms, it's known as AIDA: Awareness, Interest, Desire, Action.
According to William W. Townsend, a pioneering proponent of the sales funnel, in his 1924 book, Bond Salesman:
"The salesman should visualize his whole problem of developing the sales steps as the forcing by compression of a broad and general concept of facts through a funnel which produces the specific and favorable consideration of one fact. The process is continually from the general to the specific, and the visualizing of the funnel has helped many salesmen to lead a customer from Attention to Interest, and beyond."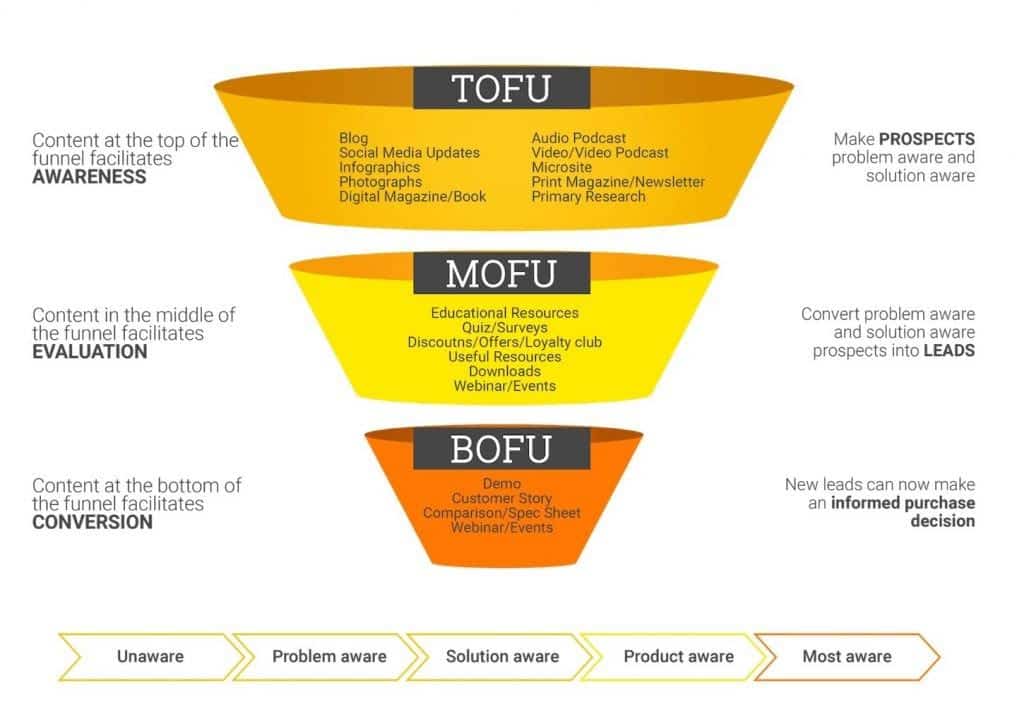 The problem?
It takes a one-size approach to marketing that relies on casting as wide a net as possible and hoping to close a few leads rather than developing customer relationships. In a consumer market that's tech-driven in ways that often feel cold and impersonal, that's a turnoff.
Depending on your market and niche, it can also be inefficient and ineffective.
Customer relations and actions are unpredictable these days, and the platforms used to access goods and services are more varied. Rather than just seeing an ad or receiving a cold call and follow up pitch, consumers are likely to be exposed to a company on social media or through a targeted ad, research the company on Google My Business or Yelp, visit the company website, and follow up on a mobile device.
Leveraging the Potential of Marketing Life Cycles
The buyer's journey doesn't follow a set pattern of behavior because not every lead is at the same place at the same time. They can remain in one stage for a while or go back and forth between several before making a commitment.
Using an approach that's based on where your audience is in their journey takes this into consideration and gives you the blueprint for developing an effective marketing strategy.
The new marketing life-cycle – our 21st century sales funnel – takes a less linear approach that's more strategic and refined. It features a combination of analytical models and deep insight into consumer behavior.

With this approach, AIDA gives way to something more personalized, though less amenable to acronymization:
Create awareness by engaging in social outreach and other branding strategies.
Interest and intention are two sides of the same coin. In order to pique their interest, make them a tantalizing offer that will drive intention. For example, by initiating on-the-spot discounts or creating a referral program.
Seek to understand a potential customer's pain points and offer appropriate consideration that highlights the key benefits, competencies, or differentiations that set your company apart from competitors.
Nurture new customers through the purchasing process to make it as efficient and painless as possible.
Adopt technologies, tools, and resources that help you identify, segment, and serve your customers. This includes providing added-value components of customer service like apps, 24/7 chat, and online knowledge bases.
Go that extra mile to retain customers and ensure their satisfaction with your brand. If there are any issues, do everything in your power to find a winning solution.
Engage with your wider audience so that you can learn from them and refine your approach. This includes activities like regular social media outreach, conducting customer surveys, and asking for feedback.
Find and support brand advocates. Word of mouth provides the kind of social proof that potential customers look for when they first become aware of a new brand or product. In fact, it can loop them into the awareness stage much sooner.
None of this is to say that the sales funnel is defunct, of course, only to point out that it's become a lot more complex and involved than grabbing their attention and getting them to buy. It's your job to know your customers and sense where they are in their journey so that you can nurture them through the process.
Final Thoughts
Although some marketing practices are tried, true, and still totally relevant in the digital age, treating leads like marks isn't one of them. The more tech-reliant we become, the more the personal touch will give you an edge over the competition.
Having an effective marketing strategy means constantly refining and re-tooling your approach. Our goal is to help you step up your game by providing you with actionable information about the latest marketing and branding trends.