You are probably saying, "oh no, not another article on how to use Twitter".  No, since I personally think Twitter is all about individual user experience.  What this article is about are the basics of using twitter, not why you should use it or how you should use it.
I won't lie; it's not like I won't give you my two cents worth on why you should do certain thing or not.  For the sake of this article, however, this will be a fundamental how to use Twitter as an individual or a business.  It doesn't hurt that clients have asked me on several occasions; I felt it prudent to write this and send them the link. I would also urge you take a look at this visual.
Now that you have read the introduction, let's get down to the basics:
Below you will see our Twitter page.  Since our account is also using the Power Twitter plugin for Firefox you will notice we have several other buttons not available to a regular twitter account. I would suggest you download the plugin for Power Twitter if you are using Firefox as your browser.
I will get to why later in this article, but suffice it to say, it gives you more options and management.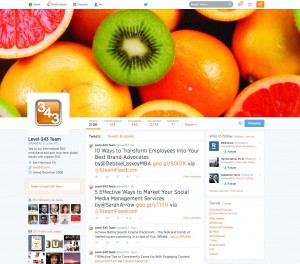 As you can see, we have ours custom made with all the social media buttons over to the side. With a platform like Twitter, you can use all the ones in your social media arsenal.  I am not suggesting you have to customize your page, but since we have ours customized, I can describe why and how to use your brand within Twitter.
Let me add the first reason a small business could use Twitter: to add onto their arsenal of tools.  While different people use Twitter for different reasons, I'm suggesting that you use it as an extension of who you are online.
Signing up to Twitter
This is a no brainer, other than making sure you have your strategy in place.  The basic navigation buttons will be the following: Home, Profile, Find People, Settings, Help, Sign Out buttons.  Each one of those is self-explanatory and I suggest you fill out the information with your vision and motivation in mind. What I mean by that is if you are using it for your business, then make sure you include your url in the "profile" page.  You will notice there's only one place where this is allowed, so use it wisely.
Finding who you want to follow
There are some buttons that seem self-explanatory, but aren't.  Find People, for example.  Now, obviously you can search the names of your friends or businesses.  However, what I am suggesting you do is, rather than search for names of people you know, search for keywords in your industry, or search for words that interest you.
If you are in real estate, for example, you can plug in "real estate" and see a list of people that have that in their bio or name.  You will notice a direct link to their Twitter page including a short bio, number of followers and a "follow" button.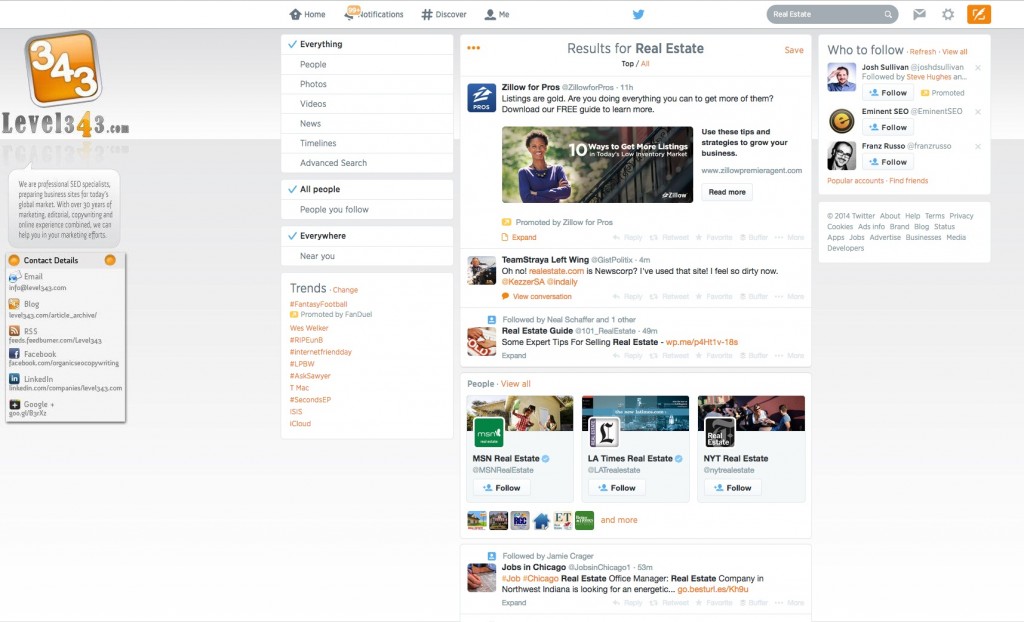 You are probably wondering why would you want to follow those people if they are not in your industry? I say diversify. Don't follow only the people you think can use your service.
Basically, throw your net wide.  Start following at least fifteen to twenty people a day.  Eventually, they will follow you back. Keep in mind that if they don't, that's okay.  Once you become better versed with using Twitter you can always use a tool to find out who is following you or not and remove them if you want. The goal here is to fill your Twitter feeds with posts that you can engage in. Engage your readers with valuable information.
When should you Re-Twit a message?
RT, or re-twitting, simply means to repost someone else's post, because it could add value to your followers.  My suggestion is to sit back and observe for the first week.  Spend at least thirty minutes to an hour on Twitter.  Read and explore some of the links.  Eventually you will get the hang of it. And please do not RT without look at what it is.  You never want to get caught promoting or pushing something you do not agree with.
RT looks like the image on your right.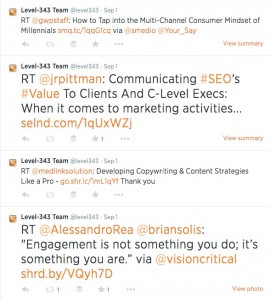 You can see the RT is for @jjrpittman among others and it merely sends out her message to all of our readers. That's another way things can go viral, but that is another topic and we are not there yet.
What should you post?
The posts will initially look like a bunch of useless information, but once you get settled and start watching the feed, you will see some things that interest you.  Again, this is merely a suggestion and not the ultimate word.  You don't have to post every five minutes, nor should you post things like, "eating a peanut butter sandwich" when you're using Twitter as a form of business communication.  You see, the "what are you doing" box above the text is misleading.
Things I have been suggesting are to post relevant information of the day to start with. Some places to get some great feeds are Alltop or Popular urls. Here you can find information that varies from technical to gardening.
Eventually ,once you are comfortable with your "group" of followers you will notice people will start to RT your posts. Keep in mind you want to show your readers who will ultimately become your clients that you are diverse and you are not pushing your products in their face.
When to use DM
A DM is a direct message you can send to a particular user, where only that user can see it.  You can accomplish this in two ways. You can click on their name, which will take you to a page that will have three options: message them, block them and nudge them.  If you choose to message them directly from this page, they will get your message and their response will show up in your DM in turn (like an inbox for email).
Things to remember
When you first start on Twitter make sure you use @ before the user's name, also a "." before the name in order for everyone to see the message and not just the @name.  If you wanted to talk directly to me you would type "@SEOCopy" if you want to talk to me and let everyone see the message then you would add .@SEOcopy. Now you are micro-bloging a message in 140 characters or less.  This becomes a daunting task, since we are used to emails or IM, but you will learn the acronyms and even make some up for yourself.
Remember – you don't have to be a rock star, nor do you have to follow all the big accounts.  In my case, I firmly urge anyone using Twitter to use it as his or her own brand.  Start the buzz; don't follow leaders.
That is not to say you shouldn't, though I personally don't since things are already so muddled and regurgitated by thousand of followers in my line of work.  You will pick up your own "mentors" – your own "leaders" – just don't be surprised if they don't follow you back.  The most important aspect of Twitter is that there is no right way or wrong way.  You have to use it as another social networking tool that will encompass all your marketing efforts for your online presence.