There are really only two types of people using social networking platforms: those that use them for fun, and those that use them for business. If you're using social media for fun and to make new friends, well, this articles isn't for you. Move along. I said MOVE ALONG!
This article is only for business owners, struggling to figure out "this whole social media thing". This article is for those who wish it didn't have to be such a drag; those who want to forget about the business part and just socialize, but can't. In short, THIS article is for those who hate social media and wish it wasn't so darn necessary.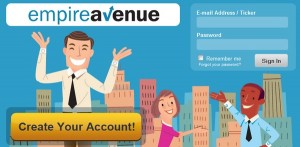 Okay – have all the readers left who enjoy social media? Good – let's go surfing. Strap your goggles on and tighten your creative cap.
Take A Walk Down Empire Avenue
If you're a regular reader here, you know we test many social platforms. The one we're testing now has a lot going for it. Best of all, it's fun!
Now, I know what you're thinking. You're thinking, "Not another social networking platform!" But wait – because this one is just a little different.
It's called Empire Avenue, and it's relatively young (EA has only been around for about a year). The company doesn't call itself a social media company, however. Duleepa Wijayawardhana, aka Dups, calls Empire Avenue a "social influence stock market". You can learn more about the EA Team here, but be prepared… these aren't your normal bios. For example, apparently, Dups can't keep a secret and the COO, Robert Kallir, has to reign him in (so, Dups is probably the one to slyly pick at if you want some juicy info).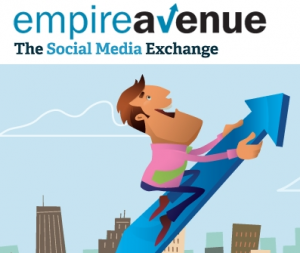 Now, for Facebook fans, Empire Avenue might remind you of "Friends for Sale", where you buy and sell your friends. However, don't have preconceived notions based on the similarities. Where EA differs, it really differs.
Concept:
Empire Avenue is a social networking game, where individuals can buy and sell shares, investing in people and brands. You can win award badges and even get virtual currency, called "Eaves". Use the virtual currency for things like:
More shares
Sports cars
Upgrades
Hang gliders
Mansions
Yachts
Oh, come on! You want me to take a game seriously? I have real social sites to manage!
No – we want you to take your business' social outreach program seriously. Here are a few BIG things Empire Avenue has going for it:
It makes networking fun. When something's fun, more people get involved – and get more fully involved. Seriously, how many of you didn't play on LinkedIn when they came out with the Water Cooler? That's the fun we are talking about here – a connection like a bridge that can give you a better understanding of who and what your market is doing.
Through personal, city and interest level communities, you can connect with local people, people with shared interests and – tada – your target market. For example, if you sell organic home cleaning products, what could be better than a community named "Family and Kids"?
More social reach… You're not going to find everybody who might want to connect with you a single network. Some, for example, are only on Facebook, while others are only on Twitter. Empire Avenue allows you to connect your LinkedIn, Facebook, Twitter, Flickr and YouTube accounts. This gives you access to more social media users based on the platforms they're using.
More exposure… When someone invests, one of the first things many well tell you is that they go check out the profile of the person who bought the stock. So, let's say you buy 10 shares of (e)XYZ. The person running (e)XYZ will see that you bought stock and visit your profile. On your profile, they'll be exposed to:
A brief biography
Your Twitter, LinkedIn, YouTube, Flickr, Facebook and Fan page accounts
Your blog feed
Your Twitter feed
Your current share price
Your current social influence (i.e. how active you are on social networks)
What Others Have to Say About Empire Avenue
Now, don't take our word for it. First, visit Twitter. Search for EmpireAvenue and read some of the comments. A few talk about how they don't understand what EA is or how to use it. Most, however, really get into the whole "social marketing, networking, stock investing game, thing".
Then, you can read Why Top Brands Are Investing So Much Time in A Social Media Leaderboard. Read Katharine Robinson's commentary in Empire Avenue – The Thinking Person's Farmville, where she makes some good points. There's also a good article about how Empire Avenue Helps Teach Social Media Engagement.
–And finally, just in case you're the type of person who never does anything unless the big dogs do, here's a sample of people on Empire Avenue:
☆

Gabriella Sannino (e)SEOCOPY

☆

Jahnelle Pittman (e)JRPITTMAN
☆ Liz Strauss (e)LIZS
☆ Shelly Kramer (e)SHELLYKRAMER
☆ Dean B (e)THEDUDEDEAN
☆ Chris Pirillo (e)Pirillo
☆ Darren Rowse (e)PROBLOGGER
☆ Erika Napoletano (e)RHWFTW

☆

Ann Smarty (e)SMARTY
☆ Anita Campbell (e)SBT
This list, of course, leaves out people like Jennifer, Kasey, Dedric, Nicole, Dawn, Reg and Gabe. They aren't big swimmers in the pool of social media. Some don't have a business, and are just checking out Empire Avenue because they heard it was fun.
The point is, these people count, too. Because social media isn't really about business – not really, no matter what they tell you. Social media is about making strong connections. It's about turning potential customers and clients into friends; it's about creating strong relationships.
For Empire Avenue players, it's about having fun and building a network while you're at it.
Conclusion
Some people look at Empire Avenue and either shrug their shoulders or write negative commentary (the comments are interesting) about it. It's hard for some people to see past the "game" idea. – But then, EA probably isn't for everyone, anyway.
However, if you're new to social media and trying to figure out how to use it – or, if you're tired of same old, same old, give Empire Avenue a try. You might just find your share price – and your engagement level – skyrocketing!
Now that you've read this article, hurry up and buy some shares – and don't forget to let us know your (e)name so we can invest!