Here you are, working your fingers to the bone. You have a great content calendar and you're scheduled for the next two months. Some of your content has been retweeted, just not as much as you'd like. You're even getting visits and watching your traffic grow.
BUT! You still aren't at the apex of your online presence. All that work just isn't converting the way you expected it to. What's going on? Why Isn't Your Content Converting? 
Well, speaking from personal and professional experience, there could be many reasons. As with most things, there's never a "catch all" answer. I've been in this industry for over twenty years and I can tell you, whether it's an ad agency like Mad Men or a digital agency, the truth is still the same. Conversions are more science and psychology than throwing up a landing page or sending out an email.
For example, did you know that only 25% of leads you generate are legitimate? Another interesting fact is 79% of your marketing leads never convert into buyers. This is pretty depressing, but a good wake up call.

5 Things You Need To Know
Despite the above, there are ways to improve your conversion numbers. It's not a hopeless endeavor; if it were, there wouldn't be so much competition, would there? If your content, website and work isn't converting, see if one of these things is the culprit:
1. Conceptualization of Data
Learn more about putting data to work in your marketing strategy. Download our free ebook, Measuring Metrics for Success.
[fusion_builder_container hundred_percent="yes" overflow="visible"][fusion_builder_row][fusion_builder_column type="1_1″ background_position="left top" background_color="" border_size="" border_color="" border_style="solid" spacing="yes" background_image="" background_repeat="no-repeat" padding="" margin_top="0px" margin_bottom="0px" class="" id="" animation_type="" animation_speed="0.3″ animation_direction="left" hide_on_mobile="no" center_content="no" min_height="none"][contact-form-7 id="21708″ title="Measuring Metrics, Converting Content"]
Have you created a set of benchmarks?
Are you measuring the amount of people accessing your content?
Do you know how they're sharing it?
Do you know who's linking to you and bringing referral traffic?
It's not enough to know you're getting traffic. In order to understand how to sell to your customers, you have to have to comprehend who they are and what they're doing online. You have to understand what the most valuable metrics are for your site, establish indicators for success, and then track them. When things go wrong, adjust your content and marketing strategy.
You have to understand what your content is actually doing. Are you measuring the amount of people accessing your content? Do you know how they're sharing it or who the new contacts might be? In order to understand how to sell to your customers, you have to have to comprehend who they are and what they're doing online.

2. Missing the Obvious
Sometimes, the lack of conversions can be glaringly simple – a "forest for the trees" situation, if you will. An amazing number of companies have hired us that completely missed placing calls to action. They'd have a service page with content, but no "are you interested, contact us now" or "get to know us better, follow us on Twitter", or any other derivative.
[fusion_tagline_box backgroundcolor="" shadow="yes" shadowopacity="0.2″ border="1px" bordercolor="#81d742″ highlightposition="top" content_alignment="center" link="" linktarget="_self" modal="" button_size="" button_shape="" button_type="" buttoncolor="" button="" title="" description="" margin_top="" margin_bottom="" animation_type="0″ animation_direction="down" animation_speed="0.1″ class="" id=""]It's like having a contact page with no contact information.[/fusion_tagline_box]
Basically, you are offering tons of goodies to your customers with no way for them to purchase or continue the conversation. You have to give your readers and potential customers a way to continue to the next step.
You don't have to ask them to buy right away. Ask them to contact you, ask them to get more information, or simply give them a reason to click to a "landing" page. This is where you know they are interested. They have clicked through the first CTA, they want to know more or they want to ask questions. GIVE THEM SOMETHING.

3. Targeting the Wrong Audience
"Traffic" may seem like the magic word, but it's not. The magic word is actually "targeted." I've said it before, and I'll say it again: traffic doesn't mean anything if they aren't in your market.
For example, most women aren't going to be interested in Gentlemen's Quarterly. Most men aren't going to be interested in Women's Health. You won't find a whole bunch of ads catering to women in GQ, or men's ads in Women's Health. It'd be senseless.
If you're getting traffic, but that traffic isn't converting, this may be your problem (or one of them).
Do your keywords, terms, phrases, etc. need to be upgraded?
Are you using the right language for your area (i.e. "bag" vs "purse", or "colour" vs "color")
Are you targeting the right demographics?
This goes back to your analytics and conceptualizing the data. Do your research!

4. Stopping at Blogging
Blog posts are not enough. Yes I said it, and I have been guilty of this when I first started the business back in the 90's. Granted, there weren't that many blogs back then, but we had what I called a "journal" and I would write the latest and greatest happenings around the city.
Blogging is a great traffic-targeting tool, but it's not the only one you should be counting on. It's going to take more than a blog post or email to bring that converting traffic your way. With time, effort, and understanding, you see that a mixture of mediums and sources – video, audio, emails, blogging, podcasts, etc. – will nurture the buying process.
5. Missing the Context
Context is as important (if not more important) than content. Where are you pushing your content, and to whom? Publication, distribution, promotion… these define the context. For example, while sending an email to existing customers about your award-winning case may make them happy they have you as a lawyer, you're already their lawyer.
On the other hand, sending an email to those who have shown interest in your firm but are not currently clients has the potential of bringing new clients in. You could send one of those, "Guess who just won The Lawyer Awards? Go with the best law firm for your company."
The long and the short of it is this: no matter how good your content, it will fall flat if you're not promoting in the right place.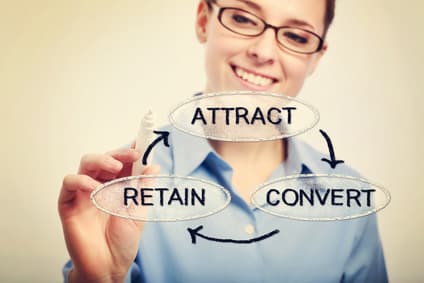 Let's Talk Conversions
At the end of the day, you have to know who your market is, how your product/service is going to help them, and where they hang their converting hat – whether it's social media, blog reading or other activity. Keep talking to those stuck in the middle of your funnel. You know, those caught between their first conversion (clicking to a landing page) and a sales call.
-And finally, if you're struggling and don't know what to do, we'll walk you through it. Contact us for a consultation![/fusion_builder_column][/fusion_builder_row][/fusion_builder_container]