When I started Honoring Women Wed on Twitter, I didn't realize I was starting a grass roots movement. I just wanted to honor some of the great women I've met through social media. When I realized it was spreading, I had to think about it – does Twitter really need more noise added to the feed?
Well, when people started catching on and others asked what it was about to see if they wanted to catch, I realized that, yes – Twitter could use another bit of noise.
#HonoringWomenWed started March 2010… at least, that's what Google's new real time search says: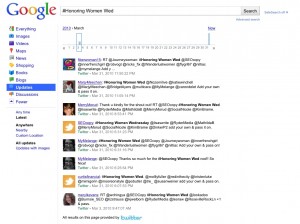 It's kind of cool to see how many more women have participated since then. You can move your mouse over the chart Google shows you and see how the trend started. What makes me grin from ear to ear is how many more women – and, yes, men too – are actually finding value in it. It may not be tangible value, but it's a great way of adding to the depth of your connections.
Grass root movement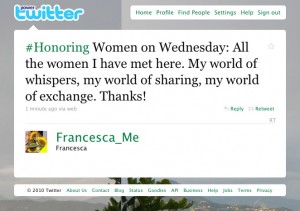 When I first started #HonoringWomenWed, I wanted to see if I could do something "special" that no one else was doing. Although it would have been nice for it to catch on, I knew in my heart that it didn't matter; it was something I enjoyed doing. Just like the Tops SEO women post. I got so much flack for that & did I care? No… HWW was simply my way of saying thanks and engaging the women I'd spoken to throughout the week.
Being social is odd to some people . Maybe it's the way they were raised; I don't know, but as an only child, I really had no desire to be social. I was perfectly content playing with all my imaginary friends or no one, I was never bored. As an adult I slowly realized that being social is an invigorating, magical, experience that comes natural to some. Have you noticed how some women are reserved until you know them better? On the Internet what I have noticed about women is they are more social. Our virtual presence has no shape or color, it becomes about engagement, and friendships. All reservations, melt away.
Would I dare call this a grass root movement? Maybe not but what's happening cannot be ignored. That's the power of social media – solidarity. Think about it, you are adding complete strangers, following/promoting leaders on social networks. Why? Have they added to your day? Here's a secret,  It can be anything for anyone  there is no right or wrong answer.
I'm a huge social butterfly – at least in my own mind and online. I knew 140 characters would never be enough to say thanks for being a great mentor, listener, communicator, follower… It's amazing how much you can really learn from 140 characters. As a matter of fact its comments like this Francsesca_Me "#Honoring WW is a brilliant idea you had. I love it! Only an overachiever like you could create it! Thanks, from the heart. :*" That gives me the biggest kick.
Are these women my best friends? No, I'm not delusional, but I do enjoy the special friendships I'm forging with a few of them. We've even started a small group of women that help each other out. You may even ask is it a waste of time? Or who has the time? I assure you, it takes nothing away from my daily routine. #Honoring Women Wed is not for everyone, I get it. That's okay, who would want to participate in things that takes nothing but a moment of thought, a small grin, a little wave, a quick hug to all those that help, share, laugh or cry with you.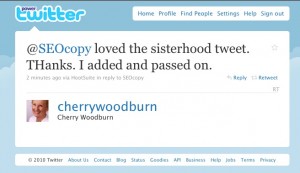 If you are already online why not add value to not only yourself but to the women you admire, respect and want to recommend to other women along the way. Maybe it's my way of being a feminist and hampering all the negative press I keep reading about how women are not "technologically" inclined. Like Why We Don't Need More Women In Tech… Yet . Excuse me but Wtf does that mean? Just because I don't know code or write C++ does that mean I am not into technology?  Or just because I don't work for some fortune 100-500 companies make me Un-technologically committed? Not a chance. I love technology; women everywhere are embracing it in their own way. Mothers, teachers, sisters and daughters are sharing and engaging with each other and yes, I have added my special little something that women and Google cannot ignore.