Cynthia has experience working in-house and as a contractor for SEO agencies. Her favorite part of her job is finding and implementing new SEO strategies on high-trafficked websites. Cynthia enjoys analyzing data to determine the best course of action for websites and loves the fast-paced nature of SEO, and thus time management is one of her primary skills.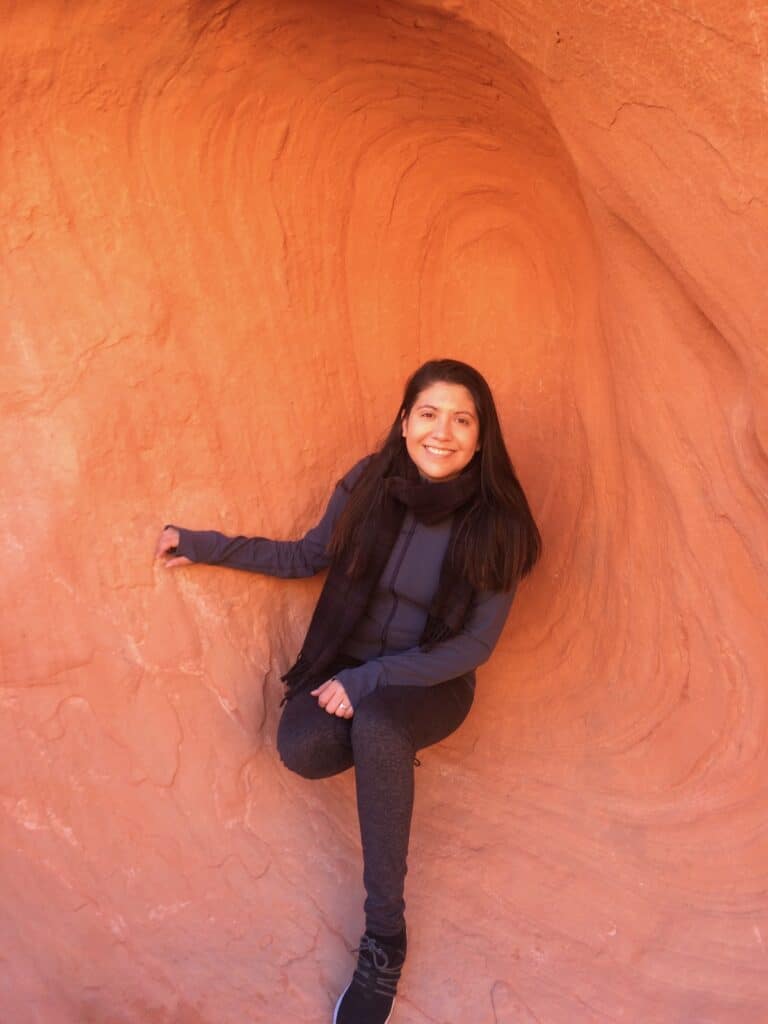 What's your personal elevator pitch? What should we know about who you are and what you do?
My name is Cynthia Lopez Olson. In 2009, I graduated from UC Santa Barbara and began teaching right after graduating. While teaching I worked on getting a teaching certification at Teachers College, Columbia University. I taught English for 4 years. While I was teaching, I lived in Shanghai, China and worked for an e-learning platform called OpenLanguage.
At OpenLanguage, I hosted a language learning podcast and also took on some online marketing duties and responsibilities. I realized I liked working on marketing projects more than teaching languages so I eventually moved into the digital marketing space.
I got a digital marketing job at Epermarket, an online grocery store for foreigners living in China. When I moved back to the US for a few months, I worked in the finance/M&A space for a company called Corporate Finance Associates and assisted with their B2B projects. In 2016 (while living in Germany), I started working remotely for Measured SEM, an SEO and PPC agency, and I worked on their SEO team for 5 years.
I recently moved in-house, and I'm now on the SEO team for Lucid Software. I also started teaching again this year, I currently teach digital marketing/SEO in the evenings at Cal State Long Beach.
On a more personal note, I'm a huge fan of foreign film and tv series, I took a few Italian and French film studies classes at UCSB and also learned English by watching TV shows growing up (Spanish was my first language). My mom thinks I've had the urge to live in China since I was a child because I used to love watching Chinese dramas (in Chinese) as a toddler. I have a lot of favorite TV shows, it's hard to pick just one, but I recently watched Severance and that's in the top spots of favorite TV series. I'm also currently watching Outer Range and it's good so far.
Which social media platform is your jam? How do you share your industry knowledge with your audience?
Twitter for SEO news, but I mostly lurk on Twitter. I generally try to avoid any SEO Twitter drama as well. But I do re-tweet any helpful insights that are shared on Twitter. The SEO community is very generous with sharing free SEO knowledge.
Slack isn't considered social media, but I do occasionally share any insight I might have on a specific topic on the Women in Tech SEO slack channel.
We'd love to know more about the personal you. What area of the world do you live in, or want to live in; what are some of your quirks; what fuels your fire?
My parents are immigrants from Mexico. I grew up in San Bernardino and Bloomington, California. During my time at UCSB, I lived in Goleta, CA and I also lived in Siena, Italy while I studied abroad during my junior year. After I graduated, I lived abroad for almost a decade. I lived in South Korea, Shanghai and Germany. I finally returned to wonderful California at the end of 2018. I currently live in Fullerton, California, but I do hope to live the expat life again in the future. But right now I'm content with life in California.
Is there any advice that you would share with women who are trying to build a career in the marketing industry?
Don't be afraid to ask questions. I also recommend joining communities like the Women in Tech SEO or Latina in SEO (communities I'm a part of). Get involved in the SEO community and go to conferences to learn and network.
Tell us where we can find you online and include information about any specific project that you are building and want people to know about.
You can find me on Twitter or LinkedIn. I have a few side projects in the works that I'll be sharing on those channels, so stay tuned!
Can't wait to introduce you to our next amazing woman. Stay tuned to our The Top SEO Women™ in this series…