When Katarina Anderson gets interested in something, she doesn't just dip her toe in—she jumps headfirst. She got into wine and social media marketing that way. I can't wait to meet her when I go to Italy in October, I'll make sure to give everyone an update on her wine knowledge!!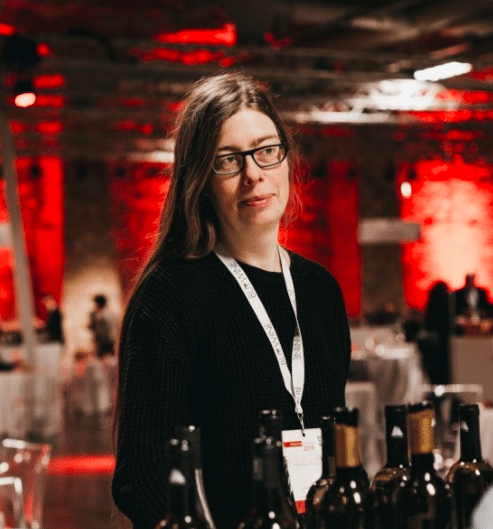 What's your personal elevator pitch? What should we know about who you are and what you do?
I'm Katarina, a Swedish gal based in Florence. I am a wine writer, content strategist, and translator with an academic background (Ph.D. in history) and a sommelier diploma, who works mainly in the wine sector. I help wineries gain success with customer-focused content, consistency, and coherency. Storytelling is my jam. Thanks to my large network in the wine world, I can get the content in front of the right people. I also scout Italian niche wineries for international wine businesses.
Which social media platform is your jam? How do you share your industry knowledge with your audience?
Twitter is still my favorite. Though now it is very closely followed by Instagram and Linkedin. I really like Twitter and Linkedin, but I like Instagram less even if I use it a lot.
I share my knowledge by writing articles on my blog, consistently sharing stories about wines I can recommend, wine areas I visited, and trying to find a story about the people, the history, the area, and not only about the wine. I also do videos – reels, recorded short videos, or live streams to talk about wine areas, grapes, wines, people, and much more that I think can be of interest. I try to also share other fellow wine writers' articles and work to highlight interesting info, etc.
I have my WinesOfItaly LiveStream, or rather I am not doing it much anymore because the pandemic brought an overload of content. I am thinking of turning the videos/audio into a podcast.
We'd love to know more about the personal you. What area of the world do you live in, or want to live in; what are some of your quirks; what fuels your fire?
As I mentioned above, I am Swedish, but I have lived in Florence for many years, more than 20 years. I came here to do a Ph.D. and then stayed on. I would like to live close to the seaside again at some point. I grew up and lived close to the coast in southernmost Sweden and my mom still lives there in our small town by the seaside.
I am probably seen as a bit nerdy and serious person or reserved, at first before people get to know me. But then they realize that I am not serious or rigid at all. I like to read a lot, everything from history books to crime novels, chick lit and wine books, and much more.
Fun fact: I have banana trees in my courtyard in Florence because my landlord digs them and has planted them here.
I think my curiosity to constantly learn more, and my passion for reading, researching, and learning about new things constantly. When I find a topic, I get passionate about, I go all in and try to learn as much as possible. That is how I got into wine and social media marketing.
Wine has also given me an opportunity to travel a lot which is another passion, to see new places and meet new people.
Is there any advice that you would share with women who are trying to build a career in the marketing industry?
I think to never give up and believe in yourself. It can often be hard when you want to do your 'own thing' as a woman, especially if you start to become successful and take up space. By this I mean, when you start to become 'known' to use Mark Schaefer's Word for gaining momentum.
I also think that it is important to surround yourself with people who support you and lift you up. Reach out for help and support to the people you trust.
Tell us where we can find you online and include information about any specific project that you are building and want people to know about.
You can find me on my website. There you can read my latest wine articles.
You can follow me on Facebook, Instagram, Twitter, and LinkedIn.
Another fun thing, is I am a Telesomm at the app created by Vanessa Raymond in 2020. She just contacted me one day having seen my live streams, I think I was almost the first she contacted to get input to build her app. It aims at connecting wine lovers with sommeliers for a custom wine experience. So, anyone who wants to learn more about Italian wine can go to the app and book a tasting session with me.