Do you have trouble coming up with ideas for new content? Content creation is vital to your online marketing campaign but let's be honest, it's tough to come up with fresh and exciting ideas for killer content.
You can scope out competitors and set up Google Alerts for keywords related to your product or service to get ideas on what the current hot topics are.  You can also look at what's trending on social media.  Those are great tips.  But what if we dig a little deeper and get a little more strategic about it? What if I could give you some ideas for a content creation strategy that will increase sales?
The first step is identifying your goals and objectives with your content marketing. If you are like most site owners, your general objectives would be:
Get more exposure in the engines
Drive traffic back to your site
Earn links
Boost your credibility and authority status so potential customers trust you and are more likely to do business with you
In order to accomplish all that, your content needs to kick butt. That's a lot of pressure!
Creating a content addition plan is a great way to ensure your content is up to par.
So, where to begin?
Since your ultimate goal is to move people through your site, into your sales funnel and through the funnel into a purchase, why don't we start with your buying cycle?
If you can outline the buying cycle or buying process for your customers, you can create content that speaks to them at all the various points in the cycle and support your ultimate effort of getting a sale.
A standard buying cycle is something like this: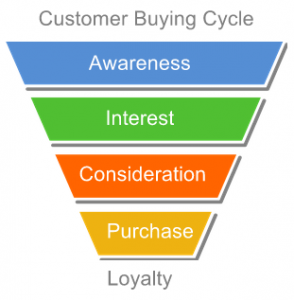 In step one, the prospect becomes aware they have a need and they develop an interest in your product or service as the solution.
In step two, they are going to research various solutions (with your product or service being one of the options they are interested and considering)
In step three, they are going to compare the various options they identified in step two. They may decide based on price, special offers, company reputation, convenience, consideration and various other factors.
In the fourth step, they decide who they are buying from and complete the purchase.
As you can imagine, each step of the way the prospect is going to have questions and the more questions you can answer, the more likely they are to choose you. So start by listing each step and then brainstorm all the possible questions and objections your prospect has at each stage. Create content that directly addresses these questions and objections. It's a great way to get new content ideas and it lends itself perfectly to moving prospects through the buying cycle naturally and without seeming too pushy.
Spend a lot of time on the brainstorming phase, since that will be the foundation of your content plan. The more questions and objections and concerns you can come up with, the more content you can create.
Revisit the brainstorming phase often. Things are constantly evolving in the world and in most businesses, so new questions and concerns will continually pop up.
Once you have this foundation in place, get a little creative and start considering what seasonal factors may impact the buying cycle. For example do people need your product or service more or less at certain times of the year? Craft content that creates some urgency by offering an unexpected reason why they need your product or service now, even if it's not normally the time of year they would buy from you.
If you can calendar out the whole year, or even a quarter at a time, it will allow you to create content that applies to what is happening at the exact time your content is going to go live.
It's more effort this way, you have to spend the time brainstorming and planning. If you do it properly, you will have better content and more sales to show for your efforts. I think that's a fair trade off!