A long time ago, back in the
dark ages of 2008
, we wrote an article about how to build content for
SEO without bombarding your readers
. We know, because we recently practiced a little bit of the due diligence we preach so much about, and performed a content audit. Although it's easy to say, "Things have changed a lot" or "SEO changes quickly," we got a good view of how
much
things have changed by digging through our dusty archives.
The original version of this article, "Building Your SEO Content" (no longer available), was written in simple terms anyone can understand. Write articles rich in content and key terms. Even then, we were cautioning businesses to keep the terms to a minimum, and not overpower the content with SEO. Yet, we also spoke about things like article directories and Ezine sites.
Yes, indeed – many things have changed. One of the biggest things to change is our own approach to content development and marketing; you can't help but grow your understanding when you put things in practice on a daily basis.
Content Domination
We recently wrote about content domination – using content to stay ahead of the competition. However, the focus of the article was on the competition itself, not on your readership. –And really, what good is dominating in the SERPs if your readers aren't satisfied? What good is doing anything if it doesn't translate to growing your readership and sales? To be honest, it doesn't do you much good at all.
How Much Can You Reasonably Expect Them To Read?
With content domination, it's easy to get into the habit of pouring out content in a flood. You can, however, ending up washing your readers right out of your pages, articles and blog posts. For example, sometimes Mashable puts out several articles in a day, and you think, "Wow, I wish I could do that!" Not everybody is a Mashable. In fact, most people aren't.
Here's the deal. Mashable has a wide audience, and they cater to that audience. They have people who follow specific sections rather than everything that comes across the wire. Therefore, when they post several articles in a day, they're targeting sections of their audience. They don't expect all their readers to read every article.
What about you? Are you bombarding your readers with content? Are you putting out three or four posts a day, without targeting specific areas of your site? For that matter, do you even have specific areas of your site?
For example, at the top of our blog, you'll see five categories. Were we to start posting every day, we would:
Offer an option for readers to subscribe to individual categories.
Create a single post, per category, per day.
Provide an option for readers to receive weekly (rather than daily) updates.
In other words, as we increased our output, we would also increase our readers' ability to control that output.
Using Various Types of Content – Where Should I Put This?
Right now, you're probably saying, "Wait a minute. If I have to be careful about how much content I put out in a day, how can I possibly dominate?" That's a great question, and we have a great answer.
Have you ever noticed that there's more than one type of content? For example, pages (such as about pages, FAQs, whitepapers and so on) tend to hold long-lasting information that doesn't need tweaking often. Blog posts, on the other hand, tend to hold information that doesn't last as long, while press releases and news pieces have a short period of freshness.
When you're publishing high amounts of content, you have to keep these "types" in mind. By creating a content strategy that allows for freshness issues, you can provide the copy needed without overwhelming your readers. Here's how it works:
Step 1: Define the freshness of the content.
Decide whether the information is long lasting, and how often it might need to updating. If it's long lasting information, consider creating a page rather than a blog post or article.
Step 2: Define the purpose of the content.
Understand that building content for SEO purposes should never be the main goal of any piece of copy. The goals should always be to:
Create a constant, growing source of information (your website and online presence)
Create copy that informs, entertains and helps the reader in some way
Create copy that causes conversation, engagement and interest
With this in mind, the next step is to define whether a specific piece of copy's main goal is to grow the amount of information available on your site, keep your readers informed or create engagement.
Step 3: Separate content pieces into freshness categories.
You can choose how to name your categories, but the categories should define the freshness of the content. We use static (long lasting information), transitional (medium freshness use) and dynamic (timely pieces or those that will need updated quickly).
For the most part, your work is done. Static copy generally makes strong pages. Transitional makes for strong blog posts; dynamic makes for good news releases or occasional blog posts. However, a final step will help further define your content output.
Step 4: Check your work.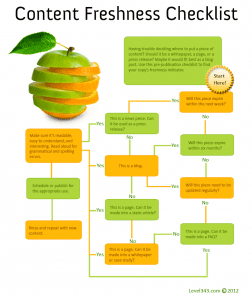 For each piece of copy, follow the checklist before publication:
Will this piece expire within a week? If yes, it's a news piece. Go to #4. If no, go to #2.
Will this piece expire within six months? If yes, it's a blog post. Go to #8. If no, go to #3.
Will this piece need to be updated regularly? If no, it's a page. Go to #5. If yes, go to #8.
If this is a news piece, can it be used as a press release? If no, it's a blog post. If yes, stop and use it as a press release.
This is a page. Can it be made into a whitepaper and/or case study? If yes, stop and use it as a whitepaper and/or case study. If no, go to #6.
This is a page. Can it be made into a FAQ? If yes, use it as a FAQ. If no, go to #7.
This is a page. Can it be made into a static article? If yes, make it a static article. If no, and the information can't be included in a pre-existing page, it's a blog post. Go to #8.
This is a blog post. Make sure it's highly readable, easy to understand and interesting. Read aloud for grammatical and spelling errors. Go to #9.
This is a blog post. Schedule for the appropriate category. Go to #10.
Rinse and repeat.
Want to save this checklist? Download the Content Freshness Checklist (PNG infograph).
Watch, Listen and Learn
As you watch the SERPs, your rankings and your traffic flow, don't forget to also watch the conversation. Which blog posts brought the most inbound links and social engagement? It's easy to be caught up in ranking and traffic, but without engagement and conversation, all the content in the world won't do you much good. By paying attention to the topics, tone, headlines and so on that bring the most interest, you can apply what you learn to future posts, articles, and whitepapers.
Remember, the main goals for any business' content marketing are to increase authority, trust and engagement. When you have those, the traffic will come on its own.