Many businesses are using email marketing to distribute content organically. If you look at the stats, it's nine out of ten marketers. But let's face it. It is not easy to come up with fresh, relevant content for your emails all the time. There will be times when inspiration runs dry. At such times, you can always use some content repurposing tips to keep your emails zesty even when your brain has run out of pizazz.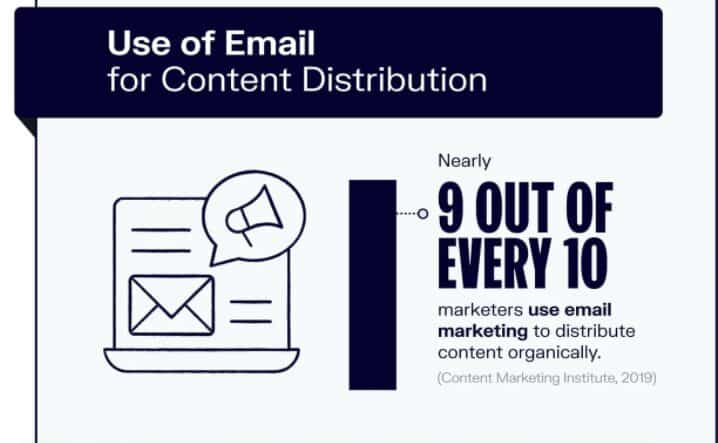 If you have been into marketing for some time, you will definitely have created tons of blog posts and social media content. You can repurpose them by extracting the core concepts of your content and turning them into unique email content.
Also, while you are at it, don't neglect SEO. Consider getting expert SEO consulting services to achieve organic rankings on Google.
Here are the six best content repurposing tips to follow for email marketing campaigns:
Use social media visuals as newsletter content headers
The visuals that you use in your social media posts can be used as newsletters headers or to separate email segments.
And it's worthy to note that Images increase clicks exponentially.
In fact, a study that analyzed more than 5,000 email campaigns revealed that campaigns in which images were used saw a 42% higher CTR as compared to campaigns without images.
The images can also give the recipients an inkling of what to expect within the body of the email. Since creating a new header for every email can be time-consuming, you can repurpose a visual you have already designed for your social media campaigns.
For instance, the image below can be used on social media platforms to ask for donations to buy meals for kids. And afterward, you can also repurpose it as a header for your newsletter templates.
Furthermore, by using the same image across multiple platforms, you create concurrence in marketing and make your brand instantly recognizable.
Repurpose old blog posts as guides
This is one of Level343's favorite content repurposing tips: The blog posts that you create about a specific topic can be repurposed into a new guide.
For instance, if you have written about how to use hashtags on Twitter or what content to post on Twitter, you can combine those posts and turn them into "A Complete Guide to Twitter Perfection." The guide can then be used in your email marketing campaign.
Consider how old your blog posts are and update them if necessary. When you have invested so much in creating quality blog posts, you don't want them to go to waste. Repurpose your old blog posts and bring them back to life.
Turn video tutorials into how-to guides
Owing to the widespread use of YouTube as a search engine by internet browsers, explainer videos have gained immense popularity. However, do people really have the time to watch an entire video tutorial, no matter how engaging it might be? No, most of them don't. Instead, they want the highlights in a package that can be referred to any time they want.
Thus, incorporating YouTube marketing with your newsletter content is a smart move. You can add the tutorials you created for YouTube in your newsletter.
But be careful not to make it too long lest subscribers leave the video halfway or unsubscribe from your newsletter altogether. It is better to piece together highlights from the video and create newsletter content stories.
One killer tip for repurposing content is to create a campaign where you share video highlights on specific topics on a regular basis. It will keep your audience engaged with your brand.
Also, remember that videos don't play in most email browsers. What you can do is capture a screenshot of the video play screen. The play button should also be clearly visible over the top. It will tell users, "video content can be found here. When they click on the image, the link will take them to your social video.
Incorporate user-generated content into your email marketing campaign
User-generated content is authentic content and acts just like word-of-mouth marketing. The only difference is that UGC is more visual.
People trust user-generated content more, and when you showcase real people, it naturally adds value to your platforms. In fact, many statistics over the years have suggested the efficacy of word-of-mouth over promotional sales ads. One report suggested that user-generated content on social media channels receives 28% higher engagement as opposed to standard company posts.
Thus, it is a must to incorporate user-generated content into your email marketing campaigns. You can source user images and videos directly from users' accounts by seeking their permission first. You can include your user reviews, along with the images of the products they gave the review for.
Here's an excellent example:
Also, consider contests which are a good way to create user-generated content. You can use them to promote email signups on social channels or to increase social followings through email campaigns.
When you create newsletters using user-generated content, adopt a theme so that the campaign is more cohesive. It will spike subscribers' interest and engagement.
Repurpose blog posts as eBooks
Another great tip is to repurpose your blog content. Take the informative blog posts you have created and turn them into eBooks. First, decide on a motive behind the eBook. For instance, if your motive is to provide tips on Instagram, collect together all of your blog posts on Instagram and organize them into chapters.
When you have created your eBook, you can notify your subscribers about it through email marketing. You could send a chapter weekly to your subscribers and provide a link back to your website where they can download the eBook. Also, consider sending an infographic that abridges the info they'll pick up from each chapter.
Convert presentations into infographics
Do you offer presentations, such as online webinars or online courses? You can take the key points from your presentations and share them with your subscribers within your email content. It will entice people to your other content while providing real value.
While you are at it, consider infographics as they are engaging. Though it takes time to create them, they have a long lifespan and are extremely shareable.
If statistics are anything to go by, infographics get 3 times more shares as compared to other types of content on social channels. They are also 30 times more likely to be read from top to bottom as compared to blog posts or articles.
Just make sure that your infographics are relatable and relevant to the audience.
Wrapping-Up
Repurposing content will make sure that the vital information you gather while you create your blog posts, tutorials, presentations, or other types of content that remains live.
Plus, your audiences have different content preferences. Content repurposing will ensure that you appeal to all of them. Follow the six tips in this article while repurposing content for your email marketing campaigns.