Search Engine Optimization is a method that can increase traffic to your property management website if executed correctly. By making use of SEO and keyword research for your property management company, you can take advantage of the thousands of people searching for property management services every month. In other words, if your company captures more Google searches, you'll get more qualified leads and, consequently, profitable clients.
What is SEO?
Search engine optimization requires optimizing your property management website so it ranks higher in search engines for keywords relevant to your niche. This method is called "organic" SEO, the alternative being paid ads.
SEO takes continuous monitoring to ensure your website stays on top of search results. It does require serious efforts upfront but continues paying off into the future of your business as well.
For many property managers, "SEO" still means entering random keywords inside their website content and assuming they'll get traction in their organic site traffic. However, in 2021 these stone-age strategies stand no chance against smart search engines. Property managers need to be more vigilant when developing their content strategy.
Keyword Research
Keyword research includes shortlisting search terms or queries that your potential customers might be entering in the Google Search engine. Your goal is to filter search terms that are highly relevant to your target audience, then craft useful content around those terms.
But before you get started, asking these questions is critical for planning keyword research that surrounds property management:
What type of PM companies are clients searching for — commercial, residential, HOA, or multi-family?
What services are they mainly interested in?
When are your potential clients searching for these terms?
How are they searching for property management companies?
What words are they using? & What questions do they ask?
Where are potential clients located — locally, nationally, or internationally?
How to Conduct Keyword Research?
So far, you understand what SEO is and why property managers need to leverage it. What you are probably wondering right now is which exact keywords will result in higher ROI. Don't worry, as we have compiled a step-by-step approach to shortlist keywords for your property management website.
Step 1: Brainstorm Broad Topics
Start from listing broad topics such as your services, geographic location, nearby competitors, or any other subject your website addresses. Here's a list of broad topics for you to start:
Property Management Companies [Location]
Property Management Services
Property Management Fee
Rent Collection
Handling Maintenance
Marketing Properties
Site Inspections
Finding Tenants
Suppose you're a property management company located in Los Angeles, California. Property owners of LA might be searching for: "Property management companies in Los Angeles." This whole phrase in SEO is called a long-tail keyword.
Long-tail keywords account for 70% of the search traffic and are generally easier to rank.
Step 2: Analyze SERP Results
Enter your keyword in Google search and analyze the first page that appears – also known as the Search Engine Results Page (SERP).
Analyzing SERPs gives you a fair idea of keywords that are most likely to match the searcher's intent. Here's what you'll see in SERPs:
1. Paid Ads
The first thing you see in results is a blatant placement of Google's Pay-Per-Click ads in the top three spots. PPC ads mean advertisers pay Google every time a user clicks on the ad.
2. Map & Local Businesses
The next thing you'll notice is Google Map and local sites near the typed location. There are 3-4 local companies right below the map. These companies listed themselves on Google My Business.
A GMB Listing helps with local SEO and boosts your chances of showing up in Google's Local Pack, G-Maps, or Local Finder.
3. Organic Searches
Finally, Google shows up to 10 organic results in SERPs. Google ranks these results based on the relevancy of your search query. The organic results vary on the type of question.
SERPs can actually help you curate relevant content for your particular keyword. For example, for a long-tail keyword, "Property Management Rent Collection," SERP results show FAQs first and then relevant blogs. Therefore, to rank at the top for this keyword, you need to write a high-quality blog or answer a Quora user query.
Apart from Paid Ads and Organic Results, SERPs also include some features that are:
Featured snippet
Knowledge card
Knowledge Panel
Image Pack
Top stories
People Also Ask (PAA)
Shopping results
Tweets boxes
Sitelinks
Videos
Step 3: Select a Keyword Research Tool
Even though you can utilize the free Google Keywords Planner, we recommend using a keyword research tool that gives a more accurate picture of your shortlisted topics. Keep in mind that ultimately Google Keywords Planner is only a tool to support PPC and not necessarily organic reach.
Here are some Keyword Research Tools you can use for your strategy:
All of the tools mentioned above offer free trials except for Ahrefs, which begins at a $99/month plan. For simplicity, we will use SEMRush in the rest of the guide.
Step 4: Keyword Overview
Once you have selected a keyword research tool, go to the search bar, and enter your keyword. We have used our previous example, "Property Management Companies in LA" Here is how your dashboard will look: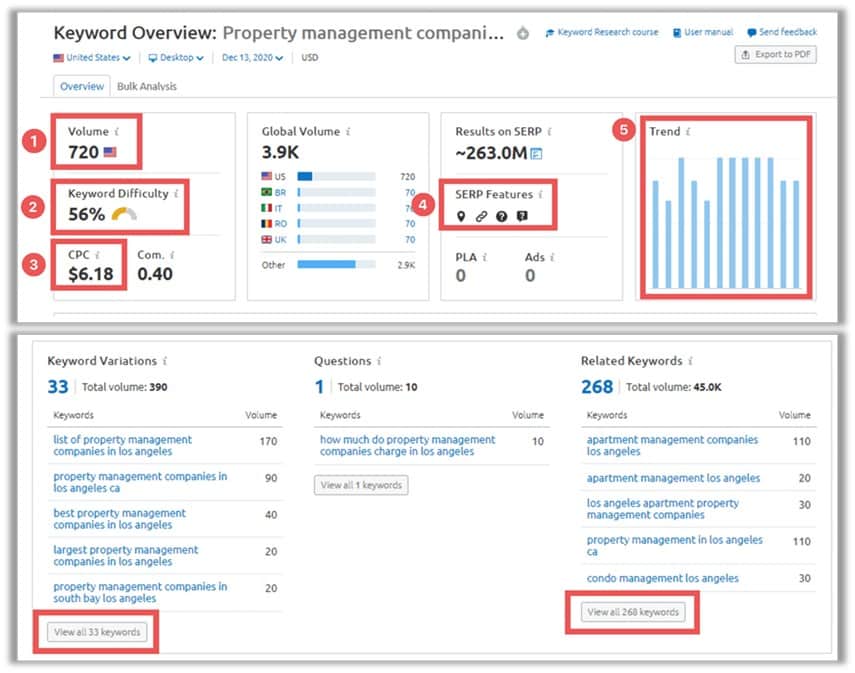 Volume indicates, on average, this keyword gets 720 searches per month in the USA.
Keyword Difficulty (KD) represents how hard it will be for a new website to rank for this keyword.
CPC represents the cost advertisers pay for every click on this keyword.
SERP features denote Google's first page results in Map, Site Link, FAQ, and People Also Ask for this keyword.
Trend explains variability in searches for this particular keyword throughout the year.
Step 5: Shortlist Keywords
Next, click on the Keyword Variations to get a list of all possible keywords that can also attract relevant owner leads to your website.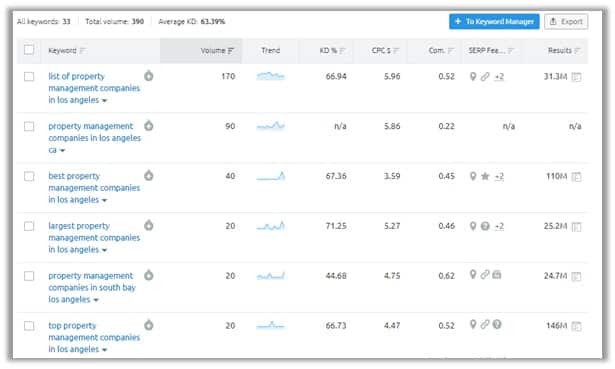 While you want to target keywords that your audience is searching for, in some cases, it is more advantageous to target terms with lower search volume because they're far less competitive.
That's why we suggest filtering results based on a KD of 0-65, which might compromise your potential traffic but ensures quick results.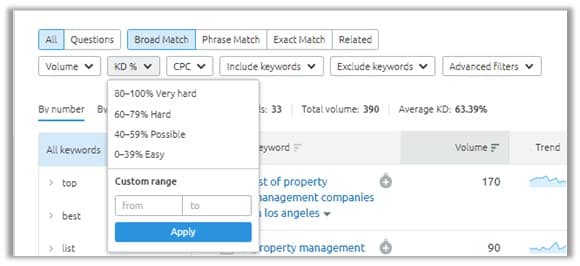 Select keywords with the highest volume and those which lie within your preferred KD range. You can also export these results in an excel sheet. From the seed keyword research of "Property management companies in LA," you now have a list of similar and related keywords. Prioritize keywords and shortlist the ones that will give your website the most significant strategic advantage.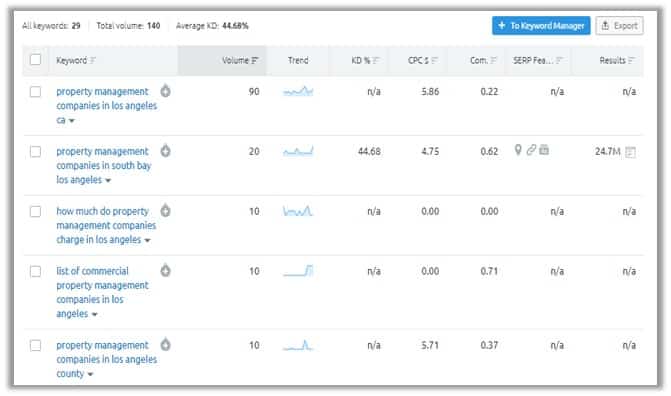 In conclusion, keyword research is the starting point for any digital marketing campaign, but it should be an ongoing process. You should frequently check your keywords and find out how you are ranking compared to your competitors.
It can be daunting at first, especially when you don't know what keywords you need to rank for but, there are amazing tools and resources out there which can help with your keyword research and analysis.
It can take a long time and investment to get results but if you stick with it, you will eventually have a consistent flow of leads for your business.