Back in January 2010, we published "The Path to Google's World Domination Is Covered in Free Applications". Truth be told, it was simple curiosity leading us to write the post: "Google World Domination" is based around a prediction that Google will run the world by 2014. There's even a countdown to "doomsday". When you read the page and watch the video, it seems like a conspiracy theory. We wanted to see where it was going and started clicking links."
Recently, Google acquired Motorola Mobility – Motorola's Mobile Devices division until January 2011. Of course, there's a big paragraph at the bottom full of legalize about "forward-looking statements" in true Google CYA manner.
Anyway, this acquisition once again caught our attention. –And, once again, we decided to delve into the path of Google's world domination. How close are they getting? What do they own now? What's changed?
Google Is a BIG Company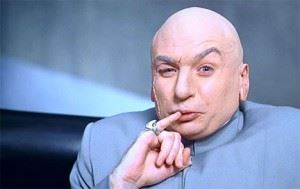 At the time of this writing, Google Inc. (GOOG) stock closed at $563.77 per share. That's more than Apple (AAPL), at $376.99, and definitely more than Microsoft (MSFT), which closed at $25.10.
Among a huge list of other things, Google owns:
At least 75 offices in 43 countries
Approximately 900,000 servers
2 operating systems (Android and Chrome OS)
12+ advertising-based products, including DoubleClick, AdWords and Click-to-Call
Way more Twitter accounts than one company should ever need
187 patents by 2008; 316 patents, two years later (a good Google patent list here)
An additional 1,029 patents, bought from IBM in July 2011, with more to come once the Motorola deal is finalized
70 charging stations for electric cars
Google Energy, an all-Google electric utility, which has the power to sell energy, capacity and services
It's own suite of office products, such as Google Docs (free) and Google Apps (business) – by the way, Google Apps is also Google's own cloud service
An eBook store
A social network (of course)
A paid/free website creator/hosting provider (think WordPress.com, Typepad, etc)
Google One Pass (Associated Content, anyone?)
Over 100 products, including Chromebook, Android, Chrome Web Browser, Google Desktop and Picasa (desktop and online photo editing software)
Free, WiFi service (Mountain View only)
30 acres in the small city of The Dalles, Oregon aka "Googleville"
As if that wasn't enough, Google also provides services to the U.S. Government, such as a souped up Google Earth contracted to the National Geospatial-Intelligence Agency (built by the CIA and Defense Department). In fact, they've been in the government contracts business since 2009/2010.
Investments and Acquisitions – Google Pies
How many pies does Google have its fingers in? How many investments have they made? Since the beginning of 2001, Google has either bought or invested in over 100 services, companies and divisions.
For example, Android Inc was originally the brainchild of Andy Rubin, Rich Miner, Nick Sears andChris White. Google liked the look of the operating system and brought it into the fold – along with Rubin, Miner and White. In fact, Rubin is currently the Senior Vice President ofMobileat Google.
Picasa, a desktop application for photo editing/sharing, was a 2004 acquisition. At the time, it was meant to be used with Blogger. The online version, Picasa Web Albums, is now integrated with Google + as a way to instant upload and share photos.
Google Maps was built with the help of at least 6 different technology acquisitions, from four countries.
Google Ventures investments cover such things as payment services, online marketplaces, the development of negative and carbon neutral fuels, anti-malware technology, vacation rentals, crowd sourced legal answers, fuel efficient cars… they've even invested in HubSpot (get the full list of Google Ventures investments).
So what pies does Google have its fingers in? Among the list is:
Mobile phone software (Android)
Smartphone creation (Nexus)
Advertising
Search
Community grants
Government application/contracts
Imaging software
Website development
Green energy development
Payment processing
Social Networking (Google +, etc.)
Video sharing
Business/Enterprise applications
Office software
Web and social analytics software
Cloud computing
Blogging software
3D Modeling
Online security
Is Google really aiming for world domination?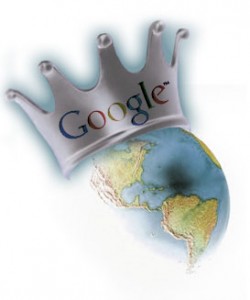 As the year 2014 draws closer (the year outlined in the original video), it definitely seems more possible. Who knows where they're going next? Only Google, but you can be sure it'll be something fantastic and, most likely, out of their expected sphere of influence.