Search ranking and sales are on the mind of every almost every digital marketer, copywriter, and web designer. The question is: should I start with PPC or with SEO? However, while most are familiar with SEO, many don't know what PPC is, or at least, don't understand how it works.
As a reminder, Search Engine Optimization (SEO) is the process of improving your digital assets in ways that makes them easier to rank, bring in traffic and – ultimately – convert. It's a slow, arduous process that requires constant research and refinement. When SEOs do it right, it's a beautiful thing.
However, building and following the organic way takes time and patience to see sustainable results.
What if I told you that there's another – some will say faster – way to reach your digital marketing goals if you're willing to invest in time and money?
Pay-per-click advertising (PPC) has been increasingly popular over the years and has become a powerful digital marketing tool. It allows marketers the opportunity to bid for favorable placement in the Search Engine Results Page (SERPs) and drive target traffic to carefully crafted segmented landing pages.
Done right, it's just as beautiful and potentially lucrative as organic SEO, with a comparable if not higher ROI.
What is PPC, and How Does it Work?
"The best place to hide a dead body is page 2 of the Google search results."

~ Brian Clark, Copyblogger
You want to be in the top results for specific search terms, and PPC can get you there. PPC advertising allows marketers to pay search engines and other platforms to place sponsored ads. Unlike SEO, you will have the power to choose which keywords your ads will be visible for. You pay the marketing platform each time a user clicks on the ad, intending to lead them to your website and dedicated landing page.
When you consider that Google, with more than 3/4 of the search market share, facilitates more than 6 billion searches each day through targeted ads, you have the potential to reach millions of interested users daily. It's immediate – no waiting for your site to rank. You get what you pay for. Best of all, you only pay when someone clicks your ad.
So, exactly how do search campaigns and ad groups work?
First, business marketers bid for keywords via an auction. Bidding happens instantaneously each time a search query takes place on the search engine. The winning bidder (who also meets other criteria) is granted the top spot on the search page when someone conducts a search query that triggers your target keyword.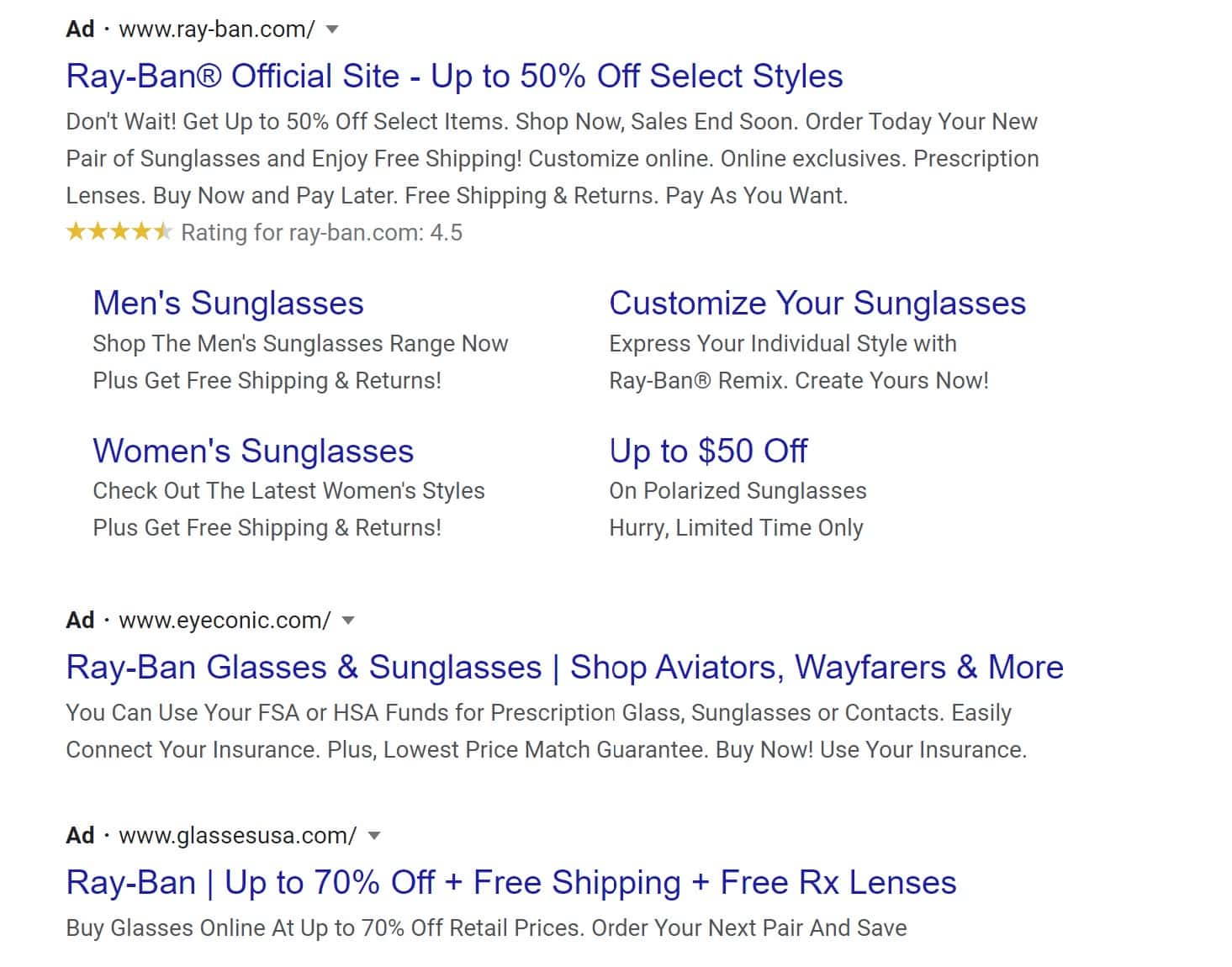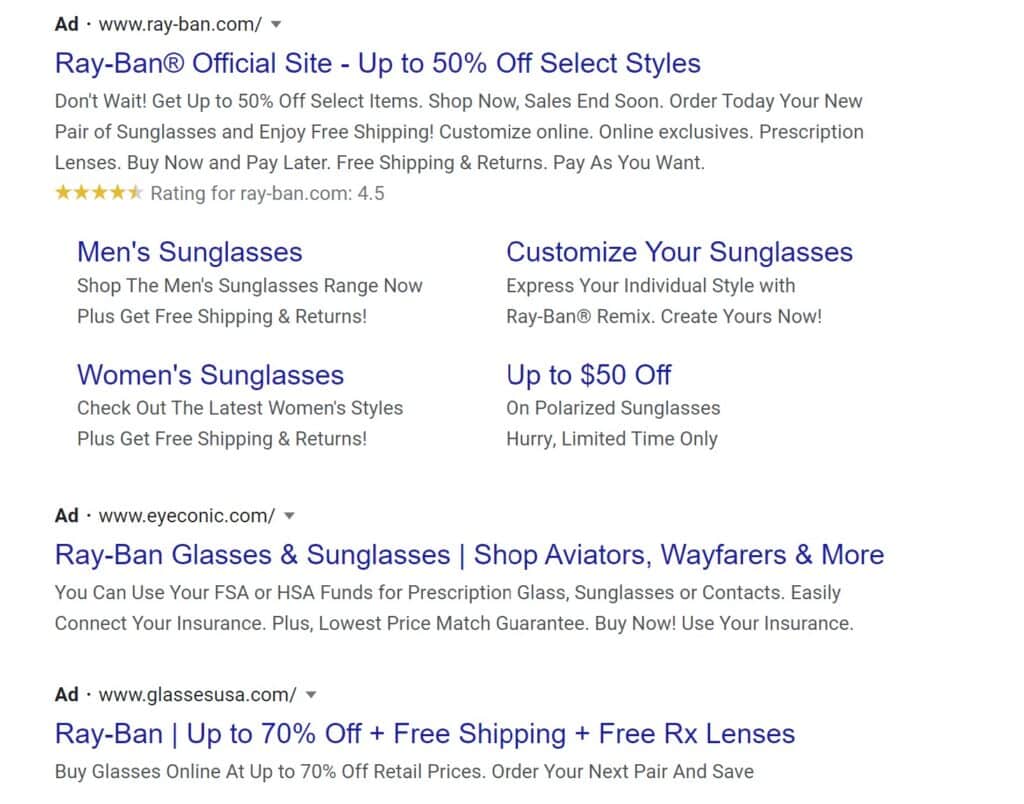 Whether you appear at the top of paid ads or the bottom of the results page depends upon various factors, such as:
how well-constructed your ad is;
how much you're willing to bid on the keywords;
the quality of your landing page.
To qualify to join these auctions, customers use their Google Ads or similar account with an advertising platform to create search ads and schedule their launch. Ads can be targeted by audience demographics, ad type, location, and advertising goals. We can further segment the ads into ad groups that contain different but related sets of keywords or phrases for our campaigns or product launches.
PPC vs. SEO
PPC and SEO are powerful marketing tools designed to attract and convert leads, raise brand awareness, or generate sales. Both methods deploy keywords and key phrases to match user search queries in conjunction with other search engine marketing tactics.
The two main differences are that SEO gains traffic naturally and, beyond the cost of your SEO company, it's free. No extra fees for Google, Bing or other search engine. However, SEO often doesn't guarantee you a premium spot on the search results page. To get one of the top spots, you'll have to pay for the privilege.
PPC can be used in conjunction with SEO or as a standalone effort. Also, you will need to master Google's Smart Bidding strategies to ensure you have the edge over your competitors in as many auctions as possible.
Benefits of Pay-Per-Click Advertising
In addition to giving your ad a premium spot and a higher page rank, PPC is a cost-effective marketing method that allows you to pay as you go. The key metric to measure how well you are doing will be the ROI. By meeting and surpassing your target ROI, you will ensure you stay profitable while running your ads.
You can figure out your ROI with this simple formula:
(Revenue – Cost)/Cost x 100.
You can achieve a high ROI with very specific ads, strategic keyword research and placement, and the ability to segment users to reach only the most qualified leads.
PPC advertising is also faster than SEO, which takes time to attract an audience and climb the ranks on search pages. You can choose your target audience through criteria, and you can create several ads to meet the purpose, goals, and intent of each landing page, product launch, or campaign you create.
Best of all, this form of advertising is fast, customizable, and focused. The results are also measurable and actionable. The disadvantage is that if the campaign isn't correctly set up, you could get many clicks that don't result in sales, which means you're paying and not seeing a return.
Essential Elements for PPC Success
Winning the top spot involves more than just being the highest bidder. Google considers several other factors when evaluating ad rank. Other online advertising platforms have their own sets of criteria, but you should generally focus on:
Quality
Relevance
Bid amount
Search context and intent
Formatting variables, such as the presence of ad extensions
Of these, the most important determining factor is your Quality Score, which is based on an evaluation system that includes expected click-through rates (CTRs), keyword relevance to the ad, the search query, and the quality of the target page.
We can enhance these factors by using ad extensions the platform offers to your advantage.
The Ins and Outs of Ad Extensions
There are several types of extensions, each of which has its purpose. For example, phone number extensions allow marketers to drive calls directly from their ads without sending traffic to a landing page. This strategy might be beneficial to connect to users that might be on the go or are just looking to make a reservation.
Other types of extensions include:
Location extensions
Sitelinks
Call-outs
Promotion
Lead form extension
Combining these tools and techniques with refined audience segments, eye-catching, informative copy, and SEO best practices will net you better results and a higher ROI.
Final Thoughts
The power of technology is in your hands. All you need to do is learn how to harness its potential. Paying for clicks guarantees favorable search engine results page placement according to keywords and search queries that pre-qualify your leads.
However, not everyone has the experience and knowledge to conduct insightful research into the searched terms and campaign structure to drive the right traffic to your website. If you need help with anything from keyword research, campaign creation, or ad copy that converts, contact an expert who will help your next PPC campaign catch fire.